All right, we're well aware that banging on about Christmas so early is a surefire buzzkill. But hear us out.
With a bit of planning you could take some of the sting out of your festive expenditure, and even make a bit of money back. It's just a matter of making sure your wallet is well prepared and that you've got the right tools for the job at hand…
0% PURCHASE CARDS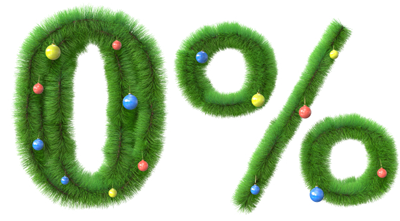 Good for
Spreading the cost of Christmas without paying through the nose in APR.

The salient points
Right, so you've got a lot of Christmas shopping to do – loved ones, parents, brothers, sisters, aunties, uncles, nans, gramps, your colleague in work you've drawn in the dreaded 'Secret Santa', the cat, partner's parents and brothers and sisters. And what with the merry-go-round of parties, get-togethers and meals out it can be tough making your monthly salary stretch.
Well, that's where a 0% purchases card comes into play. It'll allow you spread the cost of your Christmas shopping over the next year, and sometimes even longer.
For heaven's sake, consider this first
A 0% credit card might give you more room to breathe financially, and allow you to buy stuff you wouldn't necessarily be able to purchase outright with your own money. But it's not an invitation to go on an unchecked high street spending rampage of 'Wag' proportions – be careful and consider how quickly you'll be able to repay what you spend. If you can't pay it off within the 0% terms, then it doesn't really make much sense. And do you REALLY still want to be paying for this year's Christmas in January 2015?
Also, note that for the choicest, most generous 0% offers, you'll need a fairly pristine credit record.
REWARD AND CASHBACK CARDS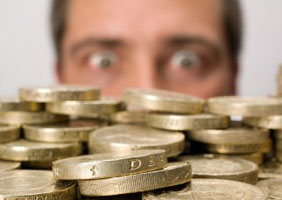 Good for
Getting a little something back for yourself. Because, you know, you're worth it. Or something like that.
The salient points
It's better to give than receive, goes the old festive adage. And that may well be true – to an extent. But if you're going to be spending quite a lot of money on giving, then you may as well get a bit back for yourself for all of your generous efforts.
This is where cashback and rewards-based credit cards come in. Rewards-based cards usually offer the cardholder bonuses like airmiles or supermarket vouchers, while their close cousins, cashback cards, offer – you guessed it – cold, hard cash.
There are a few things to consider, though - cards such as this sometimes come with a monthly fee and a relatively high APR. And you'll only be eligible for the goodies if you pay off your monthly balance in full. In fact, some cards may actually require you to spend a certain amount every month to be eligible for the full cashback offer.
If you're planning on spending a lot of money over Christmas and have the ready cash to pay off your balance at the end of the month, then one of these might help you get a little something back to brighten up January.
For heaven's sake, consider this first
If you're going to make the most of your rewards or cashback card, then you need to use it – a lot. That means shopping, groceries, petrol, bills, whatever else. But this also means that you need to be incredibly disciplined in order to pay everything off at the end of the month.
Also, don't think that you'll be making life-changing amounts from rewards-based cards.  It's a nice bonus, but not a get-rich-quick or travel-the-world scheme. A lot of the big offers are capped, too.
LOYALTY CARDS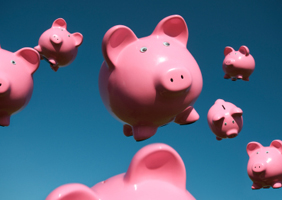 Good for
Getting a bit of money off for stuff in the new year from shops you'll be spending a lot in.
The salient points
Retailers like Boots, Tesco and Sainsbury's offer loyalty card schemes which can get you rewards in the new year. Of course, they also help the companies to track the sort of stuff you're buying, but if you're happy with that then you stand to get all sorts of incentives.
For heaven's sake, consider this first
Don't confuse loyalty cards with store cards, which usually have extortionate APRs. Also, bear in mind that where you spend your vouchers makes a big difference on how far they go. For example, you could be entitled for more off a day at a theme park than you might be on your weekly shop. Just do the sums and try to prioritise where you'll gain the greatest benefit.
BALANCE TRANSFER CARDS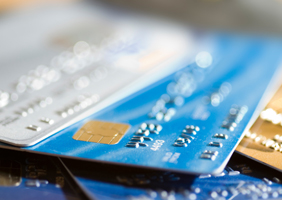 Good for
Paying a lot less in interest than you might have to otherwise.
The salient points
Picture the scene. It's January 2014. Those fashion slacks you picked up in November are considerably tighter than they were a month ago. You've consumed approximately your own weight in turkey, chocolates and – quite inexplicably – dried dates over the past few weeks. And what's more, there's a distinct possibility that you've given your credit card a bit too much over Crimbo.
But rather than scowling at your monthly statement and its rundown of interest charges then paying it off every month with barely concealed contempt, why not think about taking up a balance transfer offer from another credit card provider? It could help to drastically reduce the amount you pay in interest. It's surprisingly easy, too. But bear in mind that there's likely to be a fee for switching – usually around 3% of the existing credit card debt.
For heaven's sake, consider this first
Make sure that you've done the sums to ensure that the fee for transferring your balance doesn't outweigh any gains you may make on reduced interest. Because that could end up making you feel foolish.
Want to read more about credit cards? Try Gocompare.com's highly informative guides.