James Bond is a strange man to want to emulate, is he not?
A violent, misogynistic borderline-alcoholic, paid by the state to kill without mercy or remorse?
Ah come on now, he's a lovable rogue. And we do love a fictional rogue – this has been true since the dawn of time; from Beowulf to the Wife of Bath, Hamlet to Psmith, mankind has always enjoyed the mischievous cavorting of the made-up miscreant, and James Bond is the archetype of this.
As functional members of society, we would never shoot a rival, down a couple of Martinis, steal a car, speed through town under a hailstorm of gunfire, and arrive at a luxurious country club to interfere with some secretary or other… but we can vicariously enjoy this peculiar behaviour via the silver screen chaos of 007. With the recent release of Skyfall, the twenty-third Bond film, this desire has never been stronger.
Being like Bond in a material sense is an aspirational pursuit. A spot of tactical eBaying may enable us to cheaply secure the Savile Row suit, the Omega Seamaster or the Eton tie, but it's rather harder to position ourselves suavely behind the wheel of a gleaming silver Aston Martin DB5. With prices spiralling beyond the quarter-of-a-million mark, it's an unattainable fantasy for most of us.
But, as ever, our advice is this: fear not! There are a number of ways that you can scribble your signature on the V5 of a Bond car without having to sell your house.
We've rounded up half a dozen cars that are all, in their own special way, inextricably linked with 007 himself. And don't let your mates in the pub tell you otherwise.
BMW 750il  [from £15,000]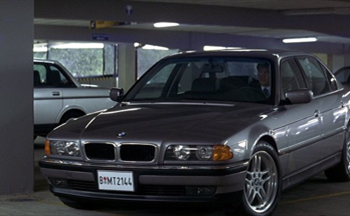 James Bond, in a BMW? Yep, that happened a few times in the Brosnan era. The Z3 may not seem special enough and the Z8 is extravagantly pricey, but the E38 750iL fits the bill perfectly.
This was the car that James was able to drive by remote control via his mobile phone in Tomorrow Never Dies. Sadly this wasn't a standard feature, so you won't find an app for that should you decide to buy one of these, but you will be able to luxuriate in the finest soft leather as you waft across continents, surfing a tide of torque from that 5.4-litre V12.
Bond's car had a hidden compartment where the passenger airbag should have been, in which he kept a Walther PPK. You'll be glad to know that the standard occupant of this airbag compartment is, er, an airbag. Which is much safer.
Alfa Romeo GTV6 [from £5,000]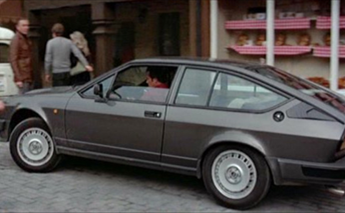 The Alfa GTV6 is a stylish early-eighties brute. Taking the Alfetta-based fastback coupé that had been around since the mid-seventies and shoehorning a 2.5-litre V6 under the bonnet, the car was resplendent in baby muscle car details – most notably the pronounced bonnet bulge. The old Alfa reputation of being sensational to drive 10% of the time (with the remaining 90% spent weeping on the hard shoulder) may or may not be true, depending on how good an example you buy. Get advice from a specialist like Alfaholics or Autodelta, we reckon.
Which Bond movie did the GTV6 feature in? Why, Octopussy of course! 007 stole it from a German woman while she was in a phone box. We don't recommend you use this method to procure yours.
Renault 11 [from £2,000]
Well now, here's a challenge. You see, the nature of cars is that they have a finite lifecycle; different makes and models find themselves at different points on the utility/desirability/longevity scattergraph, and it's natural that some cars will be more cherished than others. That's why the total number of Lamborghini Miuras built that are still in existence is a much higher percentage than, say, Austin Montegos.
So finding a Renault 11 might be tricky… but not impossible; their cheap utilitarian nature meant that they weren't cherished, but according to howmanyleft.com there are 160-odd left in the UK. Just for goodness' sake don't drive yours like Bond did in A View To A Kill – he ended up driving half a car. Dangereux.
Citroen 2CV [from £1,500]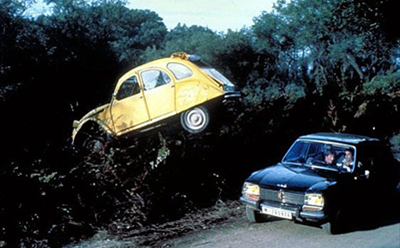 You know the deux chevaux – the stalwart of rural France, designed to cross ploughed fields without your basket of eggs flying everywhere. They've got a real cult following now, and collectors are starting to pay silly money for the agricultural Gallic poppet. Now's the time to strike, before they get really pricey.
But hang on… James Bond didn't drive a 2CV, did he? Yes, yes he did – in For Your Eyes Only. It was one of the sillier Bond car chases, but that's quite fitting given the cheeky character of the 2CV – rolling over, bouncing through orchards, like a yellow steel terrier. (Be warned, however, that the magic of the silver screen may have elevated your expectations of the tin snail; don't expect secret agent levels of thrust or agility!)
Mini Moke [from £7,000]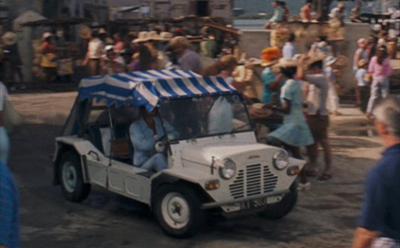 Another quirky, stripped-back little runabout here – the Mini Moke featured in Live And Let Die, The Spy Who Loved Me and Moonraker (how many Bond cars get a recurring role?!).
Moke is an archaic term for 'donkey', which gives you a clue as to its intended purpose: it's a functional little thing, all right-angles and easy access. But its folded-paper-meets-scaffolding design has a real charm to it, and it enjoys just as strong a cult following as the 2CV; also, its underpinnings are 100% Mini, so they're quite fun.
Prices range broadly due to the phenomenally long production run, but figure on about £7k being your start point for a good 'un. Oh, and all of the Cooper bits bolt straight in, of course. That would be entertaining.
Alfa Romeo 159 [from £8,000]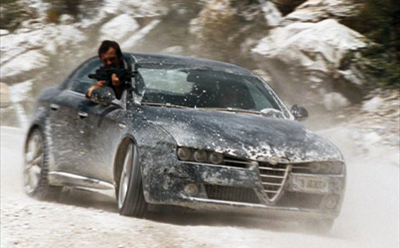 This one shouldn't be too hard to justify to your partner. It's gorgeous, it's practical, it's new enough not to be cursed by the clichéd Alfa gremlins… and, of course, it's a bona fide Bond car.
Indeed, its 007 credentials are astonishing: in the opening car chase in Quantum of Solace, the baddies' 159 is able to easily keep up with Bond's speeding Aston Martin DBS! That should be all the encouragement you need. They're clearly MAGIC.
You see, you don't need a Lotus Esprit or an Aston Martin Vanquish to be a 00-agent. Basically, you just need whatever car's nearest to you at the time. But to impress the aforementioned mates in the pub, any one of the above should be sufficient to ensure that, at the very least, you won't have to buy the next round of vodka Martinis.
Now you're here, why not run a quote on Gocompare.com's car insurance engine – it's a money-saving gadget that Q himself would be proud of…