Dinky German car manufacturer Smart has teamed up with American designer Jeremy Scott to make an outlandish, winged version of its fourtwo car – the forjeremy - which it claims is full of 'joie de vivre'. This, we think you'll agree, is beyond dispute.
Jeremy Scott is renowned for his, er, colourful work – you may well have seen popular Irish popsters Jedward 'rocking' his Adidas collaboration hi tops, but he's also done exclusive work for other A-list members of the Hit Parade, including Katy Perry, Lady Gaga and Rhianna.
This one is just a show car to do the rounds at motor shows – but you'll actually be able to buy one from next year. We can imagine it going down a storm in certain parts of East London.
The car was launched – quite fittingly some might argue - at Jim Henson Studios, with soundtrack provided by 'Paper Planes' chanteuse M.I.A.
Anyway, shall we have a closer look?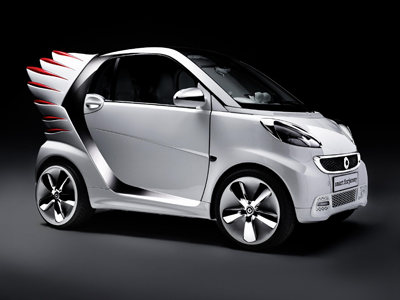 Here it is from the side. Here's Jezza Scott himself for a bit more insight on those wings: "For me, wings mean freedom, a sense of weightlessness. Because of this, I definitely wanted to have them for the smart electric drive in order to convey the way it frees the environment of noxious emissions and symbolises the new lightness of mobility," he says.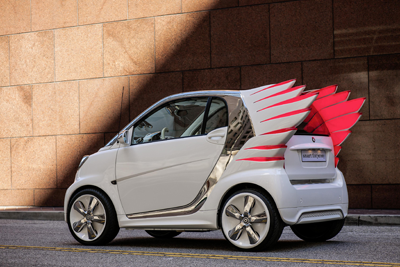 Here it is again, from the rear. Apparently, those wheel rims "are shaped like aeroplane propellers, giving the impression that the electric smart might take off at any minute." With a 55kW electric motor, there's probably little chance of that actually happening.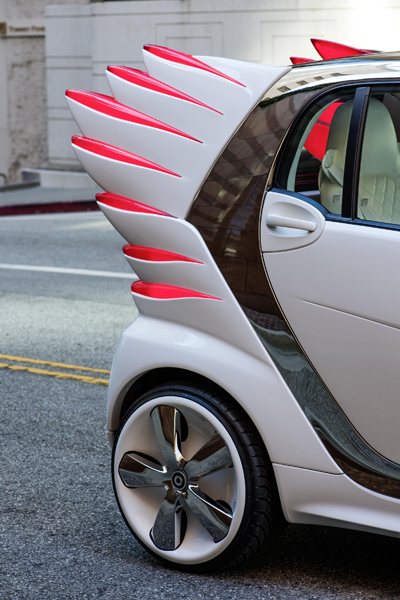 Here's another close-up of those wings, just in case you didn't get enough first time round. THEY ACTUALLY LIGHT UP.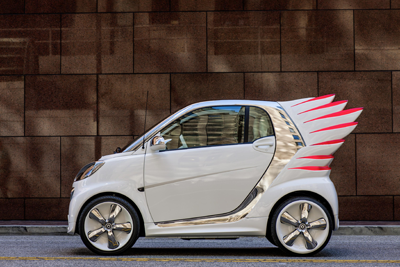 The design 'types' at Mercedes reckoned Jeremy was "a veritable fireball of creativity." We're not arguing with that. And apparently, Dr Annette Winkler, the head of Smart is "looking forward to cruising the city in this item of haute couture." There doesn't appear to be lot of room in there for that...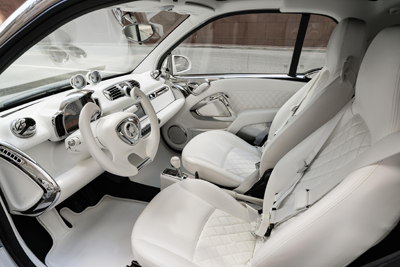 Inside, now. That's white nappa leather there, don't you know. Take a closer look, and you'll find daimond stitching. Fancy. Given what we learned about car insurance groups the other day, we can't imagine parts and spares for this being abundant.
So, there you have it. It would definitely take a certain self-confidence to rock this without feeling terribly silly, but Covered reckons its up to the task. Smart, you know where we are. (Newport, if you need reminding.)