The Money Shot has been trying – and it has to be said, failing miserably – to come up with ways of making the monthly base announcement interesting for some time now.
After all, how many times can you say "held at 0.5% - bad news for savings, great news for loans, mortgages and credit cards" without sounding like a grating parrot? The answer: not many.
However, the Bank of England itself has taken huge steps to 'sex up' that monthly trumpeting by appointing smouldering, lantern-jawed, George Clooney-esque Canadian Mark Carney as its new governor. He'll be replacing the altogether less racy Mervyn King, who despite his years of experience, sound fiscal judgement, and amazing double life on the darts circuit, always had something of the look of the avuncular village baker about him.
Carney's CV actually checks out quite favourably – during his tenure at the Bank of Canada, not a single Canadian bank had to be bailed out. He's also been praised by George Osborne as being "the outstanding banker of his generation." Although given the amount of credibility-sapping incidents in the trade over the past few years, you couldn't exactly call it a hotly contested field.
Of course, there's the small matter of Carney's past life in various high-power roles at Goldman Sachs, that paragon of caring ethical banking to consider. But one factor gives us hope that Mark is the man for the job - Mrs Carney, his British wife Diana. She's a keen environmentalist who holds no truck with naughty bankers and once described global financial institutions as "rotten or inadequate." What's more, she's previously expressed sympathy for the Occupy movement, which isn't renowned for being pally with the world of high finance.
What's certain is that Handsome Mark won't have much time to learn on the job when he takes Merv's still-warm seat in June next year – apparently, the country is staring down the barrel of a 'triple dip' recession, and he's going to have to use all his knowledge, experience and good looks to get us out of it. No pressure, then…
SHORT CHANGE - Money news in brief
Floods have wreaked havoc on Britain's homes, businesses and roads.
Speaking of floods,  there's been a bit of a to-do between the government and the insurance industry. The latter wants an overdraft facility for future flood-related home insurance claims, but the former won't provide it. Here's more on the topic, if you fancy it.
A nuisance company which sent millions of spam texts to infuriated people across the country has been fined £440,000 by Ofcom. At its peak Tetrus Communications was banging out around 900,000 spam texts a day. The rotters.
Heating your home is a whopping 63% more expensive than it was five years ago – up from £360 to £570 a year. And with the various measures in the government's much-trumpeted Energy Bill, just announced by Ed Davey, it's going to get even pricier – about £100 a year by 2020. He's given cart blanche to the energy companies to whack even greater levies on customers' bills in order to pay for investment in renewables.
Fans of super strength lager and artisan 'craft beer' alike raised a glass to the European Union's assertion that the government's minimum alcohol pricing plan is illegal.
Here's something to look forward to - a leading 'think tank' has suggested that this austerity business might well drag on until 2016.
House purchases are on the up – there was a 5% growth in mortgage approvals in October.
Get rooting around down the back of your sofa NOW – Lloyds TSB reckons there's a total of £317.5 million in loose change knocking about in Britain's homes.
REHEATED GRAVY – THE BEST OF COVERED THIS WEEK
Still want more on the new governor of the Bank of England? We reeled off some facts about Mark Carney. Some may not be true.
Daniel Bevis rounded up six cars which will allow you to be Bond on a budget. All you need now is a knock-off Rolex and a Walther PPK water-pistol.
The weather outside can safely be described as being in the realms of 'a bit parky'. So, make sure that YOUR copper pipes don't burst.
We reported on Smart and Jeremy Scott's outlandish winged car.
AND FINALLY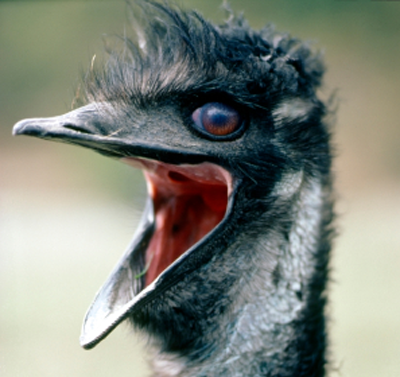 Be wary when you're out cruising for birds in the South West of England. Residents of the charming Devon town of Barnstaple were forced to do a double take after a 4ft emu - similar to the one pictured above - was discovered roaming the streets this week.
Sergeant Zoe Parnell of Devonshire Police, who apprehended the bird , recalled: "I thought it was a wind-up," she said. "I thought we'd arrive and it would be a turkey or something like that.
She continued: "I must admit that while I'm not normally scared of birds, I was a bit nervous with this one."
The visibly distressed bird didn't take kindly to being bundled into the back of a police car, by the sounds of it. "There was a lot of wee-ing and poo-ing and flying feathers in the back of the car," said Parnell.
The hunt for the bird's owner continues. Actually, thi seems an ideal juncture to insert a plug exotic pet insurance, doesn't it?