It's the ultimate pressie panic of the season… You've spent the whole of December playing the consummate Santa, deducing game-changing gifts for every member of the family. With the swag you've lined up this is going to be the best Christmas since records began.
Then BANG: stress strikes! You've forgotten the most important member of the family… The pet! No amount of last minute dashes to the supermarket pet aisle is going to assuage your conscience this time.
Stop panicking: with weeks left until the big day, there's still plenty of time to pamper the puppy and coddle the kitten. Here's a little inspiration…
A card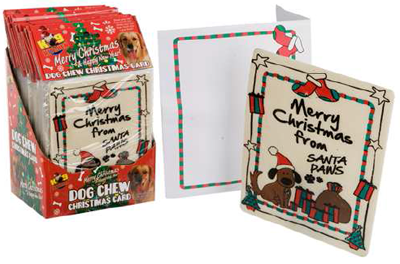 Well, it's a start. Not just a lame cardboard one that neither your dog nor cat will appreciate in the slightest… We're talking personalised edible cards!
There's an abundance of dog cards available, and it seems cats are beginning to find festive favour too this year. In fact pet Christmas cards will be appreciated far more than the regular ones you send to relatives… At least they won't just leave it on the shelf to collect dust for the month.
Pet's Eye View Camera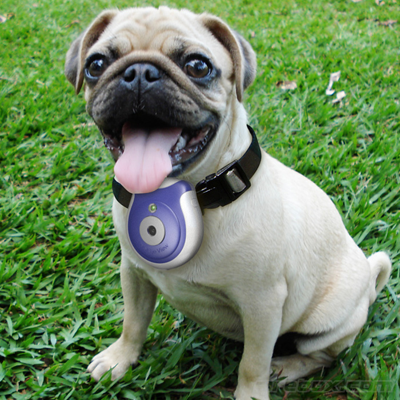 What better gift than getting to know your pet better. Find out what your cat gets up to on her daily neighbourhood perambulations and get closure on exactly where Rover heads when he goes AWOL on walkies by simply attaching these high-spec digital cameras to their collar. Some even offer a HD video function!
Just be careful if your cat takes too many local liberties… You might see a bit more of your neighbour than you bargained.
Get scratching!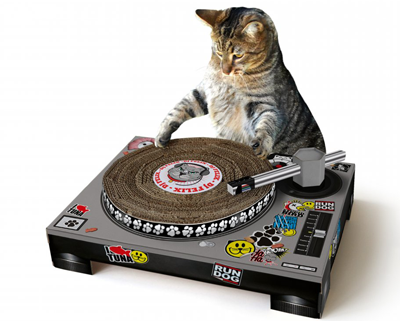 Treat your cat to a little street cred this year with Cat Scratch, a DJ style turntable with a stimulating claw-friendly platter that actually revolves!
Not only does this look cool and hilarious in equal measure, it's also great for your cat's development and will stop them scratching your furniture/favourite records. Just check out Claws Von Stroke here, 'pon de ones and twos.
Kitty Twitter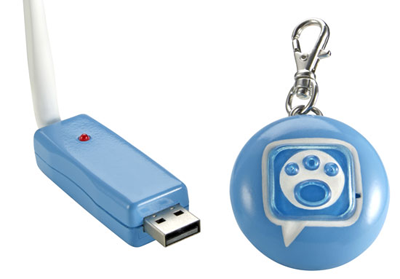 Ask any social media savvy pet and they'll tell you the best present you can give them this year is a retweet.
Both Puppy Tweets and Kitty Twitty work via a sensor and wi-fi Puppy Tweets is a little more sophisticated; attached to your dog's collar, it tracks their behaviour and will tweet an appropriate announcement from a bank of 500 messages.
Kitty Twitty, meanwhile, is far more DIY and only available in kit form via America's Make magazine...
Paw-casso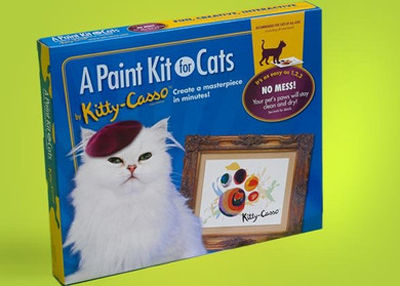 Bring out the artiste in your pet this Christmas with Pup-Casso and Kitty-Casso. Surprisingly mess-free, simply tape down your canvas, splash some colours on it, place the plastic paint guard over the top and let allow your pet's creative spirit to flourish as they trot over it.
The paint guard should ensure no danger whatsoever but in case you're concerned about getting paint in your dog's eyes, you could also consider Doggles, safety specs for dogs. No, really…
Booze hound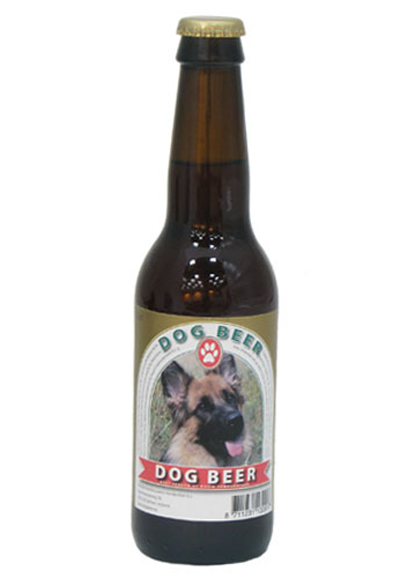 Looking forward to a few adult beverages this Christmas? Perhaps your dog might like to join in? Non-alcoholic and non-carbonated, these beef flavoured Dog Beer tipples are the perfect way to include your dog in every social situation this season.
Worried the cat might be left out? Chuck them a catnip cigar and they'll soon stop moaning. While we're on the subject of festive behaviour for grown ups, there's also the Hot Doll, an…erm…'adult toy' for dogs. Well, it's less embarrassing than grandma's leg, right?
Luxury grooming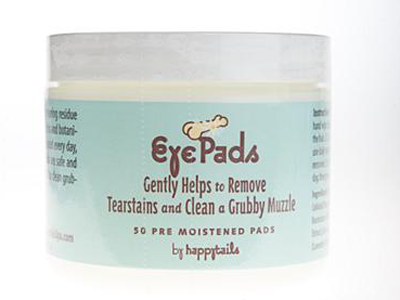 Pet grooming is a booming business. And while most of us stop at the standard brush and occasional shampoo, there's no better time than Christmas to pamper your cats and dogs with a few luxury extras.
The options are endless, from designer perfumes that range from £10-£70 to doggy nail varnish (honestly) or, our favourite, doggy eye pads. Organic (naturally) and toxin-free, they're not giving them away at £20 for 50. But the look on your dog's face when you tell him you've got him an iPad then you give him these…. Priceless.  
A robotic ball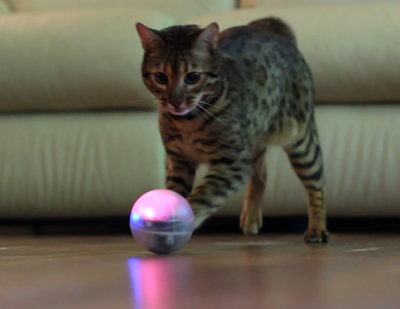 Thrown a ball for your dog recently? Well stop it. We're in the future now, and all balls should be controlled by your smart phone or tablet.
Seriously; the Sphero Robotic Ball is a remote controlled ball that you 'drive' using any portable smart device. Originally designed for human skylarking, a clever marketing guy at Sphero has now opened up the market to pets and now they're available on all major US pet stores… And about to take the UK by storm.
It's a hoot; both cats and dogs will have hours of fun chasing this around. And so will you. Naturally they come with a warning; do not leave your pet alone with the Sphero as they may choke. But here's the rub; they cost an average of £100!
Pet Insurance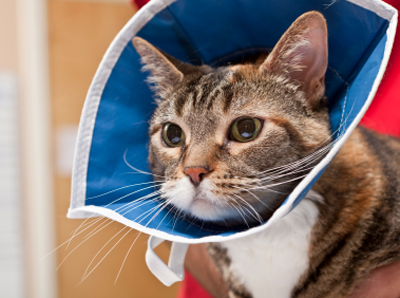 Eye pads and robotic balls are all good and well. But the best present you could possibly get your pet this Christmas may be cat insurance or dog insurance.
Vet bills don't land on the doorstep very often, but when they do they sting quite hard. And, according to the Association Of British Insurers, 31 per cent of UK pet owners will get one in the next 12 months.
Each pet has different circumstances, and pet insurance policies differ with each insurer. But you may be covered for benefits such as third party liability (if your dog chews on your neighbour's car or prize roses for example), the cost of advertising if it's lost (plus, in many cases, a set reward), plus the obvious but dreaded factor such as vet and hospital cost if it falls ill.
Okay, it's not quite as fun as a beefy beer or chewy card, but it's a worthy Christmas consideration.
Pet Translator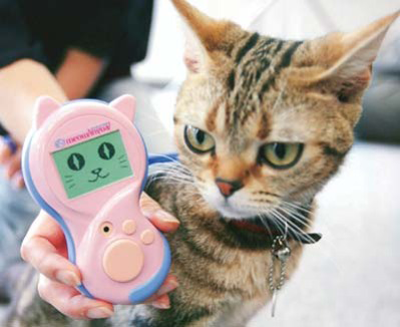 And if all else fails? Then look no further than the Bow Lingual or Meowlingual pet translators and let your pet tell you what they really want next year.
Okay, so neither are available in the UK. And the Meowlingual only translates to Japanese right now… But if love your pet then a quick jump to the US or night-classes in Japanese really shouldn't be too much of an ask. Should it?