There are many upsides to cosmopolitan urban living – the plethora of dining options, the picturesque landmarks, the handy public transport network.
One of the key downsides, however, makes itself known when you try to drive anywhere. You'll find that lots of other people are driving around as well, and that it's really hard to find anywhere to park.
Combine this lack of space with rising fuel costs and, if you live in London, the irritation of the Congestion Charge to boot, and it's easy to feel a little downhearted about modern urban motoring.…but nil desperandum, dear reader!
Once again, we are supping from the chalice of truth and regurgitating some hot logic in your general direction: this time, we're all about finding you some cheap, practical urban motoring that will keep your bank manager happy and your grumpiness at a minimum.
This, ladies and gents, is our guide to 'how to look spiffy around town in cars that are Congestion Charge-exempt, won't kick out loads of CO2 and might be a bit of fun'. Snappy, eh?


Toyota iQ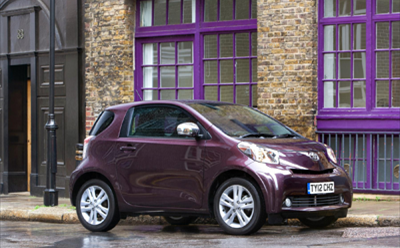 Had this been released a decade ago, people might have assumed it was some kind of concept for the future of French sans permis mobility cars. But no, there's all kinds of these teeny motors around these days, and the iQ has a special hook: it's basically a de-badged Aston Martin Cygnet. See?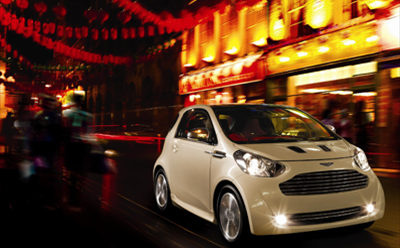 Well, OK, it isn't, but you could argue that it might be. The Cygnet is A-M's excuse car, bringing down the average CO2 of their entire fleet, and is essentially an iQ with a posh interior and an Aston grille – for three times the price. So… buy the Toyota for £11k, get a set of Aston Martin badges from eBay (say, £100-ish), and no-one's any the wiser. Maybe.


Fiat 500 TwinAir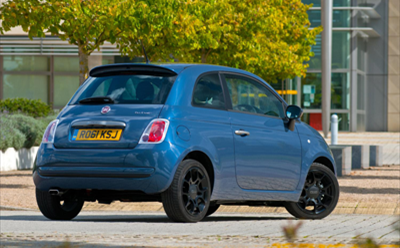 The 500 TwinAir comprises a number of brilliant ideas all wrapped up in a cute package that looks like a cheeky little mouse.
From the body-colour dash to the poised, up-and-at-'em stance, the 500 epitomises 'funkiness'. In TwinAir form, it employs an engine so clever it has a degree in engineering and can always solve the Countdown Conundrum.
Winner of the 2011 Best New Engine Award, the turbocharged twin-cylinder unit has electro-hydraulic variable valve actuation and whispers out less CO2 than a chaffinch's burp, enabling you to put-put around the metropolis without road-charge.
And the fun part comes when you buff away some of that cuteness and start gluing on the bits from the angry Abarth models – big bumpers, beefy alloys, rorty exhausts… spend the money you're saving on the C-Charge on combing through the Abarth parts catalogue. Great fun. (Remember to inform your insurer of your mods, or risk feeling very silly indeed when your policy is invalidated. Also, do bear in mind that modifying your car may well make your car insurance more expensive)


Chrysler Ypsilon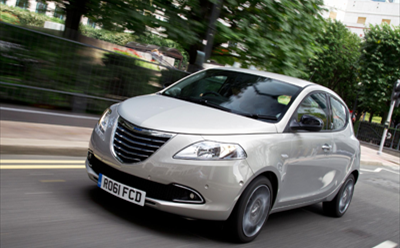 Here's a car that looks even more like a mouse than the 500. In actual fact, it's basically a Fiat 500 underneath, meaning that it can also be specced with the 900cc TwinAir engine that allows you to limbo under the C-Charge threshold.
But why would you choose this big-nosed scamp over the Fiat? Two reasons: firstly, the 500 is ubiquitous – the Ypsilon is largely the same, and at the same time entirely different.
Secondly, it's being sold in Europe as the Lancia Ypsilon. And there are few more impressive boasts than saying 'I drive a Lancia'. It speaks volumes about your petrolhead credentials. (And, unlike Lancias of old, this one probably won't dissolve into a rusty puddle at the first sign of inclement weather. Bonus.)


VW up!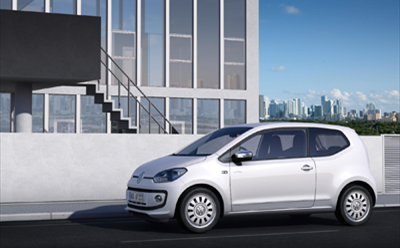 The up! is basically the new Lupo. Its unorthodox punctuation and lower case/proper noun situation relentlessly baffles MS Word and motoring journos alike, and insiders reliably inform me that special editions such as the Balls up! and the Cock up! are on their way. (This may not be true.)
So why is this bargainous little poppet in our list? Because it'll allow you to tell extravagant lies to make you sound cool, that's why. The original up! concept was rear-engined and rear-wheel drive, which was a thoroughly exciting notion. That was never going to be a production reality, obviously, but if you tell your chums that you drive a car from the VW group with rear-engine DNA, they might jump to the conclusion that you're rolling in a 911. And who are you to correct them?


Toyota Aygo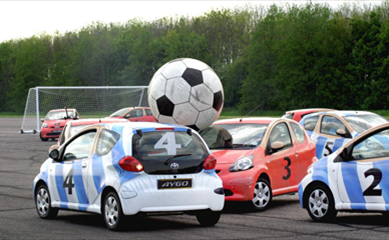 We've been focusing on the 'premiumisation' of small cars so far, haven't we? Let's strip it back to basics and make something really fun.
The Toyota Aygo is about as basic as new cars can get without actually driving around with no windows, and this is something to capitalise on. If you're ordering a new one, be sure to ignore the options list and buy the cheapest one you possibly can. It'll cost you about eight grand – call it seven-and-a-half with a bit of aggressive haggling. Then get yourself to Halfords, buy some rattle cans of appliance white and cornflower blue paint, and make your Aygo look like those ones they used to play car football on Top Gear.
The key upside of this is that the inevitable parking dings of urban living will add to the car's character and charm – possibly the only car in the world for which this is true. (n.b. For legal reasons, we'll point out that if you're changing the colour of your car, you need to inform the DVLA and your insurer. And also that you shouldn't *actually* play car football in your Aygo. That could go very badly wrong. Trust us. We still don't talk about 'the incident'.)


Black cab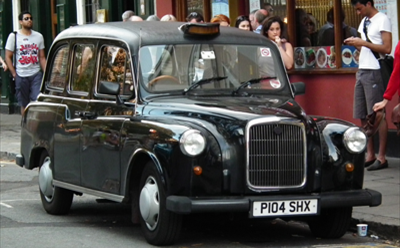 Bez from the Happy Mondays drives a black cab. So does Stephen Fry. And, of course, so do a fair few London cabbies. The classic black cab, the FX4, is pretty much the best car to drive around town; OK, it's not small and nimble like all of the cars above, and it's not super-eco-friendly, but it has an amazing turning circle and you'll always be waved out of side roads. They're inherently reliable and practical too.
Due to TfL regulations mandating that all cabs need to comply with Euro 3 exhaust emission regs, the old-style taxis are going to be extinct pretty soon. Well, extinct as taxis at least.
You'll still be able to buy one and drive it around as your own private car – why not do the decent thing and save one from being scrapped? You never know, it may one day be worth as much as an old red phone box.
Remember, though, that you can't make a sly bit of cash on the side by picking up fares in it – the local constabulary will be all over you. Oh, and if it's not registered as a Hackney carriage (which it won't be, obviously) then it's not Congestion Charge exempt, so it doesn't actually fit into this list at all. But we still maintain that the idea has merit. Maybe it'll convince you to retrain as a taxi driver? Learning 'The Knowledge' sounds like a blast.

So, lots to think about there. And while they're all exempt from the Congestion Charge (well, except the taxi), don't think of this as an exclusively London-centric solution: any one of these cars could be ideal personal transport for any city you care to name. Cheap(ish), frugal, stylish, spiffy and practical – that's living the dream, is it not