Fired up from a fight over the MINI, Dan Bevis and Chris Pollitt are thrashing it out again in another 'Heated Debate'.
This time it's Chris with the car lust, but will Dan agree that the Vauxhall Insignia is a car worth owning? There's only one way to find out. Gentlemen, start your keyboards…
Chris: No messing, let's get to it. The Vauxhall Insignia is a brilliant car and for the money, it's better than anything else in its class. I'm right, you're wrong. I win. NEXT!
Dan: That anonymous character-vacuum repmobile? Er… no thanks.
Chris: I knew it wouldn't be simple. You just don't like it because it's a Vauxhall. There's nothing wrong with that, especially when – like the Insignia – it's a Vauxhall which embodies a new focus on design and refinement. The rivals, Mondeos and Passats and the like are just extensions of an existing line. The Insignia is a complete break away from what Vauxhall was doing, not that the Vectra was all that bad in my eyes.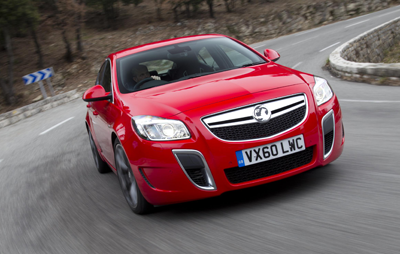 Dan: What makes you think I don't like Vauxhalls? My first car was a Nova, I loved it. I had a mkII Astra cabrio too, that was ace. A lot of thoroughly exciting and impressive cars have worn the Griffin badge over the years; Firenza, Viva, Magnum, mkI Cavalier, Baby Bertha... but this isn't one of them. And the Vectra certainly wasn't – that was a car designed specifically for travelling salesmen, with rubbery hooks in the rear for carrying their wonkily-pressed shirts, and plenty of elbow-room in the front for when they're shaving their stubble on the A249. This is basically just a new version of that. Yawn.
Chris: Sorry, you don't like modern Vauxhalls. Anyway, I was sure you'd take the Vectra bait. Okay, the Vectra wasn't great – so quite why I have one sitting in my garden is beyond me. Anyway, the Insignia is brilliant. There's a great range of engines and spec, space is plentiful and they look fantastic. Plus, in my experience, they're fantastically reliable. Get yourself a VX-Line diesel on 20-inch alloys, in red, with 160bhp and you're really onto a winner - sporty looks and economy. Brilliant.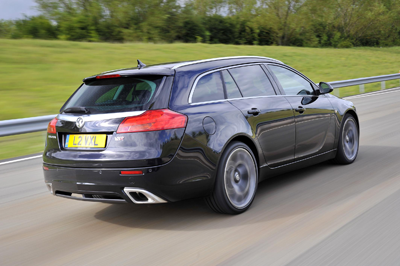 Dan: A diesel family saloon on blingin' 20" rims? You'd look like an absolute wally. And OK, 160bhp is enough to have a bit of fun, but I think life's just too short to be driving around in a sensible diesel saloon. I'm not a taxi driver. Let's roll the dice, enjoy ourselves a little.
Chris: I do despair. It's a big, modern car. Even an Astra gets 18s as standard in some instances. Going for 20s on an Insignia isn't daft, they fill the arches perfectly. Wheels aside, I've got a diesel 160 bhp 'Elite' with leather, nav and clever headlights that dip the beam when they see another car. Not once have I felt like a taxi driver.
Besides, you don't have to have a diesel. What about the turbo-nutter VXR? Ignore any thoughts of economy - car insurance and filling it up are likely to cost a bit - and you'll be left with a road-going racer. It's got 2.8 litres of turbocharged V6, sporty looks, leather trim and a chassis (for its size) to die for thanks to the new four-wheel-drive system. Ford doesn't make anything like that, and while I'm sure you'd like to point out the Passat R36, I'd like to stop you and point out the VW's price-tag.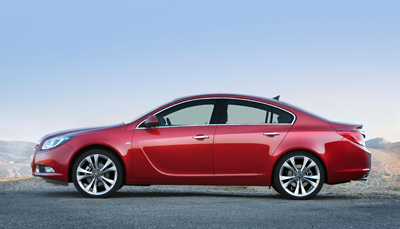 Dan: Well yeah, actually, the VXR does look like a pretty sensational proposition. And I am genuinely impressed that the VXR Supersport costs under thirty grand and can do 170mph. That's a proper old-school muscle car approach, cheap power for the masses. But it's a heavy old barge - isn't this also a muscle car approach? Monstrous in a straight line, stupid in corners?
Chris: No, it's not a 60s Dodge. Mine's more nimble than some 'hot' hatches I've owened in the past. The bods at General Motors put their thinking caps on and birthed the awesome HiPer Strut suspension setup. It's clever stuff, too. Based on the common McPherson set up, the HiPer Strut system controls any torque steer, reduces aggressive feedback from bumps and keeps an eye on the camber too.
Basically, more rubber stays on the road and then more smiles appear on the driver's mush. The only car to come close is the Focus RS, but that's expensive, and it only has three doors. And you need to have 'Essex' tattooed on your forehead before you're allowed to drive one.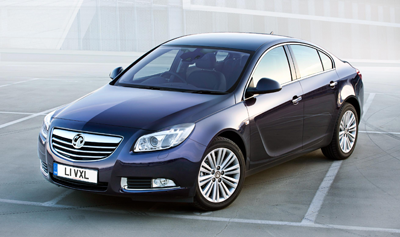 Dan: Right. OK. So it's well-built, relatively inexpensive, potentially rapid, arguably sure-footed, well-specced and not all that ugly. It's still a bloomin' Vectra.
Chris: Argh! You're not Clarkson. Let the Vectra go, it's dead, it's gone, it's a relic. If you do that, you'll be able to see how much of a leap forward the Insignia is for Vauxhall.
If you de-badged an Insignia and a Vectra and let people examine them, do you honestly think people would believe they were made by the same company? No, because it's not evolution of the Vectra, it's the realisation of a new direction for Vauxhall. The Insignia was the first, but the Astra soon adopted its styling, as did the Zafira Tourer, and soon, the new Corsa. It's a pioneer.
Dan: Hmm. If you showed people the Insignia without badges, they'd probably assume that it was Japanese or Korean. It's got that generic Eastern car look - inoffensive but hardly revolutionary. But I suppose you have a point about evolution. I mean, a lot of cars step radically away from their predecessors while retaining the same name, don't they, and go on to greatness? Like the mkIII Escort switching to front-wheel drive. So alright, I take your point – the Insignia fits into the Vectra's niche in the model line-up, but it's a slightly better, marginally more interesting car. Happy now?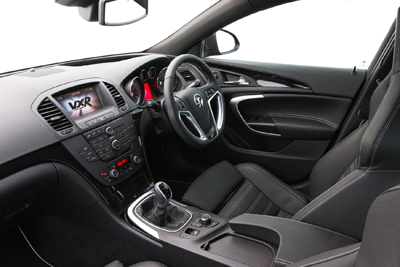 Chris: Not the glowing praise I'd hoped for, but I'll take it. But when you look at it like that, the Insignia makes sense doesn't it? It has to be judged on its own merits, not those of the Vectra (if it had any). Plus, if you ever need to borrow my car, it'll be a chuffin' Insignia, so you really should start liking them. Tell you what, if you agree it's a decent car that's well worth owning, you can borrow mine for a week. Deal?
Dan: *sigh* Counter-offer: you stop banging on about how amazing your damn Insignia is, and I'll agree that it's a nice enough car, and the VXR is sufficiently quick to divert my attention. We can call that a deal.
Conclusion: Chris is really keen on the Insignia. (And, despite his protestations, the Vectra too.) So his support and enthusiasm was always bound to be unwavering. But Dan's initial stonewall has been smashed down by Chris's hamster-faced cheeriness – against all the odds and with much resistance, he grudgingly admits that the Insignia is a pretty decent motor.
Verdict:Chris and the Insignia win!