Every dog has its day…
It's best to remember this when you arrive at any dog rescue centre.  The chaotic din of barks, the thick damp smell and those deep, knowing eyes… You want nothing more than for each of them to have their day. And to have it on the double.
Yet compared to their previous situations – homeless, undernourished, unloved, flea-bitten, sick, balding, scared, even stabbed – these dogs are already having their day. Daily. As we experienced last month, rescue centres' commitment towards the animals' wellbeing and rehoming is astonishing.
And no more so than at Cardiff Dogs' Home…
9am: Dave VS Parvovirus
The gloves are off! A savage scourge on the stray canine community, 'parvo' is a rescue centre's cruellest nemesis. And sadly it's just killed a young bitch.
Airborne and lethal, if there's even a whiff of the virus, the steamer is off limits. 40 kennels are to be scrubbed by hand. Best put the gloves back on, then. And I'll dip my feet in the disinfectant trays at every possible opportunity too…
The kennel assistant dishes out the Chappie and checks each dog's meds, while I fill each of the 40 residents' bowls with water and scrub 100 bowls in two sinks of industrial strength Fairy Liquid and bacteria-busting trigene disinfectant.
As the mutts munch in the front section of their kennels, we room service their sleeping quarters. Beds removed, blankets changed, toys tidied; each area is vigorously scrubbed down thrice over. One thorough trigene scrubbing, one squeegee-mopping and one blast of sprayed disinfectant. It's a lengthy process.
11.30: Paperwork and hopeful applicants
Kennels cleaned, the staff go through each dog's file and discuss their first possible release date and any developments needed. The small team of three staff are devoted to building the dogs' trust, making them more settled and attractive to new homes.
I learn of Missy, a Rottweiler/Staffy cross. Her skin's so sensitive the vet can't vaccinate her. She isn't considered a danger, but without a full vaccination there's no hope of rehome. Their solution is genius; an hour a day is to be spent stroking her and getting her used to more contact.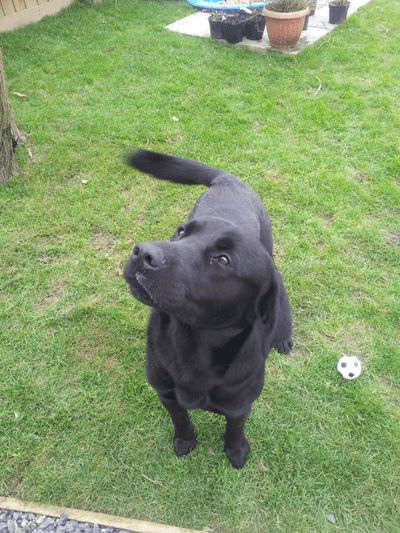 I also learn of Robbie (above). An earnest black labrador, he's in big demand with three applications from hopeful new homes. I'm shown how they work out the most suitable owner based on factors such as living arrangements, space, age and experience. In an amazing twist of fate, the successful candidate walks in to receive the good news - she can pick him up tomorrow.
She passes a young husky lover on the way out. Previously approved and living conditions checked out, he's just arrived to pick up his third rescue husky. After signing the paperwork and paying the £60 bill, he leaves a happy customer.
It sounds as cute as Rolf's Animal Hospital, but it's actually hectic; the work is peppered with continuous phone ringing, and the home is never short of visitors. Rehoming can take a few weeks as various introductions are made between the dogs and hopeful families.
12.30: Walkers and microchips
Half way through the day and I finally get to put hairy faces to the barks I've been hearing all morning.  As the visitors increase I fetch the dogs from the kennels to volunteer walkers and hopeful owners. I meet chubby Lily, a mastiff cross who plods with nonchalance.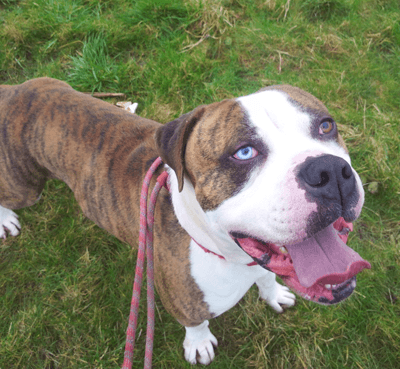 I meet Noel (above), the kennel's longest running resident who was stabbed by his previous owner. I also meet Tori (below), a grumpy, ruffled shar pei and introduce her to the most unwitting new owner; a burly builder!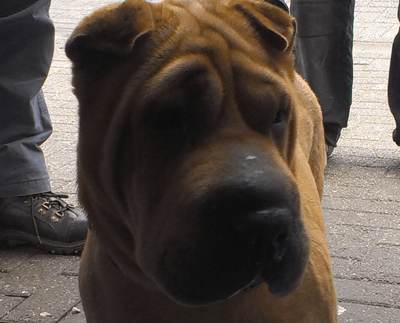 I also meet Charlie, a Samoyed. He's a massive white ball of hair who's just passing through for a quick microchipping - he's the chap in the main picture at the top of the article.
Not content with caring for the city's strays, Cardiff Dogs Home chips any dog for a £5 donation. They also offer free vet's consultation and neutering at a massively subsidised rate. None of the dogs leave the pound without being neutered, too. There's as much commitment to prevention as there is to successfully rehoming the dogs.
2.00: On the road with the warden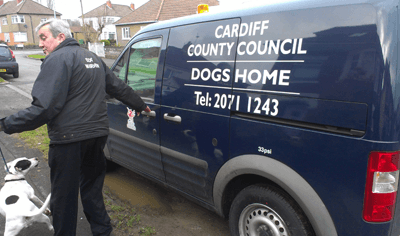 My afternoon was to be spent in the quarantined kennel, cleaning and feeding the dogs in the arrival's section. The pre-vaccinated area, it's the saddest corner of the pound as the dogs are still wary of their new temporary home
However two calls change the course of my afternoon. One stray is delivered unannounced and, seconds later, the warden is called to collect a stray on the other side of town. The staff instigate a military kennel analysis to make spaces for the new arrivals. Meanwhile I hit the road.
With 29 years' service, the warden has many tales to tell. And scars to show. His stories of irresponsible dog ownership would make you shudder. From physical threats to bone-hitting bites, he's seen some serious action. Luckily today's rescue was much more representative of a regular day: A staffy escapee who's fit, healthy and happy.
She's clearly got a home but there's no ID or microchip. She'll be taken to the pound. The owners will be charged £60, and £12 for every day that follows. If she's not collected within eight days, she belongs to the council who'll then rehome her.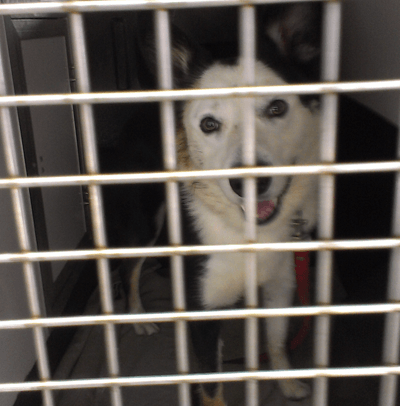 Another call comes through: A collie's loose a few miles north. He'd been found roaming a park by a dog walker. Weirdly, his lead was attached. We scan for a chip and strike gold.
Unfortunately the address was 20 miles out of town and the contact numbers didn't work. Chips are a fantastic way to retrieve a lost mutt; but only if you keep the details up to date!  Duke has no choice but to join our staffy companion and return to base where kennels have been thrice-cleaned in preparation.
4.00. Home time
It's been a flat-out day but I have to be honest; I don't feel like I've experienced the full work of a kennel assistant. I haven't even scooped a poop!
Intense work with stretched resources, demanding animals, hygiene risks and public interaction - I think it would take months to really get to grips with the full responsibilities of a dog home worker. And that's before you consider the amount of time they spend with each dog to get to know its personality, quirks and needs just so they can find it the best home possible… And find it on the double.