There was a time when the next Lewis Hamilton could be gauged purely by lap times and pole positions. Not any more.
These days the wannabe warriors of motorsport need to show business skills more familiar on the Apprentice before they can dream about pre-race interviews down on the grid.
It's not just the fatty excess of Formula 1 spending that has been trimmed by a global recession. Long-odds investment punts on future world champions have been butchered, too.
Promising young drivers – like 18-year-old Fraser O'Brien  – had better be able to raise cash themselves or they are never going to make the start line.
So, every morning, Fraser puts on a suit and gives it the big sell. The product is him and his Porsche 911 GT3. The opportunity is to maybe buy into motor racing's next big thing.
With that distinctive mix of charm and slightly chilling ambition common enough within Alan Sugar's boardrooms, Fraser says: "Some drivers complain about a lack of money, but when you tell them they should go out and knock on doors they say they can't. That just suggests to me that they don't want it enough."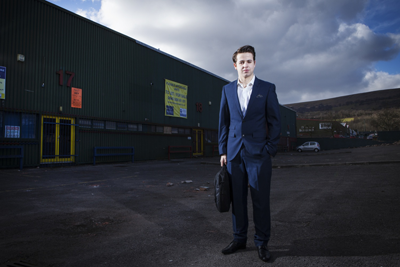 When he's not burning rubber on the track, Fraser – from Abergavenny in south Wales – is wearing out shoe leather as he trudges around windswept trading estates with his briefcase in hand.
He sells advertising space on his car, his racing suit, accompanying banners, and on his own website.
So far, almost 600 companies have backed him and he has raised £150,000 in less than two years – enough for him to plan to race in the Porsche Supercup, which runs alongside most of the F1 season in European cities.
The teenager will be the youngest racer in the field, hopeful his sharp cornering – both on and off the circuit – can propel him through the final laps to his cherished F1 dream.
"At the start I was offering a little sticker on the side of the car or a name on a banner for £45. Then, I divided up my suit, started the website and the fees went up to £150, then to £250 with different options," said Fraser who began his knock-and-sell strategy when he was still revising for his GCSEs.
"I needed £20,000 to finish off the first season and we did that very easily. I sold all the space on my suit within a week-and-a-half for £7,000.
"There was the odd day, when I sold nothing, and it became a bit depressing. But then you'd make a sale and off you'd go again."
It's an impressive start for a kid just out of school, but it's still peanuts compared to the money he would one day need to bring to the F1 casino.
Gone are the days when the likes of McLaren were falling over themselves to throw money at prodigies like Hamilton. These days, it's all about what a racer can bring with him as a so-called "pay driver" in order to secure the seat, especially for the smaller teams.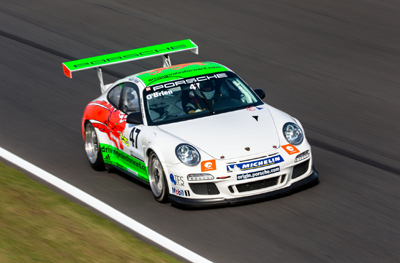 Britain's latest F1 driver – Max Chilton, a 21-year-old in the Jenson Button mould – brought plenty. He dumped £11m on the table for Russian outfit Marussia, but then his father is Grahame Chilton, chairman of insurance giant Aon Benfield, who is said to be worth £100m.
Fraser doesn't have a fairy godfather so he uses personal charm to develop an old-school sense of chumminess with those who buy in. 
"Cold calling in person is now rare. Everyone does email, websites and telesales, so people just weren't expecting it," he said.
"Sometimes people try and claim their boss is away, but I tell them I've noticed his car is outside. A few of them said they didn't have much money, weren't that interested in motor sport, but they liked the fact that I'd knocked on their door.
"The first successful one was my third call - Phoenix Van Accessories – and they've stayed one of my favourite sponsors. Then there have been garages, kitchen companies, granite worktops, car sellers, undertakers and even a quickie divorce company.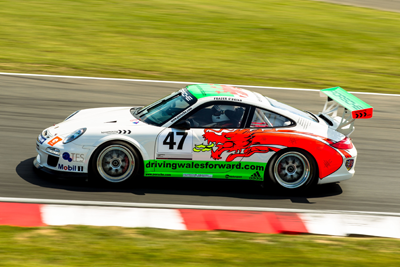 "I now know all these sponsors personally. I can tell you about their companies, whether they like F1, if they're a Button or Hamilton supporter, even what their dog's name is.
"I didn't want a relationship where people give me money and that's it. I keep in touch with them, tell them what's going on, send them emails and Christmas cards."
Like most current drivers Fraser began in karting, but he has moved into racing Porsches rather heading down the traditional route of Formula Three or Formula Renault. Since Formula Three can cost £750,000 a season, racing a Porsche is less than half the price and – he reckons – a bigger draw for sponsors.
"Mention Formula Renault and people think of Clios. Mention Porsche and they think Porsche. I think this is probably not a route many people expect drivers to take, but the main thing is that it's a much less expensive route.
"The dream is always to be a Formula 1 driver and it's the dream of every driver. But if I can be a professional racing driver, racing in Le Mans, or in Nascar, then that's brilliant and that's a dream as well."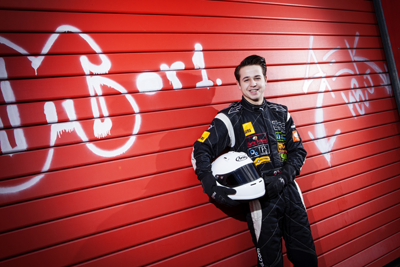 The Porsche Supercup kicks off in May in Barcelona, and will run on selected dates of the F1 undercard until it hits Abu Dhabi in November.
For Fraser to be there at the finish will require lots more sponsorship and more worn shoe leather, although he's having to up his game from his starting point of £45-a-pop for a rock-bottom small ad.
"My approach is having to change because instead of asking for £1,000, I'm now asking for £100,000," he said. "It's now more of a big business proposition and the corporate market.
"A few people have suggested that I must get as much of a thrill striking a good business deal as I do from racing the car. But, to be honest, it just doesn't compare. I enjoy the business side, but it's a means to an end."
Whether or not the end is a chequered flag at a Grand Prix of the future remains to be seen. But one thing is certain. In getting there, Fraser O'Brien will have walked and talked just as far as he's driven.