The recent Budget may have affected you in a number of different ways, for better or worse, depending on where your particular lifestyle and circumstances slot into the social strata.
Whether it be changes to the benefits system or the announcement of the Help to Buy scheme, there were a variety of headline-grabbing highlights that could directly influence your financial future.
But one feature that largely flew under the radar was the extension of the Vehicle Excise Duty (VED) exemption cut-off to January 1 1974.
What does this mean? Why, that you can run a 1973 car tax-free, of course! And without paying VED, you'll have more cash to spend on fuel (the duty of which was frozen, another bonus!), so, given that 2013 is an exciting year for car launches, but with the spectre of recession still lurking in the shadows, we thought we'd put together a handy guide for you: old-school examples of all of these new cars that you can run around on a budget, thanks to the Budget.
Ladies and gentlemen, your carriages await…
Rolls-Royce Silver Shadow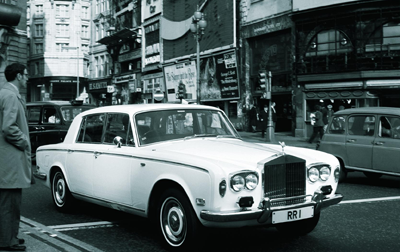 There are dramatic rumblings at Goodwood. No, it's nothing to do with the Breakfast Club sausages, but rather the launch of the staggering new Wraith: a sort of über-luxury sports coupé that's all things to all men – 624bhp V12, Satellite Aided Transmission, some very fancy wood trim… but it'll cost well over £200k. So, all things to all rich men, then.
Forget that – you want a 1973 Silver Shadow: the archetypal R-R. For about £10k you'll get leather as soft as a baby's cheek, lambswool carpets deep enough to lose your moccasins in, 'ample' power (their modest description, that) and, of course, the Spirit of Ecstasy on the nose.
This is the car that people picture when you say 'Rolls-Royce', and it's a thoroughly genteel entry into tax-free motoring. As long as it doesn't break. Then you might have to sell your house to fix it.
Chevrolet Corvette Stingray
Chevy's 2014 Corvette (which begins production this year – US car makers are confusing like that) is rekindling the Stingray name, and it's a terrifically smart thing. Carbon-nano composites and hydroformed aluminium abound, and there's Active Fuel Management, a seven-speed manual 'box and continuously-variable valve timing. It's the cleverest Corvette ever.
…but that's not what you want from a Vette, is it? You want simplicity, brute force, pig iron and HORSEPOWER. You want a proper '73 Stingray, with a 454ci Big Block - that's 7.4 litres, and 275bhp. They're not cheap, but it could be the best £40k you ever spend.
1973 is a double-whammy of a year too – not only is it now tax exempt, but it's the last year that you could buy a Corvette with chrome bumpers. And chrome bumpers are gorgeous.
BMW 2002 Touring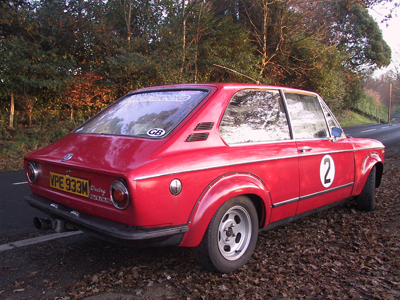 BMW have launched a peculiar variant of the 3-series called the GT, which features a weirdly tapered coupé-esque tail and a hatchback, making it bigger than the 3-series Touring (which is BMW-speak for 'estate'), yet somehow less practical. It's hard to fathom what it's actually for. It's also horrendously ugly.
So to rail against this rather odd Bavarian niche-creation, we should be celebrating its classic forefather, the 2002 Touring.
The '02 line, predecessor to the original 3-series, arrived in the late sixties. Well-proportioned, sprightly, lavishly equipped and solid, there's really nothing to dislike about the old 2002 – it just does everything well.
The Touring variant adds a rakish fastback to the saloon but, unlike the 3-series GT, it actually improves the looks, making a practical and desirable tourer with sure-footed handling and oodles of motorsport heritage. £10k will buy you a minter that you could genuinely use as a reliable daily driver. And passers-by would give you the thumbs-up, rather than the usual variety of other fingers.
Mercedes 280CE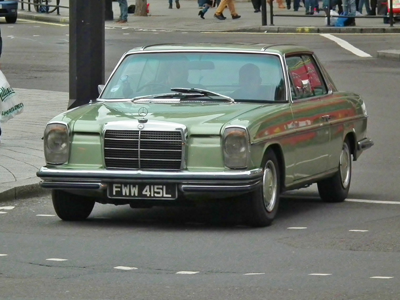 Mercedes-Benz are going through something of a design renaissance these days. We looked at the corking A45 AMG recently, and there's a lot of chatter around the new CLA - it's a very cool looking car, but much of the murmuring seems to be along the 'hmm… it's not very dynamic, is it? And why is it front-wheel drive?' theme.
So, forget all of that spangly nonsense, and get yourself behind the wheel of an old stacklight 280CE.
The classic W114 shape is ineffably stylish, and the coupé variants are pillarless, giving that German solidity a sprinkle of Detroit flair.
About £6-7k should be enough to secure a decent 1973 model, which again will be tax free, and will feature the smooth tail-lights rather than the ribbed ones that came in for '74. To enthusiasts, that matters.
Jensen Interceptor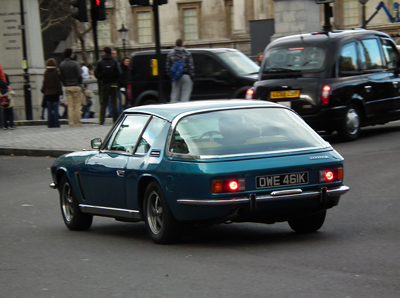 'Wow.' That's a word you'll hear a lot if you drive an Interceptor.
Fusing classic British pluck with Italian looks and rumbling American power, these are hairy-chested muscle cars for people with an eye for the tasteful.
There are a number of companies building modern interpretations of the old Jensen – one exists with a Viper V10 engine, for example, and there are several with Chevy LS1 V8s and modern brakes, suspension etc – but there are two key drawbacks with these: firstly, they're r-e-a-l-l-y expensive, and secondly, you'll be snubbed at classic car meets for not being 'proper'.
Best to do the right thing and buy a tax-free '73 Interceptor, eh? For £25k you can get a series III with a Chrysler 440ci (7.2 litre) V8, and lashings of wood and leather. For the price of a diesel Mondeo (or thereabouts), you could make yourself VERY happy with one of these.  And it'll be super-handy that you're saving the VED money, because you'll probably be averaging about eight miles to the gallon…
Lotus Elan +2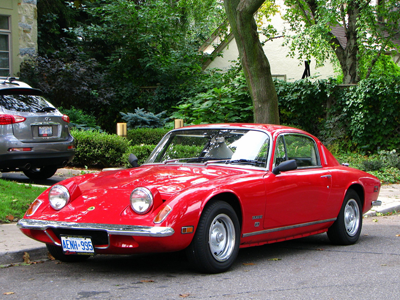 Ah, poor old Lotus. Their grandiose announcements of countless new models collapsed like everyone knew they would, despite hoping like hell for it all to work out. The new Eterne, Esprit, Elan, Elite and all the other E-words that exuded such effervescence in embryo have evaporated into the ether.
But, as car enthusiasts, we can't help but love the beleaguered marque. So why not rekindle that lost love with the original 'this might be a bit odd, but let's try it and see how it works out' Lotus, the Elan +2.
Taking the nimble Elan as a base,  the +2 stretched the wheelbase and added two more seats in the rear – the clue's in the name. Swift, agile, elegant, engaging, slightly odd looking – it's everything you'd want from a Lotus.
If you bag a 1973 model, you'll be getting the car that soldiered on after the original Elan ceased production. It's got pop-up headlights too, which are always fun to play with and aren't available on new cars these days. £15k will get you a good +2 – that's Fiesta money.
Tax-free motoring: it's the future. Or the past. Or both. Come what may, even though these cars will be tax-exempt, you'll still need to get car insurance for them. And you know where to go for that, right?