When Nissan announced that the spicy Juke Nismo was to be put into production, car buffs everywhere rejoiced and gave a hearty "Hurrah!"
It's quite an exciting development. Nismo is a contraction of 'Nissan Motorsport', and has acted as the manufacturer's sports and performance division since 1984 (with its roots stretching back to the sixties). Members of the PlayStation generation revere the name, having grown up seeing it plastered over impossibly rapid Skylines and the like.
And this is no badge-engineering exercise – the Juke Nismo is the real deal; it has functional aerodynamic addenda, stiffer suspension, grippy alcantara seats and steering wheel, lowered ride height, and almost 200bhp from its turbocharged engine. Doesn't that sound like a fun way to liven up the trip home from the supermarket?
So in celebration of this peculiar 'they-built-it-for-fun-and-it-probably-won't sell' variant, we're going to take a look at six other preposterous 4x4s.
Nissan Juke-R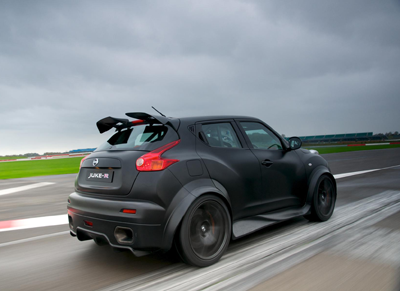 This really is fabulously silly – even more so than the Juke Nismo.
Nissan's thinking was simple, if demented: take one recently-launched family SUV, rip out the underpinnings, and shoehorn in the guts from another model in the range – namely, the top-of-the-range GT-R super-coupé. But of course.
The GT-R is a startling machine, more than capable of giving a Porsche 911 a run for its money, so this is exactly the kind of mish-mash that people want to see. And, contrary to the usual behaviour of accountant-run car colossi, Nissan actually took the plunge, and we got to see how they're really a bunch of cheeky petrolheads when they roped in UK-based engineering firm RML to make it happen.
Two street-legal cars were built, but due to overwhelming pressure from rich enthusiasts (mostly in Gulf states), Nissan agreed to nail together customer cars to order.
Thanks to each Juke-R needing a painstaking four-month rebuild at the hands of automotive artisans, the official price is 'very high'. Think six figures. And you have to provide a donor GT-R.
So yes, this is a family runabout with 540bhp. Crivens.
Lamborghini LM002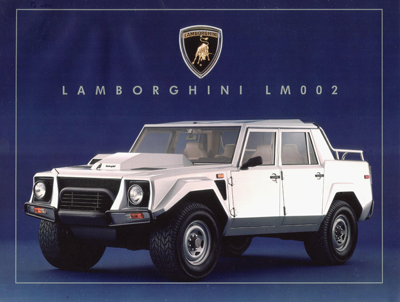 In the eighties, journalists dubbed this the 'Rambo Lambo'. It's pretty obvious why.
Somewhat incongruously, beneath the skin of this boisterous exercise in exotic origami is the same V12 engine you'd find in a Countach.
Its origins lie in the 1977 Cheetah concept, a rugged hulk with a rear-mounted Chrysler V8, designed to sell to the US military. The deal never came through, but Lamborghini moved the engine – now the Countach V12 - to the front, and trimmed the interior in luxurious, opulent fanciness, with the aim of selling it to oil sheikhs and movie stars.
The girthsome brute had full leather trim, aircon, a clever stereo in a roof-mounted pod… they were so swanky, they became a militaristic status symbol for the likes of Colonel Gadaffi, Uday Hussein and, er, Tina Turner.
The LM002 isn't a practical proposition as an urban daily driver, to be honest  - that engine's rather thirsty, and those run-flat Pirelli Scorpion tyres are over £3,000 a pop. Each. Ouch.
Mercedes-Benz G63 AMG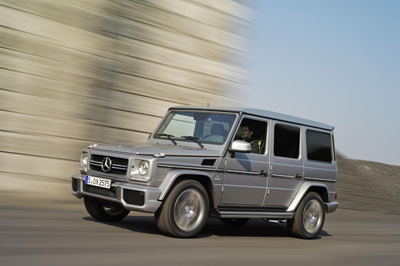 The Merc G-Class is the most belligerent 4x4 since the Land Rover Defender, steadfastly refusing to accept any sort of redesign since 1979.
Like the LM002, it was designed with military intent, and features three fully locking diffs and the sort of bulletproof reliability that makes it the darling of despots and freedom fighters alike.
Mercedes-Benz being Mercedes-Benz, of course, felt that they had to glue an AMG badge on the boot and stuff in a massive engine – this is very much their M.O. – so the G55 AMG came to exist, and now we have the even more loopy G63.
There's a supercharged 5.5-litre V8 behind that drawn-with-a-set-square nose, and elsewhere you'll find such inappropriate features as jazzy 18" alloys, carbon-fibre trim (seriously, who are you kidding with the pseudo-lightweight bits and bobs? The G63's bigger than the average kitchen...) and scratch-resistant paint that costs £4,285 extra. It's got 550bhp, and will accelerate from 0-62mph in five seconds.
Why? Well, why not…? Maybe one day you'll need to drive through the wall of a bank vault, then drive away really fast. Or something.
Infiniti FX Vettel Edition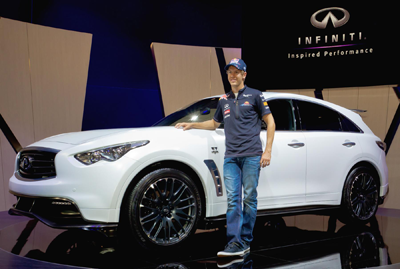 This is a prime example of a brand missing the point. Sebastian Vettel  has won the Formula One World Championship THREE TIMES – his name is synonymous with speed. Infiniti are a major sponsor of the Red Bull Racing team. It should be a piece of cake to shift a load of units by plastering his name all over a sporty car, shouldn't it?
Well, in theory, yes. But the Vettel Edition FX isn't exactly desirable. It's got 21" wheels and all manner of spurious carbon-fibre addenda, so it looks like a gangsta-fied shopping car.
Yes, it's quick – 5.0-litre V8, 414bhp, 186mph – but it's still a bland-looking SUV. Surely it would have made more sense to Sellotape the Vettel name all over the G37 coupé?
Ah well. Other people's money, eh? If the well-heeled want to spend their dough on a car which looks like a Chinese knock-off of a Lexus (and also, weirdly, a bit like a sequined cushion), then who are we to argue?
Overfinch Range Rover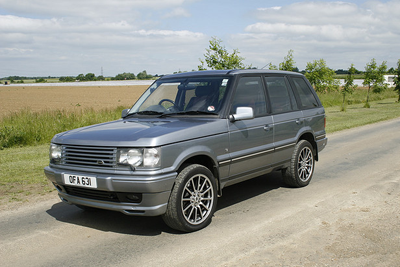 Not the modern offering, but the brawny nineties Overfinch. Forget the latter-day enthusiasm for plastering vast rims and fancy badges all over a blingy Chelsea tractor – Overfinch Range Rovers used to be about stealthy thrust.
The company's been tuning the big off-roaders since 1975, when they first strapped four Dell'Orto carbs to a V8 Rangie to see what would happen.
The madness rapidly spiralled; before long they were playing with Jaguar V12s, entering the Paris-Dakar, and generally helping farmers to be hooligans.
Here's a great demonstration of their clandestine muscle: a '96 Overfinch 630R (which has a 6.3-litre Chevrolet V8) out-dragging a Ford Focus, WHILST TOWING ANOTHER FOCUS. Magnificent.
Bowler EXR S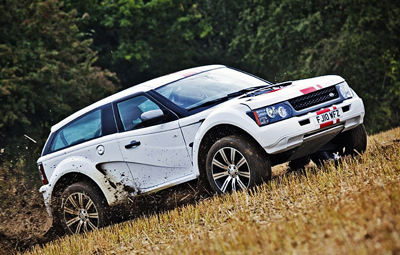 The ultimate meaty 4x4, this. Bowler Offroad have been building Land Rover-based all-terrain race-cars since 1984, and after 1995's Tomcat and '97's Wildcat, they've been getting increasingly outlandish.
The EXR S looks sort of like a squished Range Rover Sport, but underneath it's all Bowler: hydro-formed chassis, tubular rollcage, 6-speed paddle-shift 'box, 550bhp 5.0-litre supercharged V8, massive Brembo brakes, bespoke Bilstein dampers… it'll do 0-62mph in about 4 seconds, and would be perfect for dominating the Paris-Dakar. And yet, due to some sort of inspired lunacy, the EXR S is road legal. You could drive it to Sainsbury's. Scary, huh?
It's a bit pricier than a Range Rover Sport, granted – it's £155,000 before VAT. But then again, it's not a Range Rover Sport. It's a clinically insane race car that wants to rip your heart out.
So, six very silly machines there: thirsty, imposing, hugely expensive to obtain a car insurance policy for, and generally just bonkers. But, Infiniti aside, aren't you glad that they exist?