Cheap flights and high fuel prices have made driving to Europe a less cost-effective option than it once was - but taking your car to the continent can still be a great idea.
The freedom to take detours and stop as and when you like still appeals to the thousands of passengers who decide to dispense with the headache of getting to the airport, dealing with baggage restrictions and suffering delays.
When it comes to driving in Europe, a little knowledge goes a long way. So, for a safe, sound and worry-free trip, read on…
What you really need to know
If you're planning to explore the continent you'll need a GB sticker, headlight converters, licence and vehicle registration document.
You'll also need to think about your car insurance.
If you've got European cover as part of your policy, check whether you'll enjoy the same level of cover abroad as you do at home. Even if you've got a fully comprehensive policy, you might only have third-party cover while on the continent.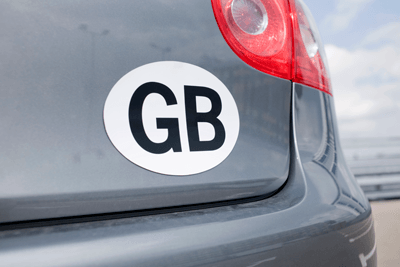 If you don't have European cover as standard you'll have to pay to add it to your policy – it's easy enough to do, and usually just involves a phone call. Just don't leave it until you're queuing to get on the ferry!
Even if your policy includes European cover, it's worth ringing your insurer to tell them when you're travelling, and where – no need for a detailed itinerary, but a list of countries you're passing through certainly helps.
But that's not all you need to consider for an easy ride. Most countries require drivers to have warning triangles and reflective jackets or waistcoats for each passenger. These are easy to pick up and won't set you back too much.
Drink-driving laws are also stricter on the continent. While the maximum blood level of alcohol in the UK is 0.08%, it's at the lower rate of 0.05% in much of Europe (novice or young drivers may be prohibited from having even a small drink).
Take these requirements into consideration and you're pretty much set to go. However, each country has its own rules and regulations that you need to take note of.
What about specific destinations?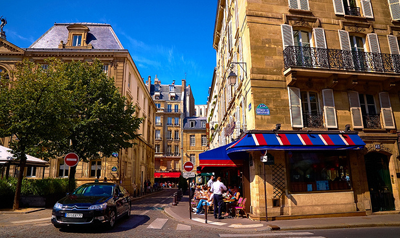 Here are some of the key dos and don'ts for countries that are within striking distance of our shores:
Belgium
Driving in Belgium can seem pretty familiar to UK motorists; the roads are cluttered and the speed limits are similar. The maximum speed in built-up areas is 31mph (50 km/h), while it's 50mph (90km/h) away from populated areas. The top speed on motorways is 74mph (120km/h), but there's a minimum speed of 43mph (70km/h).
Denmark
Danish law requires you to give way to traffic approaching from the right and to yield to bicyclists at all times. Also, your headlights must be on constantly.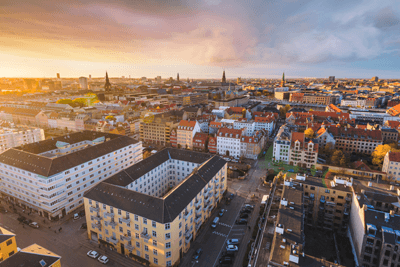 Driving etiquette in Denmark dictates that vehicles merge in turn when joining motorways. 
France
Thousands of us will visit France this summer, yet how many know that a law has been passed requiring motorists to carry a breathalyser? If you didn't, there's no need to panic as the penalty for not having one is currently suspended. Of course, this law could be enforced at any time so it's probably best to carry a kit when you head off to the land of cheese and wine.
Netherlands
The Dutch don't go in for prescriptive equipment, but either hazard lights or a warning triangle must be used in the event of an accident. In the Netherlands, the legal level of alcohol differs depending on your age or number of years' driving experience – with the typical limit being 0.5g, falling to 0.22% for drivers with less than five years' experience or moped riders up to 24 years old.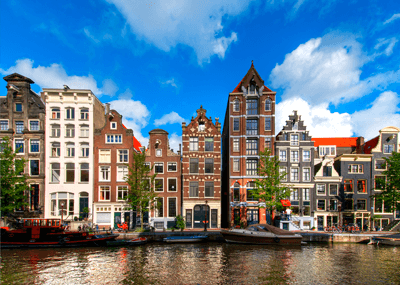 Incidentally, buses have right of way when leaving stops in urban areas.
Ireland
The Irish drive on the left and have road signs in metric, making Ireland the ideal test circuit for anyone looking to ease themselves into motoring abroad. As with much of Europe, on-the-spot fines can be issued, but you have 28 days to pay up.
Norway
You have to watch your speedometer in Norway. The top speed on motorways is 62mph (100km/h), but can be as low as 18mph (30km/h) in residential areas. If you're planning to visit the kingdom, remember to give way to trams at all times.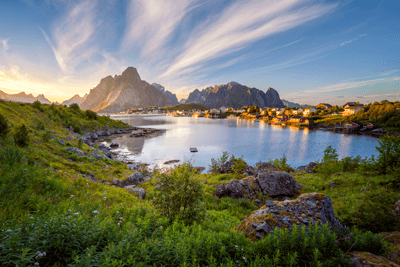 You'll see a lot of electric cars in Oslo - the city is planning to go completely car-free by 2019. 
Spain
Fuel prices may be high all over Europe, but you can expect to save a few euros in Spain. Not that filling up is without its problems. Take particular care at the service station if you need diesel - which is known as 'gasoleo A' or 'gas-oil'. Don't fill up with 'gasoleo B'; it's heating oil.
Parking can be an interesting experience in Spain as, on some city one-way streets, the side of the road you're supposed to park on changes according to the day of the week and whether houses have odd or even numbers. So watch out.
Going further afield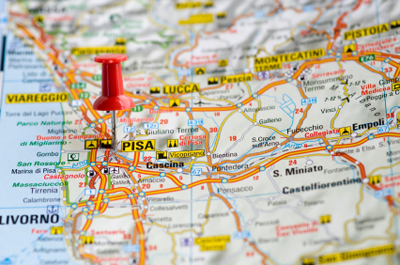 Not everyone stops at the country they disembark at; some of us will head off inland or cruise along the coast to places the ferries can't reach. Here is some advice on visiting popular locations not catered for by ferries:
Germany
If you are visiting Germany, remember to keep dipped or parking lights on if visibility is poor during the day, and don't hog the outside lane.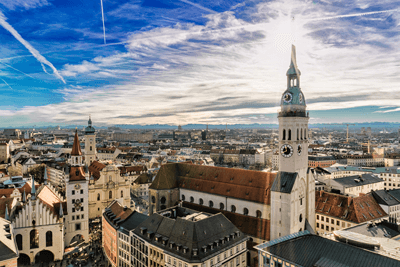 There is no official speed limit on the autobahns, and while most vehicles will scoot along at about 80mph, you don't want to get honked at by some red-hot, snarling BMW bombing along at upwards of 100mph. Keep an eye out for the traffic flow. 
Italy
You must use dipped headlights during the day outside of urban areas in Italy. Vehicles may be clamped if they are parked illegally, and it's prohibited to enter areas that are designated 'zona traffico limitato' (watch out for a white sign with a red circle). 
Portugal
You have to be over the age of 18 to drive in Portugal.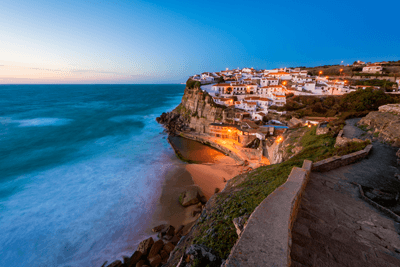 If you're thinking of taking bicycles, be aware that you can't carry them on the back of your car as overhanging loads are prohibited. Instead, you can use a roof-rack.
Switzerland
Speed limits align with neighbouring countries, although there is a minimum speed of 37mph (60km/h) on the motorways. Don't pick up hitchhikers or wash your car on a Sunday (you can take it to a car wash).