In addition to announcing the astonishing Wraith, Rolls-Royce recently supplied a customised Ghost for the FAB 1 Million project, an initiative spearheaded by media personality Chris Evans to raise a million pounds for Breast Cancer Care.
Embellished with embroidered BCC ribbon motifs, custom pink umbrellas, 'FAB 1' treadplates, and a sumptuously trimmed leather interior in blushing pink and crème light, the car was used for an all-star drive from Land's End to John o'Groats.
Evans shared the driving with James May, Gary Barlow and Prof Brian Cox. But don't worry, they didn't suffer – there's a champagne chiller in the back, and massive tellies galore.
The car's now available for hire with the money raised contributing to the fundraising target, which is a pretty stylish way to go about doing some good.
But this isn't the first time that the Rolls-Royce name has been associated with something eye catching or unexpected.
Here we take a look at six odd happenings that, for better or worse, form an indelible part of the iconic marque's history...
The Silver Ghost record run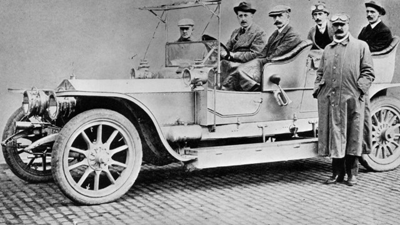 The stately 1906 Silver Ghost embodied all that was impressive and unstoppable about Rolls-Royce motor cars, representing values that are still core to the brand today.
In 1907, to show off this solidity and reliability, the company decided to send their halo model out on a mission to break a world record. And it was a pretty silly record, too.
The chosen target was the world's longest non-stop motor run, a feat they achieved by driving continually for 14,371 miles, shuttling back and forth between London and Glasgow 27 times.
It conjures up a brilliant mental image of frantic chaps in goggles and leather caps leaning out to pour fuel into the tank while bumping along the road. I wonder why they stopped at all? Maybe they needed a wee.
The Rally Roller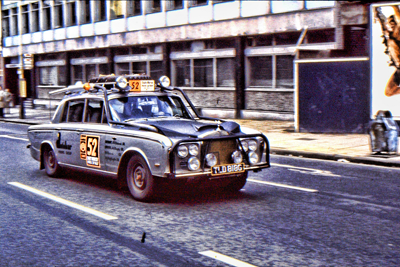 The 1970 Daily Mirror London to Mexico World Cup Rally is best remembered among the petrol-head fraternity for spawning the iconic Ford Escort Mexico.
But a little further down the entry list, something quite odd was going on…
Seasoned endurance rally competitor Bill Bengry entered the event in a specially adapted Silver Shadow, featuring exhausts that poked out of the bonnet and channelled up over the roof.
Rolls-Royce was horrified that something so gauche and uncouth could be happening to one of its quality motor cars. "Unfortunately," the company said, "Rolls-Royce Motor Cars cannot control the excesses of their clients."
The firm refused to supply any spare parts. When the suspension broke in Portugal, Bengry had to find a local Silver Shadow owner and convince him to dismantle his brand new pride and joy. Would you have done…?
Here's the clip, if you're interested.
The Pro-mod Roller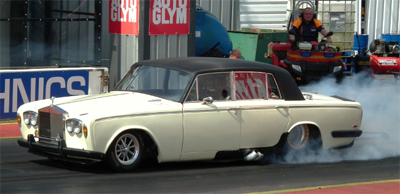 The fact that Rolls-Royce is so protective of the way that its brand is perceived can make it rather fun to subvert the company's desires. And this pro-mod Roller is a pretty punk rock manifestation of that.
It's an oft-cited cliché that 'at 60mph, the loudest noise in the Rolls Royce comes from the electric clock'. In the words of WG Racing, who built this car along with Fester Race Cars, "we're going to need a louder clock..."
Well known in the UK drag scene, this space-framed Silver Shadow features a 9.6-litre twin-turbo Chevrolet V8 offering over 2,300bhp; it'll accelerate from 0-200mph in 6.9 seconds, covering the quarter-mile in 7.94 seconds. Which is mind-boggling, frankly.
Oh yeah, and it's road-legal too.
The 102EX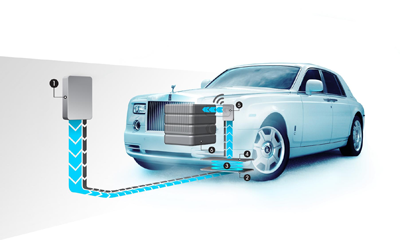 Rather more in-keeping with the R-R ethos is the company's 102EX concept. It took the regular Phantom – which, as you probably know, is pretty much at the zenith of modern-day opulence, luxury and quality, and the standard to which all premium-focused manufacturers aspire – and stuffed it full of batteries.
The usual concerns that come with building an all-electric car don't really matter with a Phantom: the weight of the batteries isn't an issue because the car's rather larger than the average bedsit anyway, and the extra cost of the drivetrain won't matter a jot to the sort of person who sits within the target demographic.
Another fringe benefit is that the stepless gear change means that passengers won't spill their Krug, even under harsh acceleration to outrun crooks. Or whatever it is Rolls-Royce owners get up to.
Imagine something as large as a Phantom moving with no sound whatsoever, aside from the infinitesimal Doppler effect of the ticking clock as it shimmers by. Eerie.
Keith Moon's Roller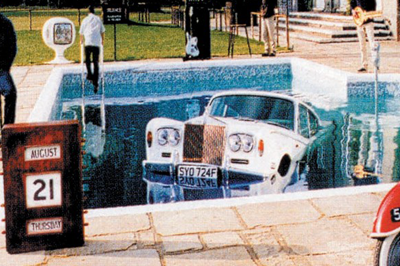 The Who's brilliantly bonkers drummer and chemical enthusiast Keith Moon was, and shall forever be, the godfather of Rolls-Royce mischief.
Keith bought a Silver Cloud III which was finished in racing green. He immediately had it resprayed lilac, feeling that the shade was more in keeping with his psychedelic lifestyle. And in one of the greatest moments in the history of rock'n'roll excess, he drove it into a swimming pool.
Well, maybe he did. Stories conflict. Some say he left the handbrake off and it rolled into a half-built pool that didn't have any water in it. Others claim that he actually drove a Chrysler Wimbledon (or possibly a Lincoln Continental) into an ornamental pond. Roger Daltrey maintains that he kind of remembers it happening, but definitely remembers the $50,000 bill for damages.
Forget the confusion and believe the myth: Keith Moon drove a Rolls-Royce into a swimming pool. And that's done more to liven up the brand than a million Olympic opening ceremonies could.
[No photos exist, for obvious reasons, so we've used the album sleeve to Oasis's 1997 album 'Be Here Now' which references the event]
The Olympic Dropheads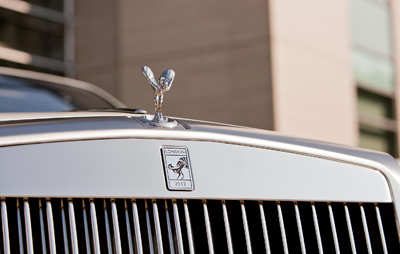 Ah yes, the Olympic opening ceremony. Has there ever been a more disjointed and confusing message sent to today's youth than the sight of millionaire popstar Jessie J warbling "it's not about the money, money, money" from the back of a customised Rolls-Royce?
Cynicism aside though, they were lovely cars. R-R built three custom Phantom Dropheads for the ceremony, featuring 'London 2012' badging on the nose, the wheel centres, the sill plates, and basically all over the place. There was even a picture of the Olympic torch on the steering wheel.
And the full name, just to ensure that maximum value-for-money is achieved by whichever plutocrat buys them for a billion pounds at auction in 2062, is 'Rolls-Royce Phantom Drophead Coupé Series II London 2012 Olympics Special Edition'.
Roll that one around your mouth for a moment.
While most of us won't ever be able to afford a Rolls-Royce, it's heartwarming to see that, for all their opulence and ostentatiousness, the company is always keen to embrace noble concerns. And if you fancy getting your hands dirty and misbehaving with a Silver Shadow, you can actually pick up a grotty one for a few grand… just be sure to declare that roof-mounted exhaust or 2,300bhp V8 to your car insurance provider, ok?