As of June, Auto Trader will cease to exist as a physical magazine and will move entirely online.
And yes, while the mobile app is brilliant and the website is a pretty handy thing, many of us will mourn the loss of the paper Auto Trader.
It's been a staple of British car buying for decades, and there are countless memories tied up in those inky pages.
The mag existed in embryonic form way back in 1977 as 'Hurst's Thames Valley Trader', morphing into 'Southern Auto Trader' in 1981. The Guardian Media Group waded in at this point, as it was keen to launch a similar northern offering and didn't want to compete head-on. The joint effort became Auto Trader as we know it today, published in ten regional variants.
The website launched in 1996, and has been growing ever since. In 2013 it's become such a behemoth that there simply isn't room for a print edition to exist alongside it – the immediacy and simplicity of online advertising makes the mag essentially redundant.
But this is a shame. Here are six things that made the Auto Trader magazine great.
The 'under £1,000' section
This was a goldmine of weird stuff in the nineties, with Opel Mantas and crumbly Minis aplenty. Yes, the parameters of the website today allow you to filter your search by price, but it's not the same.
Whenever my dad was in the market for a used car and brought an Auto Trader home, I'd always flick straight to the 'under £1,000' section and daydream about budget wonders. Pretty much like I do on eBay today, come to think of it. But no, it was better in print.
Sadly, we never bought a solid sub-£1,000 Manta from the Auto Trader. And now we never will.
Brevity and abbreviations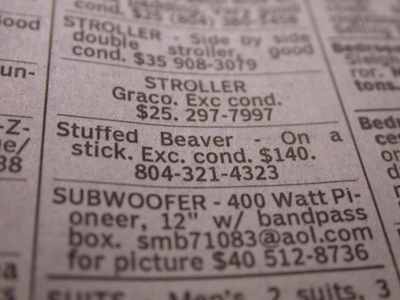 Depending on what size of advert you could afford, you'd be assigned a word limit to fit into the given space. And you really didn't get very many.
In a way, the brevity of Auto Trader ads sort of pre-empted text-speak and Tweeting – you had to get the pertinent facts across in as few characters as possible to get your money's worth; VGC, r/cass, T&T, WHY, ONO… it's only a short leap from that to LOL and OMG. It really was ahead of its time.
A man coming round with a camera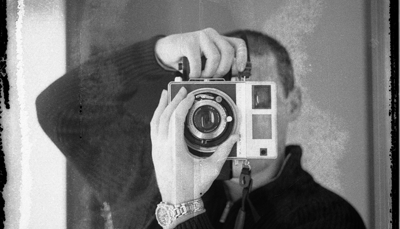 How old-school is that? When you were placing your advert, it would be a case of phoning the local Auto Trader office and arranging a time for a representative to come round to your house. He'd pitch up at the allotted time, camera at the ready, and take a few snaps.
While this was going on, you'd be filling out your form, trying to cram the car's life story into an improbably small number of word boxes. It was all very basic, and all the more fun for it.
I remember selling a mkIII Escort in 1999, and the Auto Trader man suggested I use the phrase "condition is in keeping with age and mileage" - which was just another way of saying "the car is old and shabby". It was, but I didn't want to say that. I think he must have been new to the job.
Again, this slapdashery was all part of the experience. And anyone can just upload a photo to a website – where's the craft in that?
Colour adverts being an exciting thing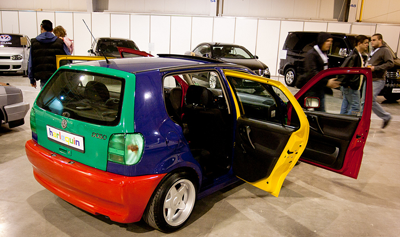 We take colour for granted these days. Back in the heady days of black-and-white print ads, it was rather thrilling when Auto Trader started wedging a full-colour section into the middle of the mag.
Now you could see that Ford's imaginatively-named shade of 'rosso red' was, in fact, a very red shade of red, and that Austin's Applejack Green was just as eye-watering as you hoped.
It also gave you advance warning prior to viewing a Polo Harlequin - as pictured above. That was very important.
The colour section beautifully showcased the Opel Manta in its crisp shade of white too, although this was never enough to win over a stubborn dad. "Yes, it's very pretty, but just because I'm seeing it in colour doesn't mean it has any more doors." Tsk, honestly.
The 'Classic & American' section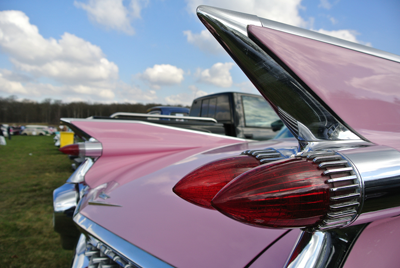 Like the 'Under £1,000' section, this was always rich with brilliantly odd stuff. Quite why they felt it necessary to lump the MGBs and Jaguar Mark 2s in with the Mustangs and Superbirds is anyone's guess, but it did rather tantalisingly point out that there were desirable and weird cars quite near to your house.
Of course, as a child I never perused this section specifically to find cool cars that were near where I lived, then went out on my bike looking for them. That would be weird. Ahem.
Cutting out ads to make a wishlist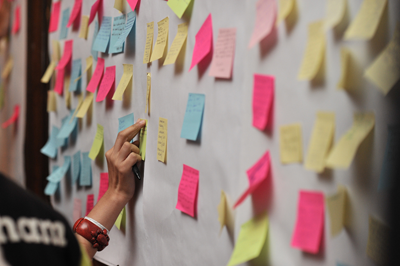 This is by far the biggest loss to the car-buyer's art. Getting busy with the scissors and the Pritt Stick in order to create a wishlist was a tremendously involving and engaging way to get a handle on what you were looking at.
Once you'd identified all the cars that you were interested in within your budget, you could create a board with all of the cars pasted in order of preference and set about methodically calling the sellers one by one.
Invariably you'd find that no-one was home, no-one had an answerphone, and you'd end up viewing five cars out of your list of thirty. But that was all part of the fun. You'd get home from viewing a Peugeot 605 that might just about fit the bill, and find that you'd had a message from the Citroen XM seller you'd been unable to get hold of – and the chase was back on! Ah, halcyon days.
It wasn't just buying cars. It was bonding, togetherness, learning life lessons together, going on adventures. And it'll all be rather less crafty and involving from now on, without a dog-eared copy of Auto Trader pulling your project together. Shame. Where on earth will I find a one-inch square photo of an Opel Manta now?