The weathermen have predicted a juicy slug of glorious sunshine this week, and who are we to argue?
With the winters lasting eight or nine months nowadays (or so the perennial dismay of the general populus would have you believe), it's best to hold onto these snatched sunny whispers with both hands, lest they smell our fear – and jumpers – and disappear back over the horizon.
And what better way to celebrate the arrival of the Great British Summer than to grab a cheap convertible and go enjoy some of those beautiful rolling country lanes that are within easy reach of all of us? And if the sun fails to materialise after all… well, there's nothing more British than cruising around with the roof down as the icy wind howls around you, heater turned to max, scarf flapping in the eddying tailwind. Trust us, driving an MX-5 in the snow is a hoot with the top down.
We have another slant here too. None of us is made of money. The looming spectre of financial misery haunts our every turn.
So, we've pulled together a list of half a dozen open-top sweethearts that can be yours for £1,500, and probably won't lose a lot of value in the short term, should you want to sell up come winter time. (Although don't bank on them not breaking and costing a lot more money. That could easily happen. But let's not dwell on that...)
Citroen C3 Pluriel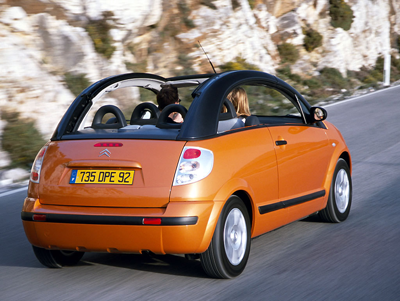 This is a mad little thing; a wacky French poppet with a squillion different ways to rearrange the roof. It has detachable roof bars and a folding fabric section, meaning that you can run fully enclosed, fully roof-down, with the top sunroofed-back and the bars still in place.
Of course, you need to do all this manually and there's nowhere in the car to stow the bits – not ideal if you get caught out in the rain – but don't worry about all that: it's like giant Meccano. Isn't that the dream, to have Meccano you can drive around in?
Toyota MR2 Turbo T-Bar
We're looking at the second-generation MR2 here, known as the W20. This is a nice cheap car to enter the world of racy mid-engined thrills.
While the Pluriel is a bit of a wet lettuce to drive, the MR2 is a razor-sharp pocket-rocket, particularly in wasabi turbocharged form.
They are generally very reliable, and they're surprisingly spacious and practical too. Well, to a degree. The T-Bar variant has removable roof panels, retaining the sleek coupé shape whilst allowing some gusts into your barnet. Nice.
Peugeot 205 CTI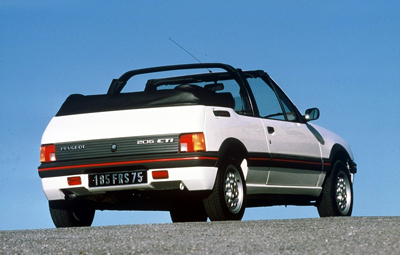 The 205 GTI is one of the greatest driver's cars ever, full stop. Cut the roof off and you get this, the CTI. OK, it's dynamically less impressive – some say downright floppy – but it still retains a lot of the character of its boy-racer brother.
Designed and built by Pininfarina, and using the same oily bits as the GTI as well as that oh-so-eighties bodykit, you can enjoy the iconic scarlet carpets and hilariously peppy 1.9-litre engine whilst picking flies out of your teeth. Magnifique!
Saab 900 Turbo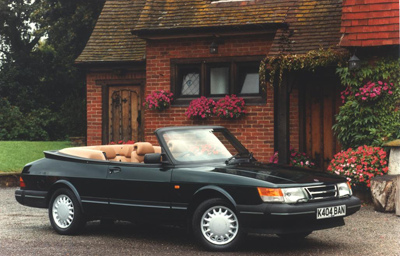 Driving a Saab makes quite a statement about yourself; i.e. that you're probably a doctor or an architect. Saabs are clever people cars. And yet the 900 Turbo revels in that everyman splendour of big, dumb horsepower.
The 'Classic' ran in largely unchanged form from the late seventies through to the early nineties, so there are plenty to choose from. Yes, cutting the roof off did introduce an element of scuttle shake and torsional flex, but it also allowed you to hear that whistlin' turbo spooling up in all its Scandinavian fury.
Buy the right 900, it'll be as solid as a rock. And everyone will think you're really clever...
Ford StreetKa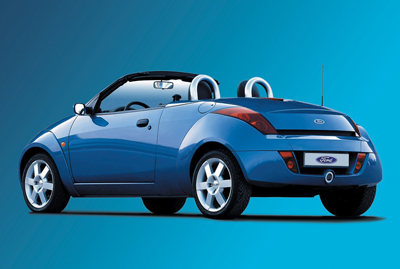 Wayne Rooney bought one of these, but don't let that put you off. It's a weird little alien with a boisterous terrier attitude, speaking volumes about modern Essex with its pumped-up arches and eager cab-forward stance. White stilettos are optional.
If you can live with the slightly tacky image, the StreetKa has a lot going for it – the trusty Duratec 1.6 is cheap to run and offers a warmish 94bhp, the updated interior is a lot more modern than hatchback Kas of yore, it's got strong brakes and sharp steering, and the low centre of gravity makes it quite chuckable. Surprisingly fun car, this – a lot of chuckles for the money. Rooney was on to something.
Mazda MX-5 (NB)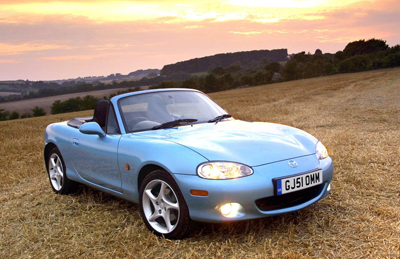 You can't have a list like this without an MX-5 in it. The original NA '5 with the pop-up lights is an icon – a phenomenal driver's car available for peanuts. But everyone wants one of those, so this time we're looking at the NB; the second-generation MX-5. Sure, it's a bit blobbier around the bumpers and it has less pretty, more conventional headlights, but it is fundamentally the same car.
The hook here is that they're roughly the same price as the NA, but a little bit newer. So (in theory, at least) you won't have to worry so much about rusty sills and sticky rear brakes. Post-2001 1.8s had VVT, offering 146bhp. But to be honest, even the 1.6 is bags of fun.
Oh, an don't be too put-off by a car with a shabby roof – you can get a replacement one for about £300. Or you could just never put the roof up, and enjoy the sunshine, rain or fog with a big grin on your face as the wind whips around your ears.
Britain, for some reason, buys more cabriolets per capita than any other country in Europe. That tells you a lot about our can-do attitude to recreational hijinks and our belligerent refusal to acknowledge the wonkiness of the weather. Don't you want to be a part of that too? To rip back the roof and chase down some adventures?
Thankfully, due to so many people having done so before you and thus flooding the used car market with cheap rag-tops, this is an easily achievable dream. So what are you waiting for?