The world of motorcycling is full of strange facts and oddities - from inauspicious backgrounds of now-famous brands to hair-raising feats of derring-do.
Read on for ten incredible facts about bikes…
Born to be mild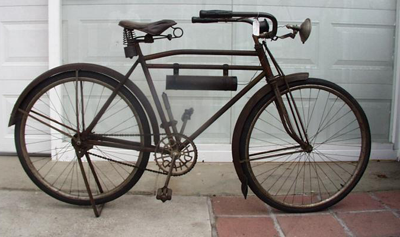 Think about Harley Davidsons, and chances are you'll think of the iconic Fatboy, tough-looking men with luxurious facial foliage and Arnold Schwarzenegger in Terminator 2: Judgement Day. But did you know that between 1917 and 1923 the butch American bike firm made pushbikes?
While we're on the subject of Harleys, it might surprise you that Hell's Angels founder Sonny Barger mentioned in his autobiography that he actually prefers Japanese bikes to the all-American brand.
Heavy promotion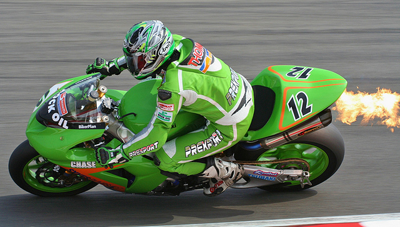 (Photo: PSP Parrot)
Japanese firm Kawasaki is one of the world's most prestigious bike marques, and synonymous with success in many varieties of motorsport. But Kawasaki only started building bikes in 1962, in order to plug its heavy industry division. Fancy that!
Not so cool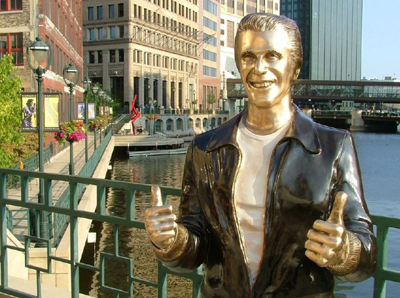 (Photo: Timothy Ditzman)
Fonzy out of Happy Days is one of the most famous fictional exponents of the motorcycle. But in real life, Henry Winkler, who played the Fonz, couldn't actually ride a bike.
Wooden tops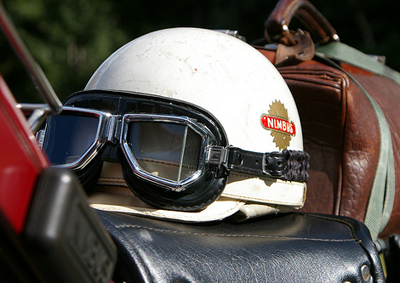 (Photo: Kenny Lex)
Today's motorcycle helmets are hi-tech feats of safety engineering. But earlier examples weren't quite so advanced – they were lined with cork.
Coming to the fore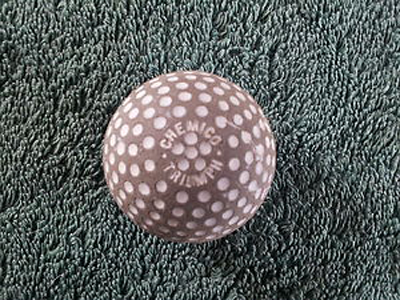 Triumph is probably the UK's most famous and evocative motorcycle brand. But it's a lesser-known fact that the company also used to make golf balls. Incidentally, Triumph bikes are totally unrelated to the purveyor of bras and knickers.
Speed demons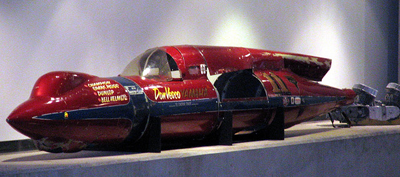 (Photo: Curtis Palmer)
As you may know, motorbikes are capable of going rather fast. The first production bike to boast a top speed of over 100mph was the Brough Superior. The first to top the double-ton mark was the supercharged 499cc NSU, in 1956. The first man to hit a face-melting 300mph on a bike was Don Vesco in 1975. He was riding a 1496cc Yamaha Streamliner.
Burning rubber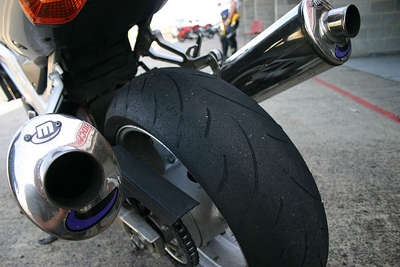 (Photo: Travelling Tamas)
The tyres on modern sport bikes don't actually contain ANY natural rubber. Speaking of tyres, 75% of cornering grip on bikes come from the front tyre.
Small packages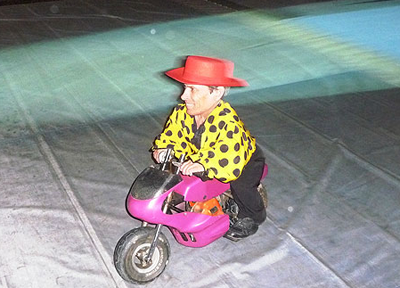 The world's smallest motorcyclist, Hungarian Pityu Toth stands at 2ft 4in tall. He manages to making a living from his passion by performing in circuses.
Not so Evel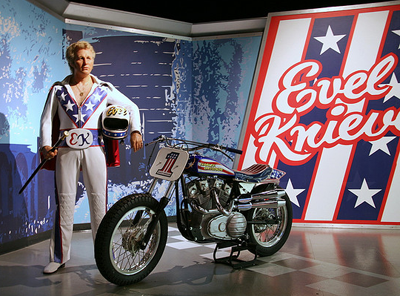 (Photo: Cliff 1066)
American daredevil Evel Knievel  was notorious for his death-defying stunts, and holds the enviable record of breaking the most bones in his body and still managing to live. But did you know that in his 1977 action film Viva Knievel he employed a stunt double?
Feel the buzz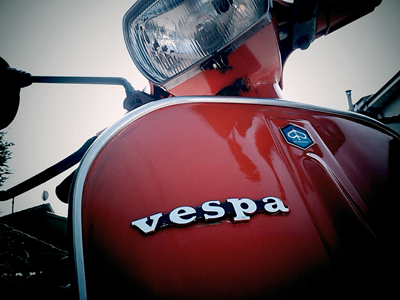 (Photo: Metesmiedo) 
The word 'Vespa' means wasp. Quite fitting, given the noise they make. And have you ever heard a swarm of them? Blimey...