Last week, Bentley announced that it will be making its first SUV, which will be built in Crewe for release in 2016.
Its pricing will overlap with the Range Rover - the undisputed big dog in the luxury SUV yard - and 1,000 new jobs will be created. And whether the idea of the supercar-SUV makes you beam or cringe, you can't deny that there are one or two nuggets of pure fried gold in there.
Car manufacturers are increasingly gearing their output toward the whims and wants of Russia, China and the Middle East. This, of course, makes perfect sense – they're huge markets with rapidly expanding ranks of millionaires, billionaires, playboys and plutocrats.
This isn't a fresh trend for 2013 either – Europe's Skoda Superb of 2001 was basically a rebadged Chinese VW Passat Lingyu; Rolls-Royce's Tumblr is perennially stuffed with details of bespoke commissions for oil sheikhs; Peugeot has a whole range of cars in China that you've probably never heard of.
There's money to be made in all levels of car manufacturing, but it's in the heady stratosphere of the wealthy that the really odd stuff happens. Remember when Porsche mooted the Cayenne over a decade ago, and everybody was gobsmacked? An SUV, from a sports car manufacturer of such pedigree? What fresh hell is this?
It proved to be a masterstroke. Porsche's ugly ducklings, the Cayenne, and the sensible-trousers Panamera, may well disregard everything that Stuttgart fans hold dear – you can get them with diesel engines, for goodness sake – but they have grown up to be the company's golden geese.
So it was kind of inevitable that the big boys of the supercar game would have a crack at the luxury money. Here are six examples that will, dependent on proclivities, either blow your mind or turn your stomach…
Bentley EXP 9 F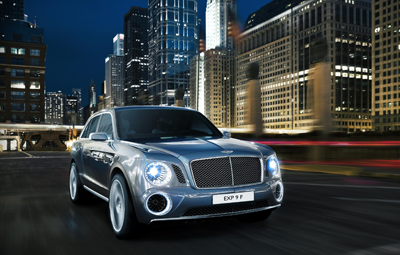 The precursor to the recently confirmed Bentley SUV, the controversial EXP 9 F was one of the most polarising unveilings at the 2012 Geneva Motor Show. And by 'polarising', I mean 'universally loathed'. Which is a shame really, I think it's pretty cool. Park that next to a Range Rover and I know which I'd rather be cruising home in…
Its 23" turbine alloys are magnificently naughty, and echo the brilliantly silly gaping circles in the front bumper. It's got a cunning split tailgate bedecked with posh wooden picnic paraphernalia and unique silverwear, while beneath the bonnet thrums a creamy-smooth, yet razor-sharp 592bhp twin-turbo 6.0-litre W12.
If you're going to be silly with this kind of design, you might as well go all-in. EXP 9 F should have made production unchanged – it's just so disgustingly fantastical.
Giugiaro Parcour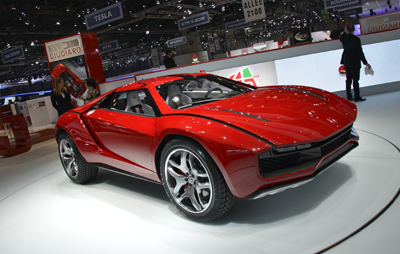 This one comes from a styling house rather than a manufacturer, but still fits rather neatly into our supercar-SUV concepts theme.
Giugiaro's Parcour looks from afar like a modern day Lancia Stratos (kind of, if you squint), but the closer you get, the more obvious it becomes that it's MASSIVE.
Those 22" rims are very silly indeed, and wear high-profile tyres to accentuate the concept's crossover/off-road ethos. And yet it looks far too delicate and intricate to go fording streams in.
A glance at the rear deck reveals the startling highlights of the Parcour: F1-style pushrod suspension, and a howling V10 from a Lamborghini Gallardo. So that should make it pretty impressive to drive, right?
Dunno – ask the guy who stuffed it into the hay bales at the Goodwood Festival of Speed. Oops.
Aston Martin Lagonda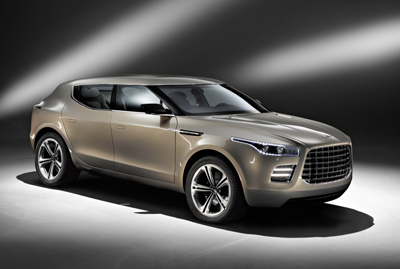 There have been rumblings from AM HQ at Gaydon this year about a production-viable Lagonda, based on the underpinnings of the Mercedes-Benz GL-class, with a 6.0-litre V12 and a corporate face that fits neatly into the model line-up. It kinda makes sense. But that wasn't the case with the original Lagonda concept of 2009…
An amorphous, generic blob of a car with an incongruous egg-crate glued to the nose, the concept horrified Aston purists and, well, everyone with eyes, really. The styling was said to be inspired by the elegant Lagonda LG6 of the 1930s, although that's clearly nonsense. Even the promise of a DB9 V12 engine and private jet-inspired seating couldn't redeem it. Aston Martin were right to scrap the whole concept and rebadge a Merc – to be honest, a Dacia Duster with an Aston crest would have been more credible.
Maserati Kubang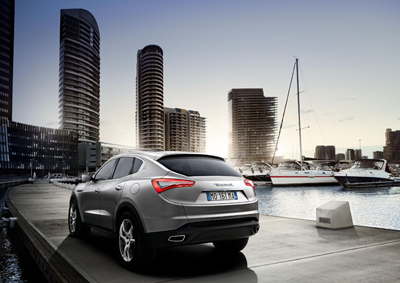 Maserati likes to name its cars after winds – Khamsin, Mistral, Ghibli… so as silly as the name 'Kubang' sounds, fear not – it's a form of gust, so it makes sense.
The Kubang concept debuted at the 2011 Frankfurt Auto Show and was met with general derision and disdain. You're picking up on a theme here, aren't you?
The idea was to have it assembled by Chrysler – part-owned by Maserati parent company Fiat, of course. Fiat, it has to be said, isn't exactly renowned for nailing together supercars, let alone stretching supercars into SUV proportions.
And so it came to pass… they started churning 'em out this year for the 2014 model-year. The name's been changed to a slightly less hilarious-sounding wind - 'Levante' - and it's now basically a Jeep Grand Cherokee with a Maserati-pastiche body.
Still, at least there isn't a Jeep engine under that scalloped bonnet – it gets the Quattroporte's 3.8-litre V8, which is a little screamer assembled by Ferrari. So that's something.
Despite the agricultural underpinnings, it'll be pretty darned quick.
Ferrari F151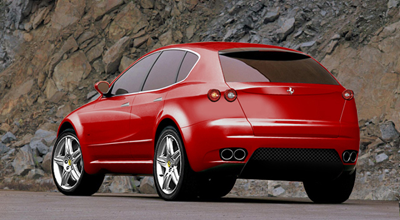 Ah. This didn't work.
The new Ferrari FF is a masterpiece - a four-seater, four wheel-drive supercar that can seemingly do everything. But its genesis lies in the shonky Project F151 – the original planned successor to the 612 Scaglietti grand tourer.
When rumours began circulating in 2008, people were suspicious. Then they saw the renderings, and they were utterly befuddled. Why would this historic manufacturer shoot itself in the foot like this?
Don't worry, it never came to exist. And the fact that Ferrari turned this horrible idea into something as wonderful as the FF speaks volumes about its business sense. But the FF isn't an SUV so, moving on…
Lamborghini Urus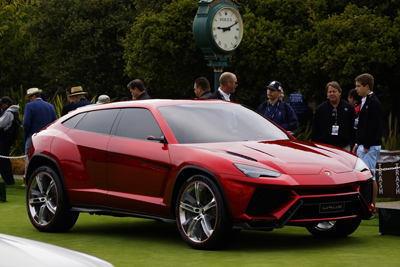 RUN AWAY! HIDE THE CHILDREN! IT'S A TERRIFYING SPACESHIP!
Oh wait, no, it's the Lamborghini Urus.
Yes, the name sounds like a part of your, er, personal plumbing, but it's a pretty phenomenal machine, and not something to be afraid of. Like all Lamborghinis, we should be very glad that this exists, because it's as silly as hell and not a bit ashamed about it.
Unveiled at the 2012 Beijing Auto Show – home turf for the biggest sales, presumably – it sits on the same shared platform as the Porsche Cayenne, Audi Q7 and Volkswagen Touareg.
However, extensive use of carbon-fibre makes it much, much lighter than any of them. Couple this with the 584bhp turbocharged 4.0-litre V8 (and, possibly, a hybrid option too), and it gets all the more impressive. If you've got to have an SUV, be thankful that this is happening. Y'know, if you're loaded.
The demands of the BRIC economies mean a heck of a lot to car manufacturers: if a weird-looking high-performance SUV will prove lucrative, then a weird-looking high-performance SUV is what the people shall have. And we should all embrace that. After all, didn't we love the LM002?