We're in the middle of a bonzer sporting year of Pom-Aussie power struggles, but there is still one activity in which our colonial cousins rule the world, and that's watching.
Australia's cricketers may be rank outsiders to win the Ashes, the Wallabies were walloped by the roaring power of the British and Irish Lions, and the last time our friends Down Under had an all-conquering tennis player Andy Murray was just a playful twinkle in Judy's eye.
But when it comes to sitting on your backside, cracking open a tinny, and gawping at those who put in the hard yakka, then nowhere beats Australia.  To prove it, here are six reasons why Oz is the best country on earth to be a spectator.
1) The weather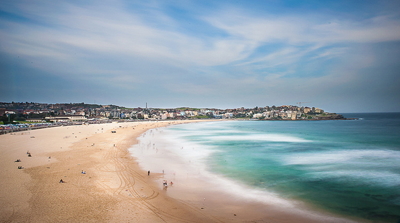 (Photo: Lihnrohm)
As rugby and cricket fans can testify  the great outdoors is at its greatest in Australia.
The Lions tour straddled deep mid-winter, but that's more likely to relate to the depth of your open-air swimming pool, rather than the deep-laying white stuff that is dumped on the UK in our shortest months.
With average daily winter temperatures in Sydney hovering at around 17 degrees, most Lions-lovers rocked up to the matches in a single red shirt and shorts and were rather bemused by the coat-clad locals.
In Brisbane it's even warmer and although they get a bit of rain in Melbourne, a common winter day in Oz would be well received here in the UK in June.
So, for those Man United supporters who are off to Sydney's ANZ Stadium to see their team face an Australian A-League All-stars XI in a pre-season game on July 20, here's a tip. You may need deep pockets to afford the £800 return airfare and the $10 (Aus) beers, but you can leave the heavy coat behind.
2) The stadia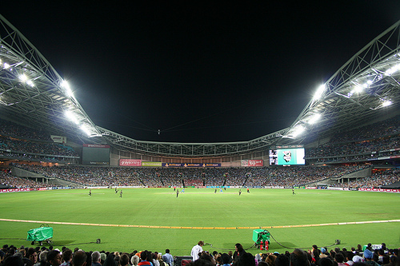 (Photo: Vijay Chennaput)
You may recall this stadium - the second biggest in Australia - from those TV pictures of Cathy Freeman, in her weird hooded bodysuit, winning gold for the Aussies at the 2000 Sydney Olympics.
The place was then known as Stadium Australia, before it was changed to Telstra Stadium, but is now called ANZ Stadium. But the constant name-changing by sponsors is about the only annoying thing in regard to their venues.
Like all large Australian sports stadia, ANZ Stadium feels roomy and comfortable for the fan, has superb sight lines, and is easy to get to by car or public transport.
The only one bigger is the MCG (Melbourne Cricket Ground), known to locals as simply "The G", which holds 100,000, but is within walking distance of the centre of the city.
Of course, Cardiff can boast the same with the Millennium Stadium, but any Welsh boasting should end there. Within a vast sporting complex - the Melbourne Sports and Entertainment Precinct - the MCG neighbours AAMI Park (30,000), the Rod Laver Arena (15,000), the Hisense Arena (10,500), the Margaret Court Arena (6,000), plus state-of-the-art training venues such as the Westpac Centre, and the National Sports Museum.
Brisbane and Canberra have their own great stadia, but a special mention is deserved by AAMI Park. Those who regret the UK trend towards soulless uniform boxes, should check out this gorgeous geodesic dome with its twinkling night-time lighting. It truly is a thing of beauty.
3) The fans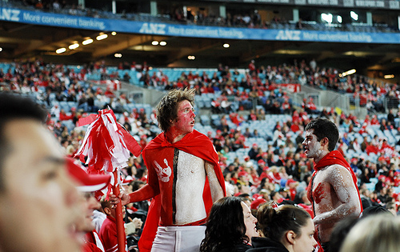 (Photo: Pierre Roudier)
Ok, so the handing out of Wallaby scarves and flags and begging them to wear green and gold does not reflect well on Aussie rugby union fans. It's like having to remind Premier League football goers to wear colours and sing songs.
But then rugby union Down Under is even more middle class than it is in England and Scotland. Ordinary Aussies go and watch rugby league, Aussie Rules, cricket, and, increasingly, football.
The banter amongst fans is good at all these, but epic at Aussie Rules or "footy" as they know and love it. Rivalries are old and intense, local and vocal, with fans of opposing clubs happy to trash each other's star players - especially those involved in high-profile alcohol-fuelled escapades (of which there are many).
"You beaut!" is reserved for the local hero who has just taken a "specky" - a spectacular high catch that involves leverage on the back of an opponent. You donger!" is for the anti-hero who misses the catch and falls on his head.
4) The food and beer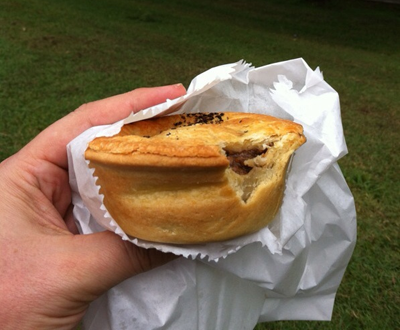 (Photo: Excited by Life)
There's only one word you need to know here: pie. And we're not talking the ratio of a circle's circumference to its diameter.
The Aussie pie is humble, yet glorious. It is served at all sporting venues and comes in all shapes and sizes. Yet there are definitions, terminology and rules that must be rigidly applied and are no doubt enforced as strictly as those used by Eurocrats protecting Parma ham or Camembert cheese.
A true Aussie pie must be brim-filled with a gloopy meat-coloured gravy, and it's important that the pastry has a consistency that enables it - rather like the baggy green middle order - to fall apart after the first bite. Most crucially, the pie contents must never be served at less than the temperature of molten rock.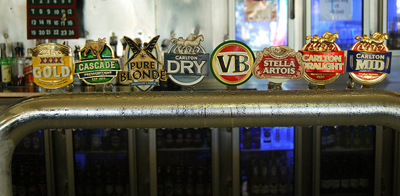 (Photo: Xiaozuhli)
This is where the ice cold beer comes in.  Take your pick from Castlemaine XXXX in Brisbane, to Tooheys in Sydney, and VB and Fosters in Melbourne.
There are many others worthy of trying, including the imaginatively named Piss and its low alcohol version, Piss Weak.
5)  Transport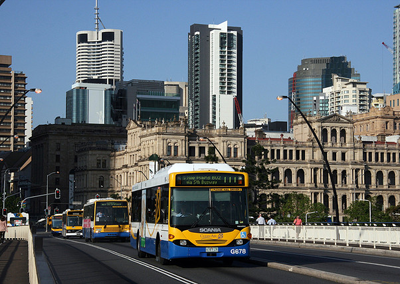 (Photo: Express 300)
Getting to a big game in Australia is as easy as Pi55 (see what the brewers of Piss have done with their name there?).
You can drive and park in any of the large car parks that adjoin even the city centre stadia. Or, you can take buses, trains, or the wonderful trams of Melbourne.
One simple indication of where Australians - including local politicians - place sport in their lives is clear on match days. For big games, like the Lions Tests, or the magnificent spectacle that is rugby league's State of Origin series, punters only have to show their match tickets on buses, trains and trams to get a free ride to the game. Think of that next time you're queueing for a tube ticket or loading up your Oyster to get across London to a Wembley Cup final. Boris Johnson, take note.
6)  Clothes
(Photo: Yume)
Anything goes - just like here - but it has to be said that Aussie replica shirts, of whatever code, look a bit more fan-friendly than some of those figure-hugging shirts Lions fans appeared to have had ironed on.
Like their beer, the sports shirts aren't cheap at the moment. Wallabies and rugby league team replicas were on sale in sports shops this month for up to $170 (Aus) or £103. But Aussie Rules shirts are less expensive and with their high-cut sleeves they flatter even the scrawniest fan into looking as though he has reasonably powerful biceps. They also have great nicknames and logos - let's hear it for the Essendon Bombers.
If you are going to Australia, then as well as pie money, you'll be wise to buy some travel insurance in case you fall foul of a runaway kangaroo or one of the country's many varieties of creepy-crawly.
If you're in no hurry, then a cheaper way of getting there might be to check out indirect flights or think about buying your tickets from an overseas-based website. If you do this, then it might be wise to use your credit card, as you will be afforded some protection under the Consumer Credit Act in the event of incidents like cancelled flights or airlines going bust.