It's official. Children and flights make for a highly irritating combination, as any relatively frequent flyer will testify.
A poll recently carried out by Gocompare.com asked 1,300 passengers who've taken flights over the past five years to rank their most irksome in-flight irritants, and children – whether they're kicking or banging the back of your seat, being unruly or crying – are by far away the biggest irritant. Only drunken passengers come close.
In fact, the prospect of on-board crèche was welcomed by 57% of women and 51% of men.
Passengers would even pay up to £50 per return flight to sit in a child-free zone. (That 'ping' sound you can hear, by the way, is of pound signs appearing above the head of Ryanair head honcho Michael O'Leary).
[link url='http://www.gocompare.com/travel-insurance/plane-annoying/' target="blank"]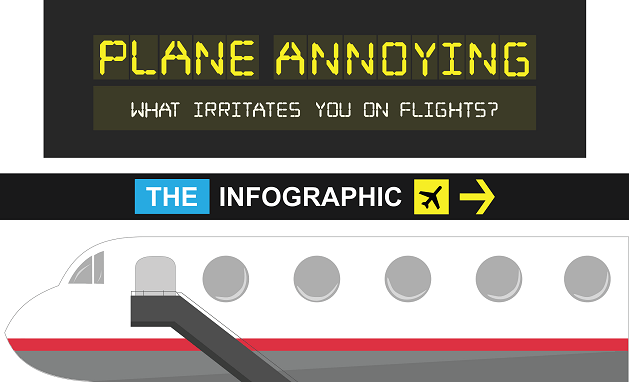 [/link]
Caroline Lloyd, travel insurance spokesperson at Gocompare.com, said: "I expect most parents have experienced seeing their fellow air passengers' faces drop as they head towards them with children in tow but this survey reveals just how many Brits are desperate that families pass them by and sit in any other part of the plane but theirs. It's surprising, and also quite sad, that aeroplane passengers are generally less bothered by drunks, rude cabin crew and incessantly talkative neighbours than they are by children who may just be bored, excited or even anxious.
"With so many passengers keen to have their, or other people's, children away from them during their flight, perhaps an enterprising airline will introduce the first 'plane crèche' or launch a new 'Adults Only' class to join the likes of First, Business and Upper. There certainly seems to be a significant percentage of air travellers who'd be willing to pay extra for a bit of peace and quiet."
Kids on flights – parents speak out
Michael Taylor,  a father of five from Marple
"I agree that kids can be a massive pain for other passengers. My kids are aged between 9 and 14 now and they only ever get painful when they are hungry or tired. I think this is a basic fact that so many parents too easily forget. Keep them fed and watered, and keep them entertained. It's not that hard. And manage them too. It is out of order for a kid to kick the back of a seat, and it is not unreasonable for a fare paying passenger to expect parents of kids to discharge their duties properly.
"At home we are fighting a constant battle to find things for the kids to do that doesn't involve being on an electronic device. On an aeroplane, they are an absolute manna from heaven. The total disaster scenario is running out of power charge. Blissfully, this doesn't seem to affect us as our days of long distance flying are very much over."
Caro Wild, a father of one from Cardiff
"I find as a single parent (and maybe this is slightly exclusive to fathers) that I feel like I have a bit of an unofficial license to be a bit annoying... most people seem to accept that it's hard work. I guess you can be reasonable and sympathetic and also a bit miffed if you get stuck next to a crying baby for a whole flight. But it's an understandable reaction if the parent isn't at least trying to keep their children from annoying others. Why not seat all parents in one place?
"iPads, films and their own kiddy ear-phones (in-ear ones don't work!!!) can help. And it's great when other people lend a hand, too. On one horror flight, my toddler was just getting restless and annoying and an older woman just came and took her off our hands for an hour... how nice is that?
"However, it's poor practice by airlines when they separate you and your child on different sides of aisle... they know a child is booked with an adult so they should reserve seats together."