What is it?
If you believe the marketing spiel, it's the 'best luxury sedan in the world'. Much better equipped, more comfortable and far bigger than my first flat, the Flying Spur can also hit 200mph.
Its previous incarnation was known as the 'Continental Flying Spur'. But the 'Continental' part has been dropped to separate it from the more sporting models in the Bentley range, even if it still shares a lot of mechanical parts.
The 'Spur is now being marketed as a more complete luxury car that is good enough to take the fight to Rolls-Royce.
First impressions?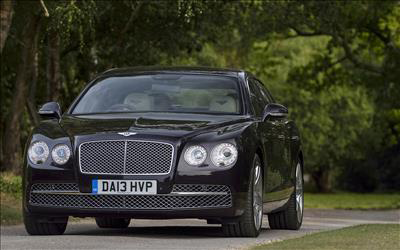 There's certainly a lot to take in. Initially, you might be struggling to tell the difference between this and the old model, but soon the details become clear. There are some waistline creases sharper than a Jimmy Carr comeback, a grille and rear end that have had surgery to appear wider, while the wonky-eyed headlights have been moved so they're now the right way round.
At first it's just an evolution, but eventually you wonder how Bentley could have made the previous generation look quite so monstrous.
What's it like inside?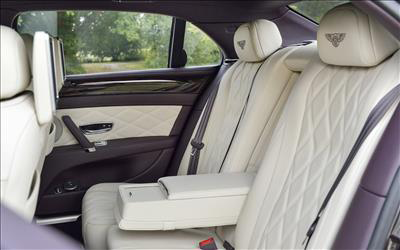 If you happen to be American or Chinese – two major growth markets for Bentley - then it's likely that you'll be sitting in the back.
There, you'll find sumptuous leather seating that reclines, heats, cools and massages, often at the same time.
Sitting behind the driver there's not quite enough legroom, but swap sides and you can slide the front seat away at the touch of a button, allowing you to stretch out fully.
An entertainment system includes two 10-inch TV screens, USB and SD card inputs, while electric blinds to the sides and rear ensure nobody can see what you're up to.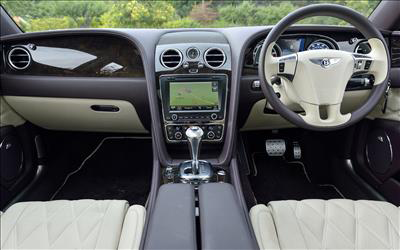 European buyers will probably be driving the 'Spur rather than being chauffeured in it. Their immediate reward will be a gloriously finished dashboard that's uniquely Bentley.
There's no doubting the quality – every surface (apart from the cheap-feeling flappy-paddles) is covered in metal or finest Austrian bull leather, doubtless fed on a diet of foie gras and angel's tears.
The seats are climate controlled and also vibrate, if you like that sort of thing.
What's it like to drive?
Bentley has seemingly built this car with complete disregard for saving weight. Even the sunglasses holder is hefty, feeling as heavy as a thick book.
Once built, the engineers then figured out how much power they needed and bolted in a six-litre W12 engine. This was still not quite enough, so two turbochargers were added.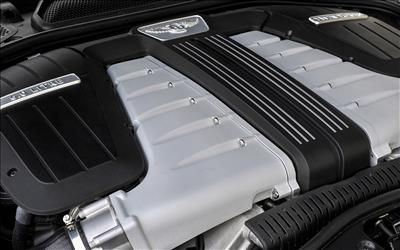 The result is a mammoth car that accelerates to 60mph in just 4.3 seconds. Overtaking other cars needs just a few metres, as the bark from the exhaust simply scares dawdlers off the road.
Corners are surprising, in that the 'Spur simply grips at all times. The four-wheel drive system and stability control work hard to keep things in check quite brilliantly.
Relax a little and it becomes smoother than Barry White after half a bottle of red. At very low speeds it's a little jarring, but only ever so slightly. Though when you're spending the same money you would on a house, you can afford to be picky.
Any alternatives?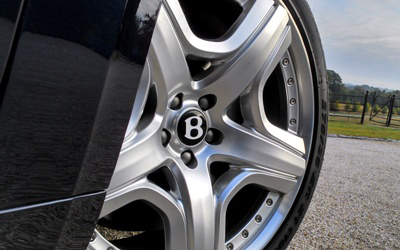 There's not many. The Rolls-Royce Ghost is probably its closest rival. Mercedes S-Class buyers might choose to upgrade, while there are a few who come over from the Maserati Quattroporte.
At a stretch, the Jaguar XJ gets close dynamically.  But every option other than the Rolls really lacks the opulence of the Flying Spur. A semi-detached in Greater Manchester might just match it for size, but performance will be lacking.
Verdict
This is a vehicle with a split personality, and I mean that in the nicest possible way.
Bentley has managed to create a car that can waft an executive around in opulent surroundings but can also burn rubber with the best of them.
The claim that it's 'the best luxury sedan in the world' is a bold one, but there might just be some substance in it.