The Goodwood revival festival is a celebration of classic motorcar racing, all wrapped up in a delicious bubble of period dress and vintage values. It's been held at the historic track since 1998.
Once you waft through the gates, everything that surrounds you exudes the flavour of 1948-66 – this being the period when the circuit was operational in its original guise.
Each year, a variety of themes present themselves. This year's edition of Revival saluted the Ford GT40, the Tour de France (yes, as in bicycles) and much more besides, while up-close-and-personal access to the working pits and paddocks allowed spectators to enjoy a firm link to what was going on around the track.
And my word, is that a sight to behold!
Pretty much every car you see racing at the Revival is historically significant and worth a fortune. You might expect them to be rolled out of cotton wool-stuffed sarcophagi onto a triple-thick layer of egg-crates, but no – these are machines built to be raced, and they get raced hard.
Revival draws enthusiasts from all over the globe, largely for the thrill of dressing up in a pinstripe three-piece and watching 250 GTOs battle it out with Cobras and E-Types like it's 1966, and they never go home disappointed. This, folks, is the real deal.
Now, there's rather a lot to discuss, so I've taken the liberty of distilling the weekend into 10 key areas for you. That sound all right? Ace. Let's go…
Tesco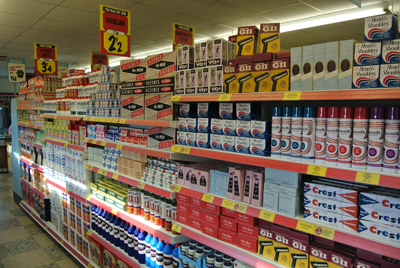 Ok, it may seem odd to single out a branch of Tesco as one of the highlights of a car show. But look!
They've decked it out in '60s fashion – you can buy a bottle of Double Diamond, a Marathon and a pack of Opal Fruits to enjoy as you amble about the show. Because a pipe of Pringles just wouldn't go with your vintage Chanel, darling…
Glamcabs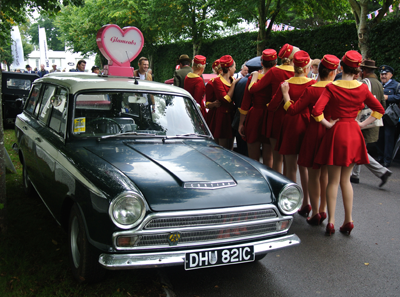 A stalwart of the Revival, this. The Glamcabs name comes from the 1963 Carry On Cabby, and it's authentically represented at Goodwood by a fleet of mkI Cortinas, complete with glamorous staff.
Police cars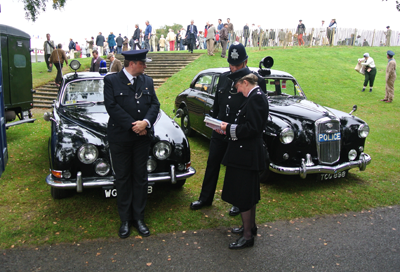 Cripes, it's the rozzers! As ever, there was a fleet of retro police cars on display, along with bobbies in olden-day helmets.…
GT40s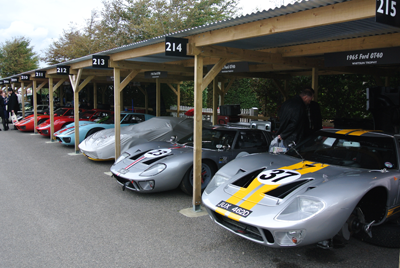 The breathtaking Ford GT40 dominated the Revival this year. The iconic racer enjoyed a 1-2-3 finish at the 1966 Le Mans 24-hour, and much of its testing took place at Goodwood, so no further excuse was needed for it to be here.
Ever heard a grid full of GT40s launching off the line at once? No, no-one had, this was the first time it had ever happened. It's like being head-butted in the chest by a billion angry bees - in a good way.
Tour de France
Bicycles are not cars, of course, although there are all manner of support vehicles to consider.
To celebrate the 110th anniversary of the tour, a daily peloton of bikes took to the track, while a variety of classic French vans and such-like parked up around some natty period buildings.
BMW garage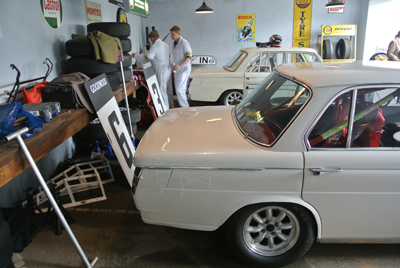 Last year it was stuffed with Minis, but for 2013 the period garage area was given over to a trio of 1960s BMWs.
It was a proper working garage – these cars were racing all weekend – and yet the public were free to wander in and poke about. How cool is that?
The Sotheby Special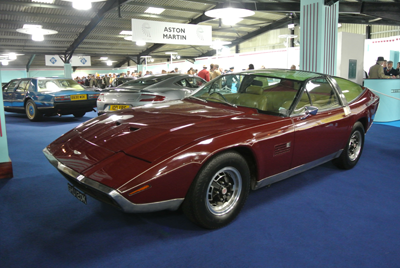 Strange to highlight just one car out of thousands, but this peculiar Aston Martin deserves your attention. It's a DBS V8 that was re-bodied in 1972 by Ogle Design.
It appeared at the Revival in the mocked-up replica of old-school Earls Court (I know, it's a weird place) as part of Aston Martin's centenary display – hence why we're looking at a post-1966 car.
All bets are off inside Earls Court – and this stood out like a sore thumb. It's just so beautifully weird, isn't it? Like a Jetsons spacecraft.
St Mary's Trophy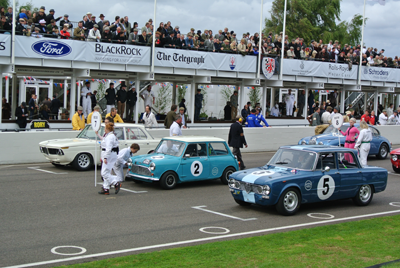 A magnificent race, in which Lotus Cortinas and Mini Coopers take on thunderous Ford Galaxies and obscure oddballs like the Isuzu Bellett.
The brawny ones dominate on the straights, the nimble ones claw it back in the corners. Compelling stuff.
RAC TT Club Celebration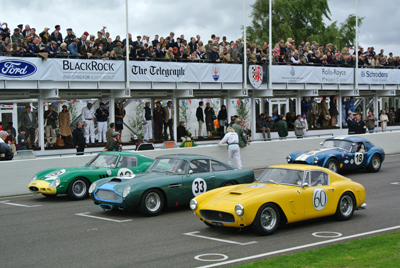 The headline race of the weekend, with a grid worth millions.
Ferrari 250 GTOs, which generally change hands for eight-figure sums out in the real world, swap paint with low-drag E-Types and irreplaceable Cobras over a 60-minute blast.
Famous and notable drivers use these cars for what they were designed for and, as ever, the second half of the race saw some pretty astonishing rainfall. Hundreds of millions of pounds worth of cars, bouncing off each other and slithering through the puddles. Crikey…
Settrington Cup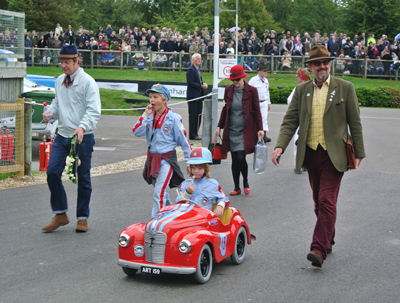 Of course, the Revival's an event for all ages. The Settrington Cup pits vintage Austin J40 pedal cars against one another, and grown-ups can't fit into them. Murray Walker commentates, and Sir Stirling Moss hands out the trophies. Your heart swells as the nippers' dreams are fulfilled. Aaaahhh.
So, there we have it. One of the most astonishing, diverse, entertaining and downright wonderful events on the global motorsport calendar, which is equally appealing if you want to spend the weekend trackside or just dress up and drink gin and tonics. See you there next year?