If the Land Rover Defender was a person, it would be your granddad.
But not just any granddad, it'd be your 40-a-day, whiskey swilling, strong as an ox, lady charming granddad.
Sadly though, that 40-a-day habit has caught up with it, and now the Defender is on borrowed time. As of December 2015, it will be no more due to ever more stringent emissions regulations.
The original Land Rover came to be in 1948, three years after the end of World War II. And while it's a still a popular beast now, the truth is that the Land Rover was only ever intended as a means of keeping Rover – which was a proud builder of luxury cars before the war – afloat for a year or two. Little did they know it would survive for 67 years… 
So, as the Defender's long innings comes to an end, join us in a look back over the life of this magnificent machine...
The beginnings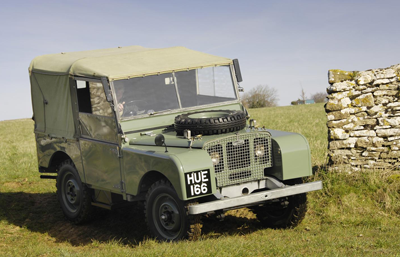 Working to the constraints of rationed metal, paint and fuel, Rover built the first prototype Land Rover in 1947.
It used a Jeep chassis and a Rover P3 engine (ask your granddad), all of which was encased in hand-built aluminium panels.
The colour? Green of course, but only because there was loads knocking about after the war.
Known as the Series I, it was the first incarnation of the silhouette we've come to know and love over the last seven decades.
Complete with  Power Take-Offs and four-wheel drive, the first production Land Rover hit the mud in 1948, and it was a winner from the off.
Full of patriotism, people bought them in their droves. Then they discovered they were rather good at traversing any landscape placed in front of them. That's when Rover knew they were on to a winner.
Evolution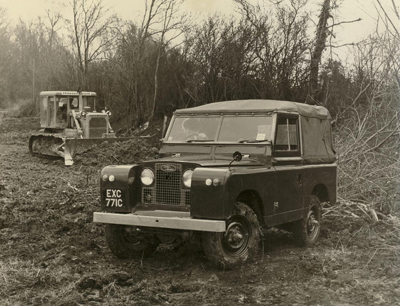 The Series II arrived in 1958, 10 years after the original Land Rover was born.
With lots of money in the bank and sales going through the roof, Rover wasn't about to call it quits just yet.
In fact, the first Series II wasn't really fitting of the customer's needs, or at least it wasn't far enough removed from its predecessor.
That's why the Series IIA was brought out in 1961.
It had a slightly more sculpted body, comfier  seats and a new range of engines. It was a veritable smorgasbord of luxury compared to the Series I.
A long-wheelbase version was available as well, thus freeing up more room for sheep, hay and farm hands and such.
Then, in 1971 the Series III arrived.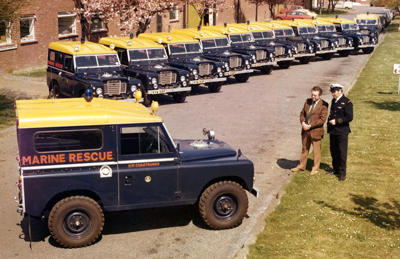 It saw huge technical leaps such as, urm, headlights mounted in the wings and, well, that's about it.
The big draw came from the now positively expansive range of - ahem - four engines. As before, there was a modest 2.25 litre petrol version, a couple of diesels, and finally, a stonking V8.
Well, we say stonking but in reality it was 91hp version of the engine you'd find in a Rover P6 (again, ask your granddad). Fast it was not, but it did make all the right noises and it had loads of grunt, too.
Getting Defensive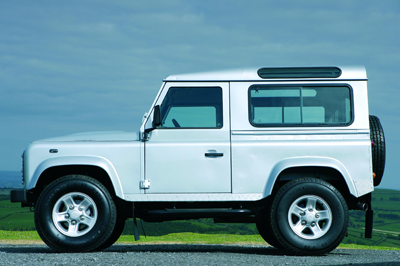 Some thirty three years after the first Landy clattered its way out of the Midlands, its demographic had changed slightly.
People still wanted the trusty Brit-built 4x4 for farming and work duties. But some people wanted to use them as everyday cars, the crazy fools.
So with that, the 90, the 110 and later, in 1991, the Defender were born.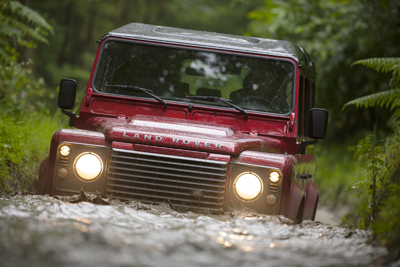 Offering a bit more kit and in some cases, even carpets(!), the new range of Land-Rovers offered a slightly more upmarket option.
It had to. The Defender was competing with not only the likes of Jeep and Mitsubishi, but also with its own stablemate, the Land Rover Discovery.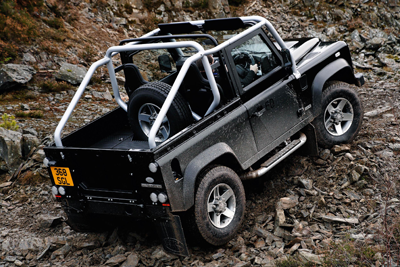 As the years went on, newer engines were built and installed, such as the TD5 diesel found in the Discovery and Freelander, as well as automatic gearboxes, leather trim, air conditioning and even metallic paint and alloy wheels! Yowzer!
Fame and fortune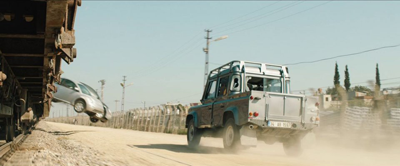 The humble Land Rover has also become a bit of a famous old thing over the years, starring in Bond films and even the Fast and Furious franchise. Oh, and Emmerdale, lots and lots of Emmerdale. Even tough, uncompromising cop Monkfish drove one.
They've also served royalty, and they're the go-to vehicle for military powers the world over.
The most impressive feat under the Landy's belt, however, is not Bond. It's the Camel Trophy.
For those of you who don't know, the Camel Trophy started in 1980 and it is the epitome of 4x4 abuse, covering hundreds of miles through some of the world's most inhospitable terrain.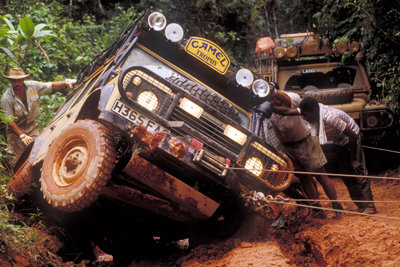 The first edition saw American Jeeps as the primary car used.
But from 1981 on it's been Land Rover all the way, with the 90, 110 and Defender making many appearances. Talk about proving a vehicle's toughness.
Sadly though, the old girl just can't keep up with the times. It's a bit too labour-intensive to build and isn't too kind to the environment. Moreover, for what they cost, you could happily buy a Freelander, Discovery or even a used Range Rover. And that's exactly what people are doing.
As such, Defender (as we know it now) will bow out in 2015. Sad times indeed.
But let's not get misty-eyed just yet, because as any Land Rover owner will tell you, it takes a hell of a lot to keep one of these mechanical monsters out of action. They'll be a familiar sight on our roads – and fields - for a long time to come...