As the camping season winds down after a bumper summer involving some shock sunshine, it's not quite time yet to pack up canvas and get out the wheel chocks.
Covered popped along to the Caravan and Motorhome Show in Birmingham to stare in wonderment at all the shiny mobile homes the NEC could contain, as well as covet all manner of can't-camp-without gadgetry and accessories.
The annual extravaganza, run by the National Caravan Council (NCC), is a chance for manufacturers to showcase next year's innovations, and for caravanners, motorhomers and campers to bag fantastic bargains, not to mention plan next season's jollies to far-flung destinations such as Germany, Luxembourg and, ahem, Devon.
The NEC is absolutely ma-hoosive, but Covered did its best to, well, cover as many halls as possible in a mere day, poking our journalistic nose into all manner of awnings, cabs and portable loos.
So if you missed this year's camp-fest - or even if you spent the whole week there and simply MUST relive all the fun - here are the best bits!
Best for mugs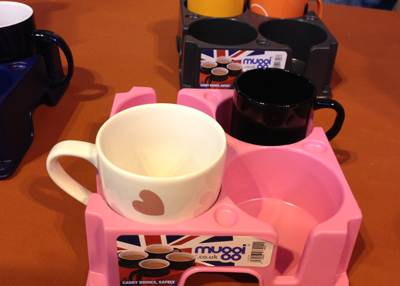 No, we're not insulting you, we literally are talking about mugs here.
The Muggi is a nifty device able to contain four mugs (of various sizes!) in non-slip fashion!
Muggi is the brainchild of David 'Trotski' Trotter, who was asked by a sailor friend to design a mug holder for those spill-tastic tea-at-sea moments.
Trotski soon realised his clever container would be equally handy for anyone who's ever parked up their mobile home on a slope, which brought him to the NEC to launch his product in style.
Covered got its hands on a fetching pink version, but Muggi also comes in navy, red and graphite grey. Camping kettle at the ready!
Eternal flame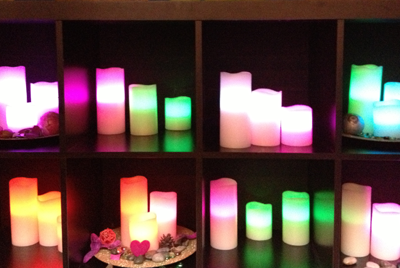 The safety-conscious touring fraternity knows that naked flames and mobile homes are a veritable disaster in the making, particularly if an excitable child or pet is running amok. So, Arkay Sales' Flameless Candle is hot news.
These vanilla-scented candles are made of real wax but, as the name might suggest, have no flame, running instead on AA batteries.
Who needs a camp fire when, with a flick of the remote, you can have hours of fun changing the colour through 12 variations, including Christmas and Halloween settings?
It's handy, too. When you're stumbling around a dark field trying to find your unit, the candle's soothing glow can guide you home.
Just be careful not to leave it on the red setting on full display in the window, or you might find yourself fending off a queue of late night visitors you weren't expecting…
Last chance saloon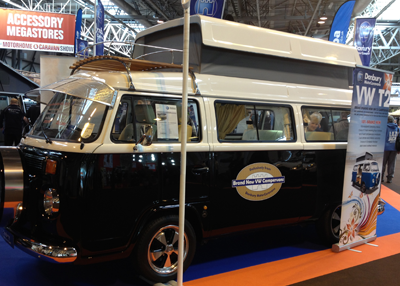 Never one to pass up an opportunity to stare dreamily at VW campers, we were at the Danbury stand before you could say "do you like my new deluxe folding camping table?" And there it was, the T2 Kombi, in all its well-polished splendour.
This midnight blue version, able to carry seven people and sleep five, is £33,849 brand new but used models were being advertised for a mere £19,000.
But be quick if you want one, as production of the 63-year-old icon stops at the end of the year!
Best for Barbie girls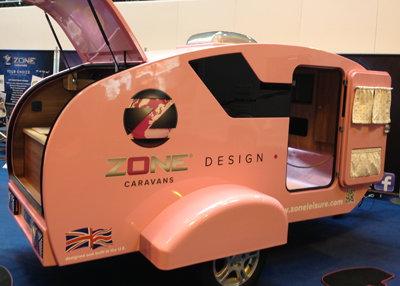 No self-respecting 21st-century glamping gal would be seen in anything other than this 'amazeballs' Barbie-pink Zone caravan.
Surprisingly spacious inside - with plenty of room to line up all those sparkly wellies - the Zone includes a fabulous pink-spotted sofa bed and a pretty sizeable flat-screen TV. When you want a nice cup of peppermint tea, just pop up the hatch at the back and - tah-da! - there's your gleaming stove.
In a neat wooden finish, this cute kitchen looks like it's straight out of a doll's house - Barbie's, naturally. Although you might expect to pick up one of these dinky units at Toys R Us, you'd be better off popping along to Zone Leisure instead.
T@B be or not T@B be?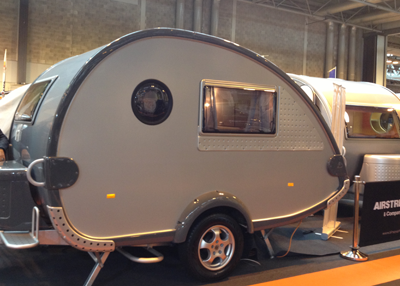 The teardrop-shaped T@B is no longer the new kid on the camping block, launching way back in 2002.
Since then, it has paved the road for all manner of teeny, trendy micro-vans, but hasn't been left behind.
This T@B 320 Offroad and its big sister, the L400 TD3, were grabbing a lot of the attention on the Airstream stand, and it's easy to see how German designer Knaus Tabbert has struck gold with his design. The two-berth 320 retails for just under £14,000. Bargain.
Best for hobbits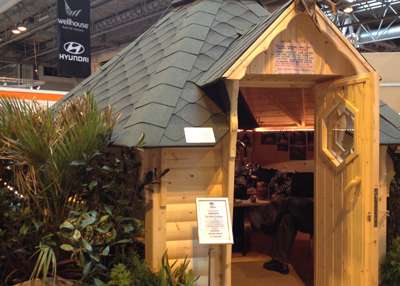 The second film in Peter Jackson's trilogy is due in cinemas soon, but why go when you could have your very own hobbit hole in your garden?
These Scandinavian garden lodges, as showcased by Garden Exteriors, are more than 12 feet in diameter and definitely a cut above next door's new conservatory.
On sale for between £6,500 and £7,500 depending on the model, they are way too posh to use as a playhouse, leading parents and grandparents to merrily lock themselves away at the bottom of the garden whilst the kids trash the house.
Best of both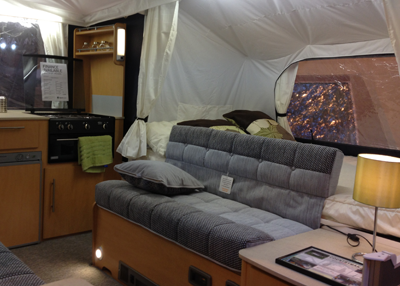 Can't decide whether you're a camper or a caravanner? Then a folding camper is clearly the answer for you.
It's hard to believe that two airy double 'bedrooms', some sofas, a cooker, a fridge and the proverbial kitchen sink pack neatly away into one small trailer, but that's exactly how this award-winning Conway Countryman Platinum Edition rolls.
Indeed, the said trailer is one of the smallest on the market, making the Countryman an ideal starter camper for couples and small families. As Conway's slogan cheerfully proclaims: "All the convenience of a caravan with none of the hassle." Exactly!
Best slice-r of the action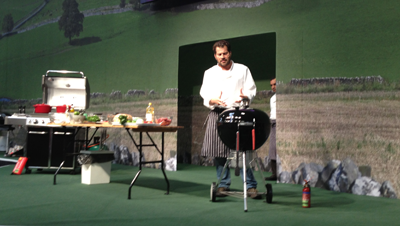 TV chef Ed Baines - off Lorraine, Britain's Best Dish and the Alan Titchmarsh Show - spent the week making improbably mouth-watering dishes on a barbecue.
From bunny chow* served up inside half a loaf of bread, to barbecue-grilled chips, Ed sliced, diced and did wonders with all the spicy condiments you can cram into a cool box.
With defter chopping prowess than a circus knife-thrower, Ed was one of the stars of the show.
Sadly, TV chefs in foldaway backpacks were unavailable to buy, but Weber, the sponsor of Ed's demonstrations, was handily nearby with a neat display of barbecues, grill brushes and tongs for buyers to get their hands on.
So those were the best bits! But if you're now glumly awaiting the far-off fanfare of spring for your next fix of al fresco enjoyment, don't fear.
You ONLY have to wait until FEBRUARY for the Caravanning and Camping Show, also happening at the Birmingham NEC. And, with an emphasis on camping, the exhilaration will of course be in-tents. (Sorry).
*No real bunnies were harmed in this production. Not in the demo Covered witnessed, anyway