What's this?
The Great Wall Steed is a proper workhorse of a vehicle. It's a rough-and-tough four-wheel-drive pick-up truck that has sold in Australia for a few years now, and we know they don't give a 'fourex' for any 4x4 unless it can shift 100 slabs of tinnies across the outback without breaking down.
Don't be misled by the Australian success, though. This machine hails from the ninth-largest car manufacturer in China, Great Wall Motors. This means it arrives in the UK with a low price and an uphill battle for acceptance.
First impressions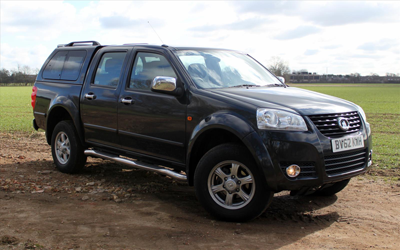 Great Wall has played it safe with the styling, producing a pick-up truck that has some surprisingly rounded edges, almost reminiscent of a soft-roader.
There are no chrome nudge bars, no cliff-face chrome grille, just a pair of running boards and a set of massive side mirrors.
It's not a tough looking car, but perfectly pleasant to look at.
What's it like inside?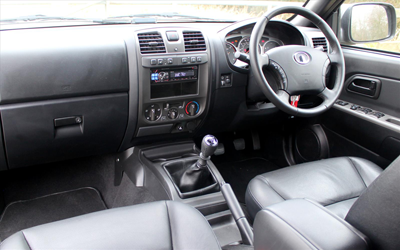 If you work on a farm, the inside is fine, in a utilitarian way.
There are hard, shiny plastics wherever you look, with clunky buttons and knobs to press and twist. It will all come up clean and shiny with little more than a damp cloth, I'm sure.
However, if you're trading in your Vauxhall Insignia in order to drive something just a little different, then you'll find it's a bit like stepping back in to an old Cavalier.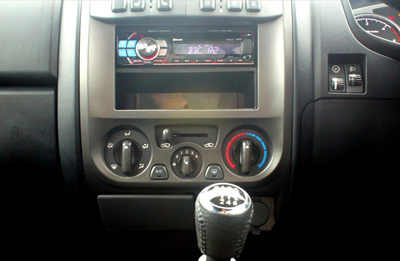 Ergonomically it's also showing the lack of a multi-billion development budget.
Buttons to switch between two- and four-wheel drive are mounted high up on the centre console, above the stereo, while there's a button hidden to the right of the steering wheel and, after an entire week, I still have no idea what it does.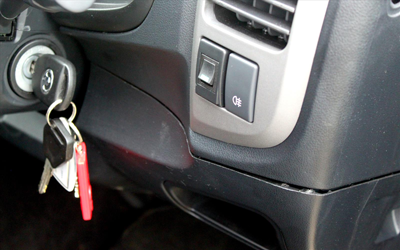 This mysterious button was also just above a part of the dashboard that simply didn't fit the rest of the interior, leaving a sharp edge ready to snag your coat as you get in and out.
On the plus side, the interior has plenty of room in the front and rear.
There's also an odd mix of equipment, from heated leather seats to Bluetooth hands-free kit, even on the entry-level model. Trade up to the 'SE' spec tested here and you'll also get a body coloured hard-top, roof rails and much-needed rear parking sensors.
What's it like to drive?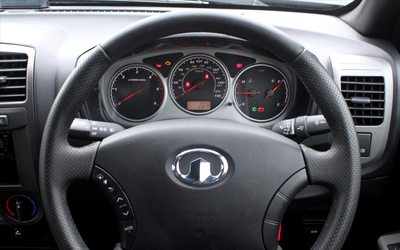 The Steed's saving grace, beyond its price, is that it's actually a reasonably refined vehicle to drive.
The hard shudder that many pick-ups provide over bumps when empty is missing from the Great Wall thanks to independent suspension all round, leading to a pleasingly comfortable ride, especially at motorway speeds.
It will never rival a sports car for handling, but it turns well enough, pushing to understeer earlier than a hatchback driver might expect, but remaining easy to control and predictable.
The two-litre turbo diesel engine puts out just 141bhp, but that's just enough for day-to-day driving despite weighing in at just over 1.8 tonnes. That does mean economy suffers, with an official combined figure of 34mpg.
Is it really rough-and-tough?
There's a reason the Steed is selling well in the agricultural community, and that's because it'll cope with anything the farming landscape can throw at it.
That might mean climbing the Eiger is out of bounds, but because of that clever suspension, muddy hills, river crossings and ploughed fields won't present any issues to the Steed.
Is it safe?
Anti-lock brakes with emergency brake distribution are fitted, but beyond that you're on your own as far as electronic gadgetry goes. Should the worst happen there are just two airbags, one for each front occupant.
The Steed hasn't been tested by EuroNCAP, but its V240 twin was put through Australia's equivalent, the ANCAP test, where it scored two stars from a possible five. Make of that what you will.
What's the competition?
Priced at just over £19,000, no other pick-up truck gets close to the Steed on what you get for your money. The Mitsubishi L200 and Isuzu D-Max are closest in concept perhaps, but both cost at least £5,000 more for a similar spec.
Should I buy one?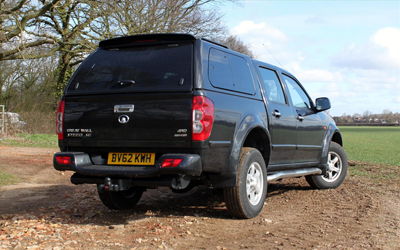 Despite its fine on-road manners and low price, it's tough to recommend the Steed, especially as a new car. It will serve many people very well, but a one-year-old Toyota Hilux will probably serve them better.