What's this?
The latest Toyota Auris arrived last year to mild acclaim, bringing a sense of discrete style that was missing from the old model.
Designed from the outset to accommodate a hybrid system, Toyota slotted the Prius's drivetrain under the bonnet. Now there's the Touring Sports - an Auris with an extra bit of metal welded to the back to make it an estate.
First impressions?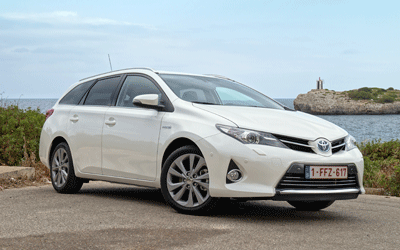 It's actually quite a handsome car, the design coming together better in estate form than it does in the cheaper hatchback model.
The sharp lines, rising waistline and raked roof combine for a fast and practical look.
Fast AND practical, you say? Sounds good. Is it quite sporty then?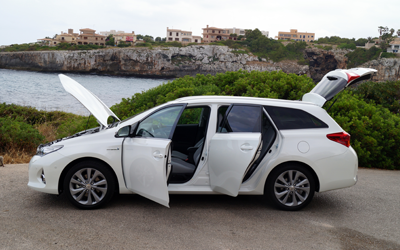 Definitely not. The 'Sports' part of the name should probably be disregarded, as the Auris Touring is very much a functional car. The most powerful model in the range is the fuel-sipping hybrid version, tested here, which says a lot about its priorities.
How does it drive?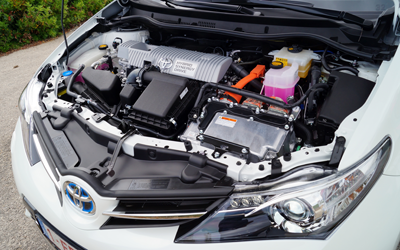 It feels remarkably like the Auris hatchback, which shouldn't come as too much of a surprise, meaning that it rides very well. To call it 'sporty' would most certainly be stretching the point, but there's a fair amount of grip and the car resists understeer well until physics starts to take over. Razor-sharp direction changes are discouraged by slightly vague steering, though.
Despite it being the fastest model, the hybrid version just doesn't feel it. That's partly thanks to the weight of batteries the car has to carry around, but mostly due to the CVT gearbox.
I certainly don't dislike CVT's, but here there's just not enough torque and too much weight, leaving the engine revving up too frequently. That wouldn't be so bad if you had a mellifluous V8 under the bonnet, but the 1.8 VVT-i just sounds like a washing machine on a spin cycle.
Ok then. What's it like inside?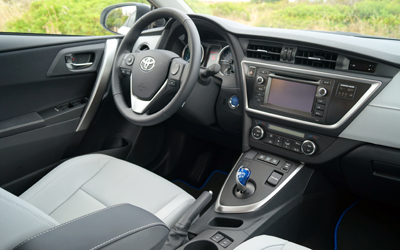 The Auris is well equipped, there's plenty of room, and it's comfortable enough too. The Excel spec model tested came fitted with heated seats, dual zone climate control, privacy glass, keyless entry and countless safety features.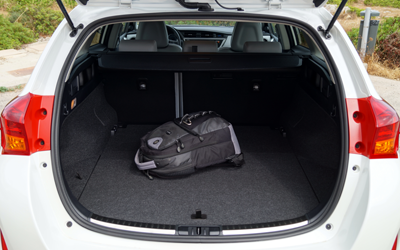 It also has class-leading load space, swallowing up 1,658 litres of luggage across a wide and flat boot, once you've folded down the rear seats.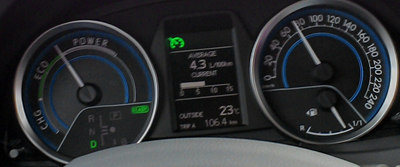 Up front it's a bit drab, with a slab-like dashboard that's straight from the late 80s. There's sharp lines, smooth curves, big squares and multiple round dials - but that's all forgotten about though when you spot the cheap-looking LCD clock.
Anything else going for it?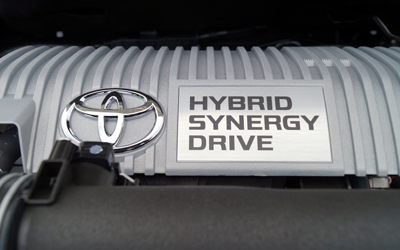 The hybrid system improves economy, so that's encouraging. Officially it'll do 70.6mpg, and round the twisty and mountainous roads of Mallorca I managed an impressive 60.1mpg. You'll not be stopping at the pumps too often and with CO2 emissions of just 92g/km, you'll not be paying any VED either.
It sits in insurance group seven; incredibly low for the size of car and certain to save you plenty on your premium.
Fit and finish is also remarkably good, with tight panel gaps and a feeling of solidity. That, no doubt, goes towards the maximum five-star rating in Euro NCAP's crash testing.
What about its competitors?
Hyundai's i30 estate is refined and equipped well but a rather relaxed performer, much like the Auris. It's cheaper but less economical and you have road tax to consider.
Ford's Focus is less spacious but better to drive, while the Volkswagen Golf is everything a Golf always has been and always will be; quite good at everything.
Verdict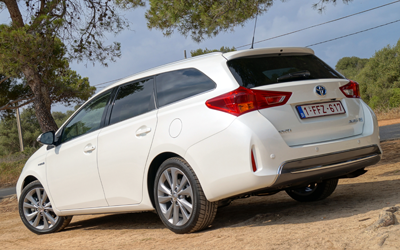 With its best-in class-load bay, the economy of its hybrid system and fine ride quality, the Auris Touring  Sports is worth considering. If you're happy to sacrifice a little space and economy, there are better options out there...