According to the paranormal buffs, Britain is positively teeming with ghosts.
So, with Halloween here, we thought it would be a good idea to take a look at some of Britain's spookiest spots...
50 Berkeley Square, London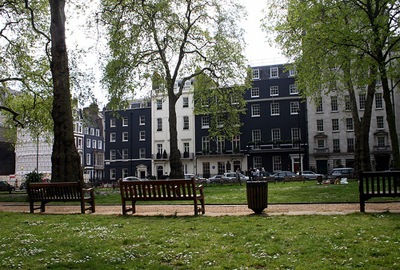 Photo: Herry Lawford
Mayfair is one of the capital's most sought-after locations. But if you think the house prices are frightening, check this out: it's also home to one of the country's most haunted houses, 50 Berkeley Square.
This 18th-century townhouse - once home to Prime Minister George Canning - has been beset by all manner of bizarre and tragic events over its history, from women flinging themselves to their deaths to men being locked up in the attic and losing their mind. It's also said to be chock-a-block with ghosts. In fact, in 1878 a man was said to have died of fright after spending a night there.
However, no hauntings have been reported since the 1930s. Perhaps the resident ghouls have downscaled and moved out to the suburbs?
Empire Theatre, Sunderland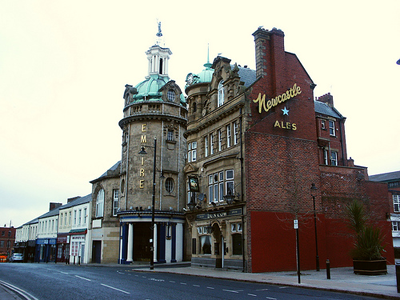 Photo: Chuckout Backseats
The grand old Empire Theatre has seen a lot in its time. It survived World War II and the Beatles graced its stage several times. It also became known as 'the graveyard of comics' thanks to its gruff, partisan audience. It would turn out to be an unfortunate prediction of events to come...
The theatre is reportedly plagued by an eerie, spectral cackling – reportedly belonging to the ghost of 'Carry On' legend Sid James, who suffered a heart attack onstage at the venue in 1976 and died on his way to hospital. In fact, the comic Les Dawson refused to play at the venue again after a run-in with James' ghost in 1978.
The front of house is also said to be haunted by the ghost of music hall star Vesta Tilley and a stage manager, Molly Moselle.
Talk about stage fright.
B3212, Dartmoor, Devon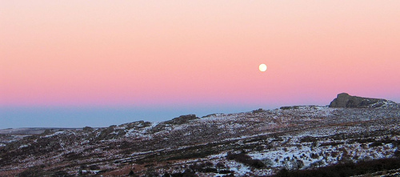 Photo: Leonz
This is Britain's most haunted road, according to a survey from Castrol.
Hundreds of motorists have seen everything from ghostly garrisons of Roman soldiers to floating horsemen on the desolate, windswept Devon highway.
Drivers have also felt the sensation of being pushed off the road – try explaining that to your insurer.
As if that wasn't enough to give you the willies, there have also been numerous sightings of a 'Dartmoor Beast' – a big, black cat-like creature roaming the moors. Yikes! (Here's a bit more on thebeasts of Britain, if you're interested).
Conwy, Denbighshire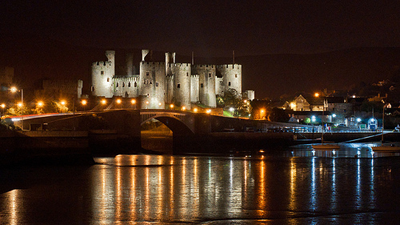 Photo: Erwlas
This historic walled town is allegedly one of the most haunted places in Wales.
Hooded figures, thought to be the ghosts of monks, are often spotted in and around Conwy castle's ancient walls. Often, the paranormal vibes are so strong that dogs will refuse to walk through its grounds.
The castle itself would merit an inclusion, but Conwy's got ghouls galore elsewhere. The Elizabethan townhouse, Plas Mawr, is said to be haunted by its original owner, his wife and a doctor.
Elsewhere, the quayside Liverpool Arms pub is thought to be haunted by an old landlord and a floating monk – a sinister portent of bad luck.
Whitby, Yorkshire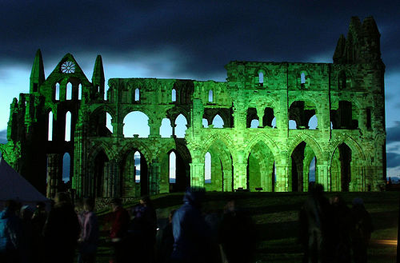 Photo: Aerk
In Bram Stoker's Dracula novel, this is where the Count first pitches up in the UK. He couldn't have picked a more appropriate place.
There are said to be loads of spooks in Whitby – from the figure of St Hilda which roams the ruins of the abbey, to a demon hound which reportedly stalks the town.
Add to the mix a headless horseman who visits the graves of sailors and two haunted lighthouses  and it's easy to see why the nation's palest descend on the town every year for the Whitby Goth Weekend.
Glamis Castle, Scotland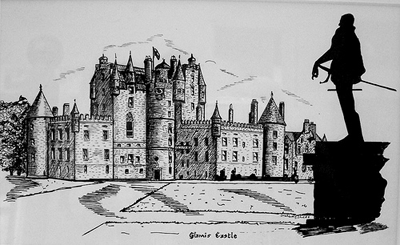 Photo: Tram Painter
This castle may look like something from a fairy story, but it's got enough sinister paranormal activity going on to fill a reasonably sized book.
King Malcolm II of Scotland died here in 1034, and amongst the castle's cast of ghouls is a woman with no tongue who reportedly wanders around the grounds pointing at her face. There have also been reports of Earl Beardie - a former resident of the castle who was cursed to  play cards with the devil for eternity - turning up in childrens' rooms.
Should you feel brave enough, you can actually spend a night at Glamis Castle. Er, thanks, but Covered will probably give this one a miss. 
Crumlin Road Jail, Belfast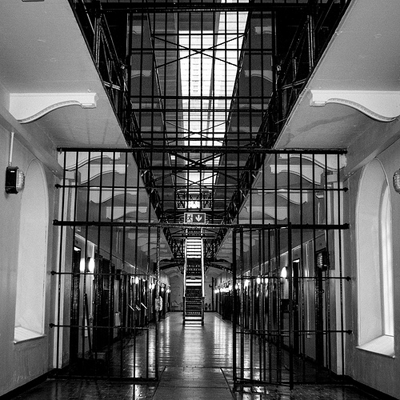 Photo: Richard Browne
You might recognise this from its appearances on telly and on the silver screen, but this disused jail is reportedly riddled with ghosts. More than 25,000 prisoners passed through its gates between 1846 and 1996, and it also saw its fair share of executions.
Prison doors are often heard slamming shut by themselves, and male and female voices can be heard crying for help – although this might be to do with the fact that part of the building has been converted into a cinema.
Llancaiach Fawr, South Wales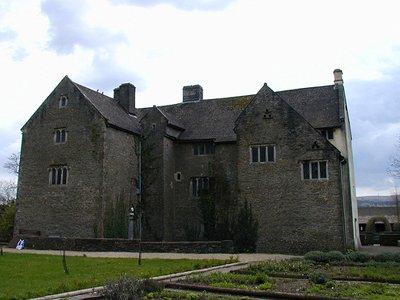 Photo: Mike's Relat
This old manor house has stood since the 16th century. It's seen all manner of upheaval, particularly during the civil war.
The most frequently sighted ghost is thought to be that of a housekeeper who died in tragic circumstances, while visitors have also reported a little boy's spirit tugging at their hair.
It's currently peak ghost-watching season at Llancaiach Fawr, so get your skates on if you fancy an eerie evening tour of the manor.
You can also watch goings-on at the house's very modern 'ghost cam'.
St Briavels Castle, Gloucestershire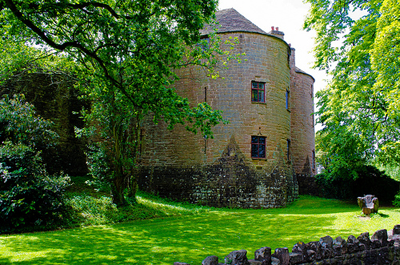 Photo: Thomas Tolkein
Standing in some form or another since the Norman age, St Briavels is now a hostel that has scared untold outdoors enthusiasts since opening its doors to visitors in 1948.
Men in suits of armour, poltergeists, mystery screaming babies and girls walking through walls are just some of the peculiar phenomena which have been reported here. Crikey!
Jamaica Inn, Cornwall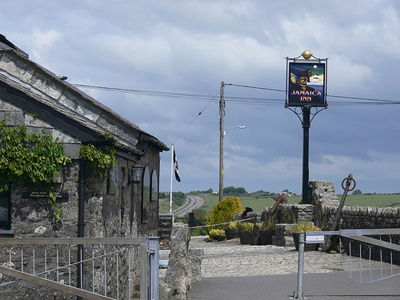 Photo: Str3ss Less
Cornwall has its fair share of ghoulish goings-on, but the Jamaica Inn is regarded as one of the region's most paranormally 'active' spots.
The spirit of a cloaked highwayman reportedly lurks in the grounds, while sounds of phantom horse's hooves are commonplace. Some people have even heard ghosts talking in the ancient Cornish language in the snug of the bar.
In the unlikely event of you going to the Jamaica Inn and not spotting any ghosts, you can console yourself with a fine selection of real ales, home cooked food and a look at Cornwall's most extensive smuggling museum.
Have YOU had any curious encounters with spirits? If so, where were they, and what happened? Let us know on Twitter or Facebook with the hashtag #Ghostcompare and we'll RT the best.