A new dating app which allows users to bribe each other into dates has caused much consternation on the interwebz.
Carrot Dating, developed by an MIT graduate, allows users (read: men) to bribe women into dates by offering them anything from flowers to a boob job. Yes, really.
The man behind Carrot Dating is Brandon Wade (below), the genius also responsible for a selection of other questionable dating wesbites, including Miss Travel, Seeking Arrangement and the charming What's Your Price?. I sense a theme developing.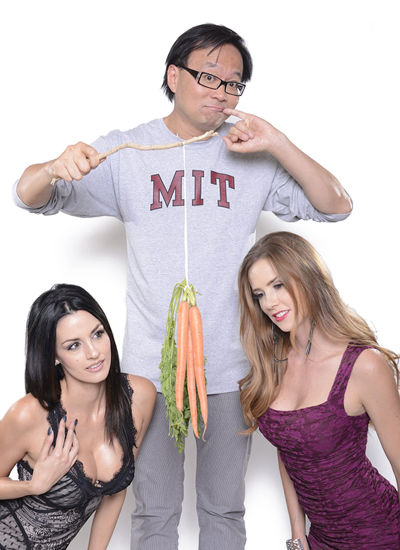 Carrot Dating reckons that bribery is the oldest form of payment, and the most effective too. Why waste time contacting countless singles, asks the website, when you can simply offer someone payment in the form of chocolates, travel or plastic surgery in exchange for a date.
"Women love presents like dogs love treats", says Wade in the site's press blurb, with seemingly no sense of self-awareness or shame.
Here's how it works: the 'carrot' gives singles the upper hand by increasing their likelihood of first dates and is a gift used to spark romance, apparently. 
"Carrot dating puts the romance back into the dating game by forcing men to improve their approach," says Wade. "Giving is the greatest 'icebreaker', and anyone can date the man or woman of their dreams by simply dangling the right 'carrot'."
So, in the name of journalism, Covered dipped its toes into the Carrot Dating pool to see what it could find.
Initially it seems pretty similar to other dating websites in that you create a profile, fill in information about yourself and then browse potential dates.
While you're able to download the app and bribe for free, once your bribe has been accepted you have to buy 'credits', which range in price from £2.99 to £27.99, in order to chat to your intended beloved.
Bribes are sorted into different categories ranging from dining to entertainment to gifts. I spotted a few singles within driving distance of Gocompare.com Towers - maybe they'll spring for a Greggs steak bake? A girl can dream.
A few hours later I recieved my first bribe in the form of petrol money. Not having a car, I politely declined and awaited the next offer - who knows, maybe love is just a bribe away...
So, would you ever be bribed into a date? Is the promise of a slap-up McDonald's and a pint enough or would you need a more substantial incentive? Tell us what you think on Facebook and Twitter with the hashtag #GoCoDating.