Thousands of people have now applied for the two phases of the government's Help to Buy scheme.
Debate still rages as to whether the scheme is necessary - lenders are offering low-deposit mortgages outside of Help to Buy, after all. There is also an argument that Help to Buy is a recipe for another unsustainable housing bubble.
But for better or worse, the scheme has already helped hundreds of people who were previously priced off the property ladder to get a foothold.
To understand more, we've spoken to four different Help to Buyers to find out how the scheme has helped them...
Claire Louise Archer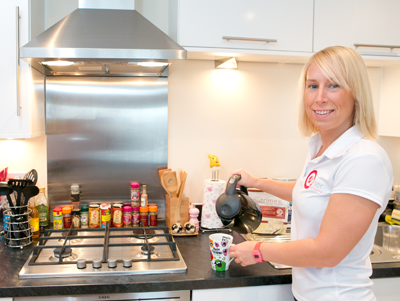 Claire didn't know the Help to Buy scheme existed when she paid an impromptu visit to a new apartment in Heald Green, Greater Manchester.
"I went to torment myself," says the 34-year old personal trainer. "I just wanted to peek inside. I didn't actually think I could possibly afford it! The lady explained the Help to Buy deal and I put down a deposit there and then."
Claire had made some serious life-changes to get onto the property ladder. From living in a £750 a month rented flat on her own, she'd moved to a £400 a month deal in a shared house in order to save up the 20% deposit required by many mortgage lenders. Even with that saving of £350 a month she'd calculated it would take five years to become a first-time-buyer.
"It felt like I'd gone back to uni," said Claire. "Help to Buy reduced the deposit I'd need to just £6,400. My monthly mortgage repayments are £475 so it's already a lot cheaper than the rent I was paying on a flat that was much smaller."
Not even the payback process in five years' time fazes Claire. Her mum is selling her own house next year and moving to Greece, and will generously be sending some money Claire's way. "Luckily I'll be able to pay the loan back outright," she says.
The first thing Claire bought for her new flat? A US-style fridge freezer.
Dean Leslie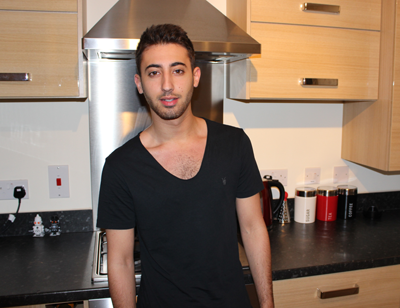 If any first-time homeowner knows about Help to Buy, it's 22-year-old Dean Leslie - not only has he just gone through the process to purchase his £290,000 new-build house in Bushey, but he's also an estate agent.
"It didn't cross my mind when it was announced because the estate agency I work for is pretty high-end," says the man who regularly sells gaffs for over £2m and recently helped members of One Direction find a home. "I would've needed about £65,000 for my deposit. That would've taken me at least two or three years to save. I know I'm very lucky to be in that position."
Having moved straight out of his family home, Dean isn't making any saving on the rent he would have been paying previously, although rent on a similar property would be £300 extra a month. While he appreciates that it has helped him, he thinks Help to Buy has potential dangers.
"A lot of people will purchase on a budget," he says. "If interest rates go up they'll be strapped for cash and they won't be able to rent it out as an emergency contingency." (The terms and conditions of Help to Buy mortgages will often deny individuals the option of renting their property out).
Dean warns of another potential danger area: "Another negative aspect [of Help to Buy] is that, as well as prices going up organically, developers can add an extra £10,000 to the list price as it only adds about £500 to what the buyer pays upfront. There's a danger that it's creating a bubble."
The first thing Dean bought for his new house? A doorbell
Bryony Chinnery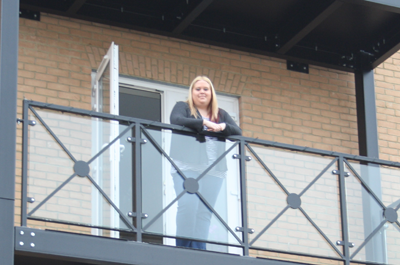 PR consultant Bryony had it all worked out: Help to Buy could reduce the deposit she needed for her £145,000 flat in Braintree from £21,000 to the £7,000 she knew she could pay. She put down the £300 holding fee, received mortgage lender approval and thought she was good to go. Then…
"I didn't qualify!" says the 25-year old, who was initially rejected by Essex's Help To Buy agency Moat. "It was frustrating. I thought if I qualified for a mortgage there wouldn't be any other problems, but Moat had stricter criteria than the banks!"
Fortunately, Bryony was promoted at work a month later and sailed through the process the second time around.
Within months she'd moved from her £850 a month rented flat in London to her own two-bedroom flat with £550 a month mortgage payments. 
"It went pretty smoothly," she explains. "The mortgage adviser did a lot of running around for me. I know it's an extra expense but she took the stress away and chased people during the day while I was at work. She also made sure I knew what everything meant, so I wasn't signing things blind."
The first thing Bryony bought for her new flat? A painting
Hayley & Struan Preston
Brother and sister Hayley and Struan Preston are pretty much celebs in the Help to Buy scene. They were the very first people to be approved for the recent second phase of the scheme, which opened up Help to Buy to the wider housing market, and were invited to 10 Downing Street to celebrate.
"It was surreal," says 27-year-old sales manager Hayley. "We got a phone call from RBS explaining how we were the first in the UK, not just the first with our bank, and that David Cameron wanted to meet us! I don't think we'll get that opportunity again."
Everything about this Help to Buy example is rather interesting. The sibling purchase partnership indicates broader buying trends, with people obtaining mortgages with friends or relatives rather than partners or spouses.  And rather than buying a new-build home, their £190,000 two-bedroom flat in Edinburgh was a repossessed property which Hayley describes as "a shell".
"It was just floors and walls," she explains. "There wasn't a bathroom, a kitchen or even windows! We took on a serious project for a first-time buy, I'll tell you that much."
Yet within eight weeks of applying for their mortgage they'll be moving in. The Help to Buy loan freed up £10,000 of their savings to invest in renovations.
But as intense as the last two months have been, they've not fallen out… Yet.
"There are a few differences on how we want to do things," says Hayley. "But we've always compromised. For instance, he can choose the kitchen because he's a chef while I get the say on colour co-ordinating, the decorations and carpeting."
The first thing they bought for their new flat? Beds
Bear in mind that your home may be reposessed if you do not keep up repayments on any mortgage.