What's this?
It's the latest incarnation of Skoda's take on the hot hatch, with some extra room in the boot. The vRS is said to offer all the performance of the Golf GTi with which it shares so much, but adds in a very sensible amount of practicality and frugality.
First Impressions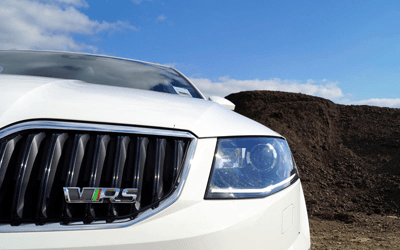 That added portion of practicality means the Octavia is big…So big that I thought I was standing quite a lot nearer to it than I really was.
There's an extra 43cm of metalwork in the Skoda over the Golf, but the wheelbase is only 5cm longer, leaving a slightly heavy look to the car.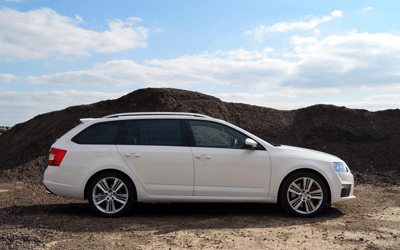 That's balanced nicely though with some really sharp lines and creases that make the Octavia look somehow both sensible yet purposeful. It's every inch a practical performance load-lugger with penny pinching pricing.
The performance of a Golf GTi? Really?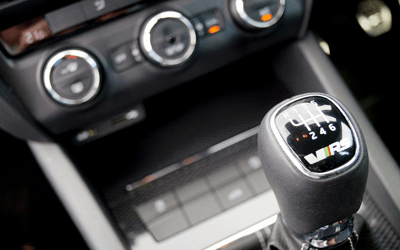 For the most part, yes. The Octavia shares a lot of with its Golf sibling. That means the petrol powered versions will hit 60 mph in just 6.8 seconds, just 0.3 seconds slower than the Volkswagen.
I'm driving the diesel variant though, with its 2.0 litre turbocharged oil burner, and that takes 8.2 seconds to hit the same speed, although it will go on to a licence-jeopardising 143 mph.
Behind the wheel it feels a lot quicker. The low down torque that the diesel engine provided catapults you out of bends with an anti-social level of speed, the front end clinging on to the road surface like an I'm a Celebrity contestant clinging to their career.
That's all thanks to shorter sports springs that lower the car by 15mm, stiffer anti-roll bars, some new suspension geometry and the so-called XDS+ system which brakes the inside wheels during enthusiastic cornering to help turn the car in.
The numbers might say it's not quite the performance car the vRS badge suggests, but you'd never tell when you're driving it.
Skodas are meant to be sensible though...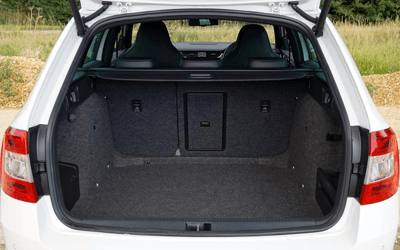 Nothing here changes that. Despite the reasonable performance, economy of 61.4mpg is promised by the official combined figures, while CO2 emissions are 119g/km. That means you're paying just £30 in VED a year, with a Benefit in Kind rate of just 18% if you use the Octavia as a company car.
Elsewhere, that huge lump of metal welded on the back allows you to carry 610 litres of goodies with the seats up, extending to 1,740 litres with everything folded away. That's more than you'll squeeze in to a Volvo V70.
So quite fast and very practical. Must be expensive...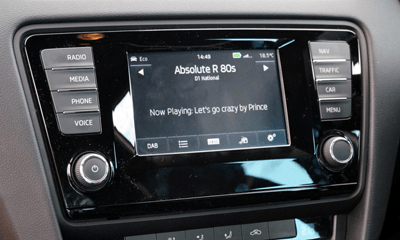 Skoda's prices are creeping up, but this model comes in at just £24,060, which is a couple of thousand pounds cheaper than the Golf, and that's not even an estate.
There's also plenty of equipment included, including headlights that turn to follow bends (bizarrely, there's a Sport mode for these), 18-inch alloy wheels, multi-function steering wheel, climate control and lots of little touches around the car such as an ice-scraper nestled in the fuel flap or various hooks and eyelets in the boot to tie things down to.
What about the rivals?
The Volkswagen Golf GTD is an obvious rival, but that's not yet available as an estate. It's also more expensive, but does come with a couple of extra gadgets to boost driving dynamics.
Vauxhall's Astra Sport Tourer comes with a twin-turbo diesel option that's just as quick but not as practical, while the Ford Focus Estate ST offers mind-boggling performance for slightly less money but at the expense of practicality and economy.
Should I buy one?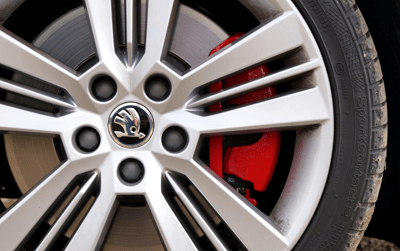 If you want the ultimate in hot-hatchery, it's probably best to look elsewhere. However, if you've got a family and a couple of dogs to move around then you'll be grateful for the comfort and competence of the car, while also secretly enjoying any twisty bits of road you might come across.
It's a car to buy with your head, while allowing your heart to interfere with the process just a little bit.