Crivens! Skoda has only gone and built a huge ice cream van which will tour around the UK.
The 21ft tall van boasts freakin' huge Monster Truck wheels and weighs over five tonnes. Apparently, it can "cope with the toughest UK beach terrains" and also boasts four gargantuan Asbo-baiting speakers on the roof.
The van was built to publicise the new Octavia vRS, and will feature in an advert alongside other 'souped-up' versions of everyday gadgets including a giant toy trike, a lawnmower with multiple exhaust pipes and flaming go-faster stripes, and the 'vRS Man-Pram', whatever that is.
Heidi Cartledge, head of marketing at Skoda UK plugged: "The Octavia vRS is not your average family car, and so we created an ice cream van that is also far from average! The giant ice cream van will be touring the UK handing out up to 6,500 servings of free ice cream, offering members of the public a fun sense of what you could experience if you vRS'd your life".
Anyway, shall we have a closer look at the brute?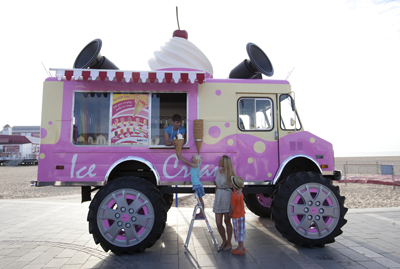 "We're going to need a bigger cone."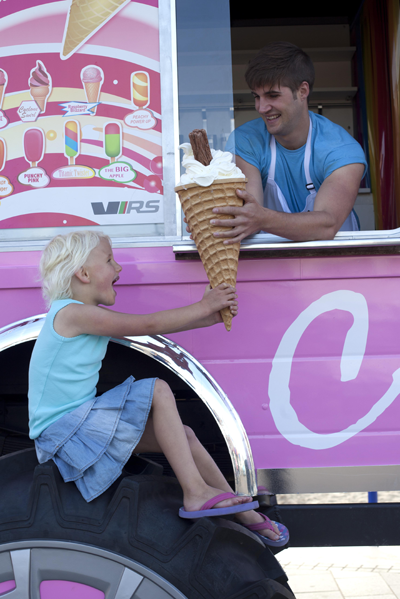 You'll spoil your dinner with that.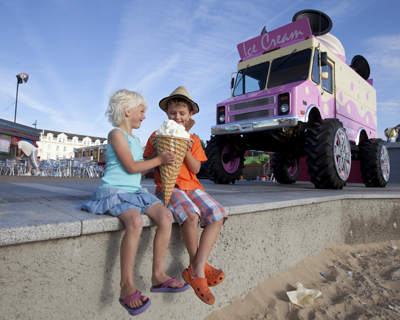 Approximately five minutes later a scuffle broke out over who had principle ownership of the massive cone. There were tears.
You can catch Skoda's massive ice cream van in the tin at...
Bournemouth Air Festival - Thursday, 29 August to Sunday, 1 September
Various King of the Mountains stages at Tour of Britain. (Dates TBC)
Royal County of Berkshire Show at Newbury - Saturday, 21 September and Sunday, 22 September