What's this?
According to the chintzy promotional video, Megabus Gold is inter-city travel for the baller on a budget. Just feast your eyes on those walnut-look tables, gold adornments and burgundy leather. Plush.
While Megabus Gold offers (by coach standards, at any rate) palatial luxury, the thing that piqued Covered's interest was the price –  Cardiff to London for a tenner, particularly on a Saturday, is practically unheard of these days, especially when it's undertaken in what looks like cosseting luxury.
In fact, had I opted to jump on the ticket a week earlier, it would have cost a fiver – that's less than a pint of beer in some London pubs. Blimey.
First impressions
Rocking up to Megabus' Gold service on a muggy Saturday morning, it looks like, well, a big burgundy and gold bus. It's got two decks, so I opted to head upstairs for the best views of the M4 in all its late-October splendour.
What's it like inside?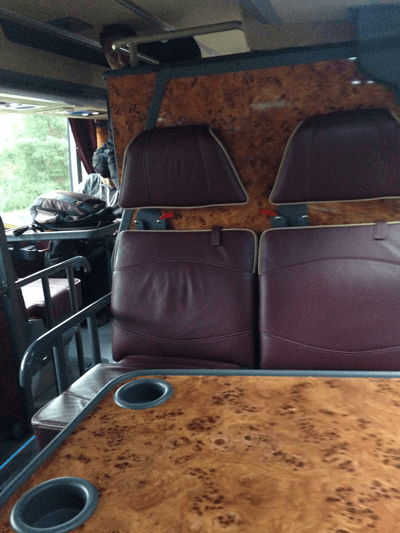 In short, like the East India Club, transported to a bus. Each seat has a table and plump leather seats with plenty of room between.
There's wi-fi and power supply should you need it  - even if the internet didn't work particularly well where I was sat.
Such is the Megabus Gold's cavernous interior, I got a bit disorientated whilst boarding and accidentally got a backwards-facing seat.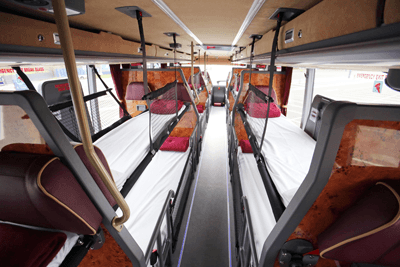 There are even fold-down beds for long-haul journeys, although these were strictly off limits for the relatively short journey down the M4 we'd be taking.
How was the journey?
Pretty smooth, all things considered. The nausea I was expecting from facing backwards never arrived, and I often found myself daydreaming that I was on a club coach to a cup final at Wembley.
There's also a lot more camaraderie on a Megabus than on a train, where attempts at interacting with fellow passengers are usually greeted with the same withering looks as if you'd admitted a penchant for Status Quo. I was offered a liquorice chew by a fellow passenger which I gladly accepted. I don't even like liquorice, but it felt rude to decline.
Oh, and speaking of refreshments, they came pretty thick and fast. No sooner were we on the M4 than I was being offered a refreshing bottle of lime pop, a sandwich, or a biscuit or muffin, with a side order of jocular 'banter' from a Megabus attendant. You certainly don't get that on First Great Western. Well, you might, but you'd have to pay through the nose for it. This was all complimentary.
However, this review wasn't all plain sailing. No sooner had I tapped out a few gushing tweets than the driver announced that, due to heavy traffic on the M4 going in to London, we'd be taking a detour. Cue a long slog around Bracknell, Surrey and Richmond, before finally alighting at Victoria. It wasn't all bad, though – it was quite nice to peer out of the window and watch the city go by.
How's the toilet?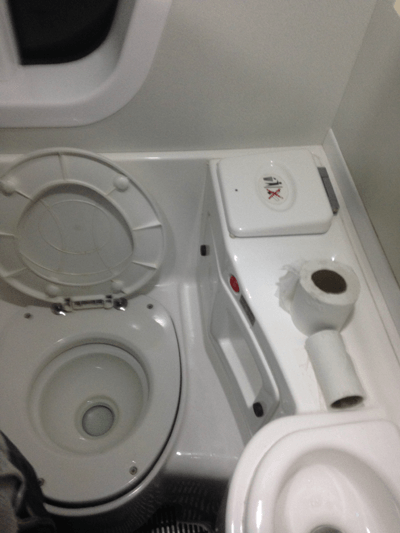 Remember those Japanese 'pod' hotels on Tomorrow's World? Well, it's sort of like them. Think of a standard – bog-standard, if you will – toilet, about a third of the size. It's perfectly usable, if a little cumbersome for a gentleman of my frame.
The old unwritten law of the rock and roll tour bus also probably applies, too – no, er, solids. That would be enough to push the aforementioned camaraderie to the very limit.
Should I take it?
Megabus Gold might just be the best-kept secret in British travel. It's ridiculously cheap, and pretty comfy, all things considered.
It must be noted that I probably lucked out with my journey – there was an absence of screaming children, smelly people, loud eaters and incessant phone talkers who would have pushed my patience to the limit. One of - or a combination of - the above might be enough to make a perfectly pleasant journey hell on earth.
But with train fares on an unstoppable march upwards and the cost of inner-city parking much the same, it might be worth putting your preconceptions aside and taking a punt on the big burgundy bus. You never know – it might just surprise you.