What is it?
There's a central theme to most reviews I've read of the 208 GTI: 'It's the new 205 GTI'.
This has been exciting me greatly, as I've had a few 205 GTIs over the years and they're bags of fun.
When Peugeot delivered this 208 to me, I was particularly pleased to find it finished in Bianca White. 'Marvellous,' I thought, 'this will make a great twin test with my own 205 GTI, which is also white.' (Yes, I talk to myself in this manner. It's not weird, leave it.)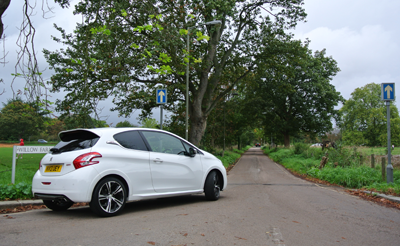 It took about three minutes of driving the 208 to realise that a twin test was a pointless idea. They really don't have anything in common – of course they don't, there's decades of progress separating the two. So let's look at the new GTI on merit, shall we?
What's it like inside?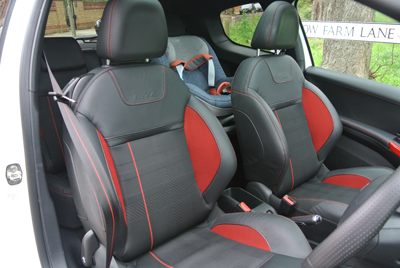 First things first, it's a jolly pleasant place. The interior cossets like a well-tailored overcoat, its lashings of leather upon every surface offering a welcome, luxurious counterpoint to the swathes of mismatched plastics offered by some of its class rivals.
There's a little bit of Aston Martin-style drama when you insert the key, as the needles on the dials sweep all the way around and back again just for the heck of it, while their outer rims wear a pair of neon-red spectacles like a Shoreditch-ite at a rave.
The seats are enormously comfortable, while also counteracting lateral G-force by hugging your kidneys like a long-lost auntie, and the countless GTI motifs and red thingies everywhere remind you that you're somewhere special.
How does it handle a family?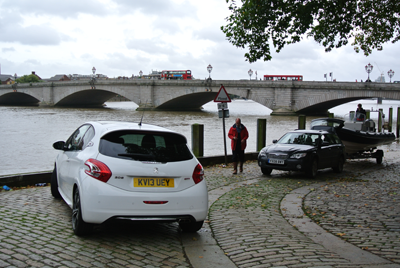 I'm a grown-up now (apparently, so my bank manager keeps shouting at me), which means it's sometimes necessary to ferry the family about.
Ticking the first box is the presence of Isofix, so the baby seat can go in the back safely, although the GTI loses points for only being available as a three-door.
Ever tried to get a 19-month-old in the back of one of these? It's a two-person job – one of you has to pass baby in through the passenger door while the other climbs in the other side to receive. Tricky. But hey, that's not Peugeot's fault – they're not aiming the GTI squarely at families, and there are non-GTI five-doors in the range.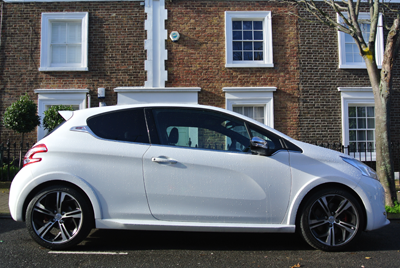 Once your nipper is firmly installed, it's pretty perfect – the rear of the car is a little cocoon, with its blacked-out windows and cuddly pillars. The option of the panoramic glass roof also gives baby something to gaze at. The boot is impressively capacious, and easily swallows a pushchair along with a load of bags.
My wife was happy enough too, as the front passenger gets a jazzy touchscreen stereo/satnav to play with, and plenty of legroom to stretch into.
In the family test, then, the GTI gobbles up the motorway miles with alacrity, leaping counties in long, striding bounds. It looks at home in the Ikea car park. It's both reasonably frugal and sensible.
How about the drive?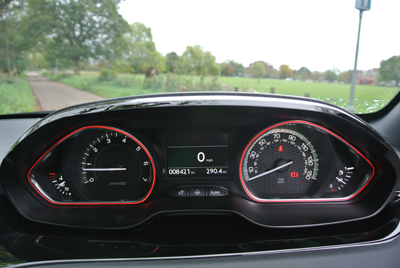 When I'd emptied the car of passengers and family-ish accessories, it was time to play… And boy, does the 208 love to play.
It's got the perfect driving position – I've heard many testers complain that the steering wheel obscures the dials, but I didn't find that to be the case – and that engine is, frankly, a masterpiece.
The turbocharged 1.6-litre 200 THP unit pootles around town like any other shopping hatchback, but when the roads open out and you plant the throttle it really comes alive, doing a remarkable job of making the scenery go all blurry as the crisp white display spools up the miles-per-hour figure with improbable gusto. 0-62mph in 6.8 seconds? Yeah, that sounds achievable.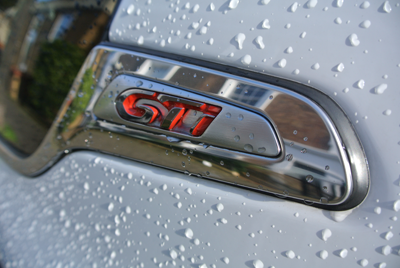 It'd be nice if you could actually hear the engine and exhaust doing their thing, although it does all start to growl a bit when you get past 5,000rpm…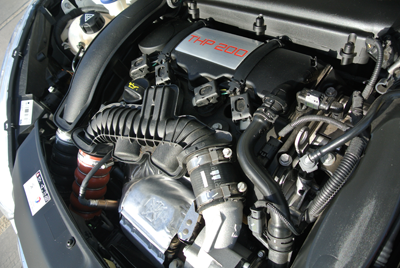 Peugeot have clearly put their best people on suspension duty too, as it's as point-and-squirt as you'd hope a hot Pug to be. The fact that it uses old-school tech – a manual gearbox, a proper handbrake, an actual key – in amongst the on-board geek-fest made my retro heart smile.
So, hang on a minute… Unlikely rapidity, peachy handling, perfect driving position – maybe it is a little like a 205 GTI after all? Maybe the marketing bods were right all along…