Do you ever wonder, when you're picking up a piping hot pork sandwich or falafel wrap at some foodie market, "What might life be like on the other side of the hotplate?" I do. So I asked.
If you live or work in a city centre, you can't have failed to notice the boom in street food. It became obvious that this was a verifiable 'thing' once opportunistic restaurants started advertising "street food" specials, defeating the object entirely.
James Fitzgerald – Fiz to his growing band of regulars – is one who fancied a crack at it.  A few months ago, after eight years working in telly, he took the plunge, setting up Pickle, a sandwich and breakfast specialist based a few minutes' walk from Bristol Temple Meads.
"I've always loved food, and it just seemed logical," he says. "The pitch is everything, really – doing this gives me a good start. The overheads are relatively low and it might help me work towards having a pub one day."
Right around the corner from Pickle is the Food Warren, run by brother and sister team Rob and Claire Warren. It's beautifully simple concept – breakfast until 11am, then a meat dish, a veggie dish and a soup option each lunchtime.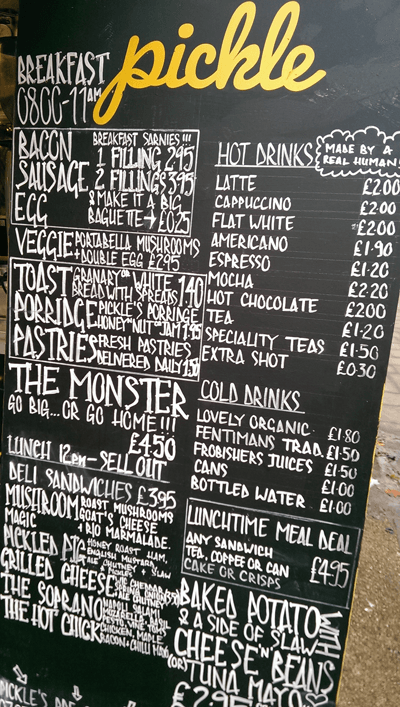 The week's menu is available online and on flyers. Their story shows that this needn't be a short-term stepping stone, as Rob says:  "The idea came when we were both working in London.  Claire worked in product development for watches and I was an architectural assistant. We were both fed up with our jobs and both enjoyed cooking so decided to pack it in and set up some sort of street food stall in Bristol, where we were brought up. We chose the location based on the amount of offices around. It took a while to get council approval, so in March 2011 we started trying to sell out the back of a van to local business parks, Apprentice-style! In mid-April 2011 we got our spot and have been building up our customer base since."
An upside for the street food punter is the chance to influence menus. Warren says: "We've had a few useful suggestions from customers which we have followed up especially noting dietary information like vegan and gluten-free.  But I think people like us for the variety."
Location is everything here, he adds: "We wouldn't consider moving. The area's empty offices are gradually filling up and there seem to be lots of new creative start-ups around Temple Meads. I don't think we will ever progress to a cafe, we like the size we are - we can give a very personal service and are involved in every aspect of the business."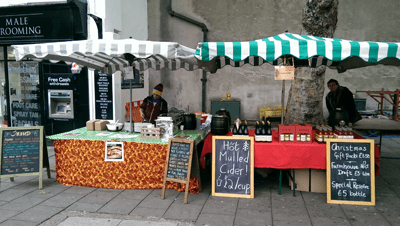 Councils are keen on street food as it's a big part of that "animating the city," thing they love, making places "buoyant" and "vibrant". 
The hungry punter is a winner – especially those in foodie hotspots. Bristol's street food collective Bristol Eats won the 'Best Street Food Collective' at the British Street Food Awards in September.
Bridget Pilkington, who also runs the Vee Double-Moo ice cream opeation, is the market manager. She says: "It's great to win the award from other cities like Manchester, Birmingham and Glasgow. I think Bristol's second only to London in street food, although there's probably still only 20 or so traders in the Bristol area doing it full-time." 
There are markets twice a month, and regular events such as "kitchen takeovers" at pubs such as the hip Crofters Rights.
Pilkington offers the view that life outside suits many just fine. "Most of our traders like being out and about and doing different things, they don't aspire to working in a restaurant. That said, on the colder days, you do think 'we must be mad'."
One trader not ruling out further ventures is Dan Beswick, owner of the Bear Grillz burger bar in the Bearpit Market – a wonderfully odd mix of stalls in the sunken meeting point of underpasses amid Bristol's St James Barton roundabout. He's a year into life on foodie street. 
"I'm pleased with how it's gone and I'm really proud of the product - but I don't necessarily want to spend the rest of my life in the middle of a roundabout. I've looked at bringing out a range of sauces, we've done other catering jobs like the circus at the Creative Common. I'm looking to bring together the city's burger crews for something. There are all sorts of plans. Bristol's good for independent traders – people here like to back the underdog."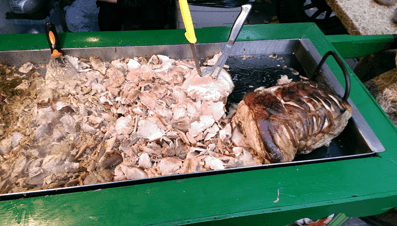 For Beswick, there wasn't a lightbulb moment. "There'd been a lot of chatting over ciders in the pub and I just thought 'maybe I should actually do it," he recalls. "You could say it's a Star & Garter-inspired business plan."
How do you pull this off in a part of the city that although much tidied up thanks to the sterling work of the Bearpit Improvement Group, is still routinely prefixed as "notorious" in the papers? It's all about being reasonable, says Beswick. "I didn't realise when I was setting up, but the spot I'm in used to be where all the drinkers gathered. There were all sorts of threats, but once they realise you can get along they're fine." He grins: "There are some real characters, you see some incredible things."
So how far can this trend go? The worlds of inside and out are already blurred – early in 2013 Ben Warran, operator of the Meat & Bread cart that became an overnight sensation for seekers of piled-high American style sandwiches,  called time on his wandering and started renting the Three Tuns pub kitchen.  Claire Hetherington, general manager, says: "It's been great for us and for Ben – it really is as simple as meat and bread, but the preparation is something else, he's in at 9 every morning. The only problem is that the staff really have to watch our weight, it's dangerous having him here!"