Like the cuckoo heralding spring, the first crinkly rustle of a waxed Barbour on an over-crowded train can only mean one thing - the Six Nations is here.
It used to revolve around gloomy winter afternoons on a Saturday, anaesthetised by warm beer or hip flasks, with a familiar rhythm of Friday afternoon travel to away matches, night-time barfly bravado, a morning stroll to the stadium, some post-match shenanigans, then home on Sunday.
Television demands have since fragmented rugby's oldest tournament into less easily digested chunks. Friday night and Sunday afternoon games have stretched patience as well as the fixtures.
But with a bit of planning, the post-austerity fan of 2014 can still transform the possible few extra pennies in his pocket into a weekend of vigorous rucking at the mid-winter blues.
Rome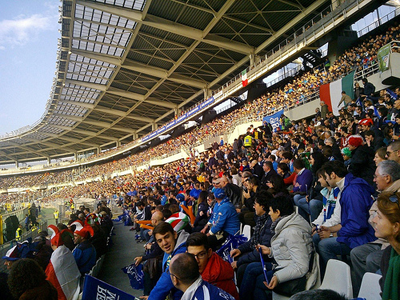 Image: Pablo Canate
Let's start with the furthest trip for any fan of the home countries - Rome. Some fundamentalists might argue that the Italian capital is a bit against the spirit of the tournament.
The weather is often reasonable and people take time over their food, meaning some fans have even made it a "romantic" destination for themselves and their partner - an accusation that used to be made against Paris.
But tickets for matches at the 82,000 Stadio Olimpico are plentiful, as are cheap flights from many UK airports.
The atmosphere is not yet as vibrant as inside the old, smaller Stadio Flaminio, but the makeshift bars in the streets around make up for that. As the Italians have only been in the tournament since 2000, bagpipes, giant leeks and live cockerels are still well received here.
Stay near: Termini train station.
Go to the game: On a tram from Flaminio.
Drink around: Piazza Navona.
Paris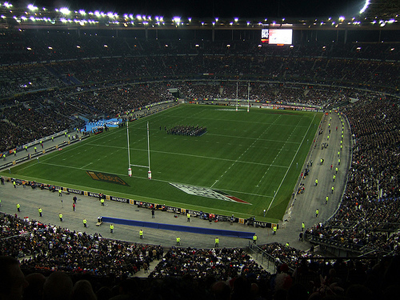 Image: Speckled Jim
Paris used to be mainly a cultural attraction since no team ever expected to win in France, but lately the Tricolors have looked rather sickolours.
This has a meant a change of atmosphere inside the Stade de France - fewer puffed-out chests and brass bands and more angry glares and derisive whistling.
It's also easier to get tickets, although you are less likely to get them through the French rugby federation than through ticketing agencies or UK clubs.
There's a bit of fun to be had around the Stade prior to the game, but certainly nothing much to detain you from heading back to the centre of Paris afterwards.
Stay around: Gare du Nord or Montparnasse.
Go to the game: By Metro or RER to Stade de France Saint Denis.
Drink around: Gare du Nord and Opera metro.
Dublin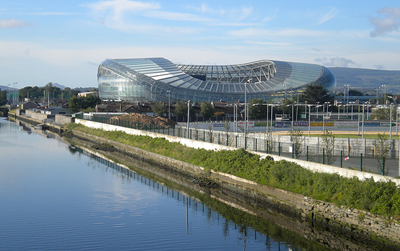 Image: Peter Mooney
Dublin's city fathers surely built the place with the idea that one day it would serve as an ideal winter-weekend location for travelling rugby fans.
It's not just the bars, it's the fact that every sizeable hotel seems to have a serving area as wide as the Liffey and uniformed staff who did stout studies at university.
The Aviva Stadium doesn't have quite the charm of the old Lansdowne Road, but neither does it expose you so cruelly to biting winds.
Ireland still blow hot and cold, so getting tickets through agencies is not as difficult as could be expected for a ground that only holds 51,000.
The Ballsbridge area surrounding the Aviva Stadium is convivial, but not cheap. At least a bellyful of the black stuff means you can save on the price of a meal.
Stay at: Guest houses around Gardiner Place.
Go to the game: By walking or, if lazy, take the bus or Dart train.
Drink around: Baggot Street or Fleet Street, but avoid Temple Bar.
Edinburgh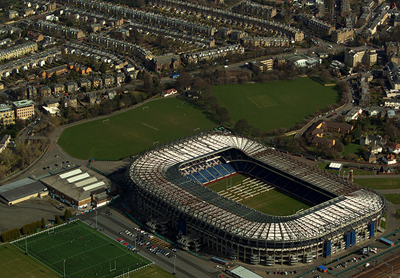 Image: Papa Joe
Edinburgh is another city that offers plenty of hospitable shelter on a wet, windy weekend in February, as well as some bargain opportunities.
Such have been Scotland's recent difficulties in winning - or even losing entertainingly - that tickets can be bought directly from the Scottish Rugby Union.
Murrayfield is easy to get to and probably the only venue you could drive to and find a parking spot within reasonable walking distance. You can even shave more off your budget by staying the night before in a Borders town and driving in on Saturday morning.
They have tried to contrive an atmosphere at Murrayfield with lone pipers playing from the roof, tannoy blasts of the Proclaimers and dubious pyrotechnics, but the facade only requires a couple of home victories to firmly bolster it.
Stay: At guest houses and hotels around George Street or Leith Walk.
Go to the game: On foot, take a bus or drive.
Drink around: The Grassmarket or Leith Walk and Constitution Street.
Cardiff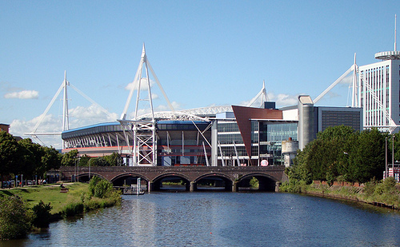 Image: Jon Candy
Cardiff is unique among the Six Nations cities in that you can watch the game, celebrate, and then fall into bed all within an area covered by a Leigh Halfpenny goal-kick.
The Millennium Stadium is slap bang in the centre of the city and when the roof is closed it feels like the game is happening inside some gigantic, noisy pub.
Wales have won the tournament for the past two years, but with 74,500 seats to fill and the regional game in meltdown, tickets can still be bought from the Welsh Rugby Union.
The atmosphere here is usually more raucous than elsewhere, both inside the stadium and the city centre pubs. Only in Cardiff is the England team bus booed, and the players abused, as they pass through the gates.
Things can get messy post-match - especially those who drift towards Caroline Street for the best in late-night, Welsh-Turkish fusion cuisine.
Stay at: Hotels on or around Cathedral Road or Newport Road.
Go to the game: By walking, or falling out of the train station.
Drink: Anywhere you can get in.
London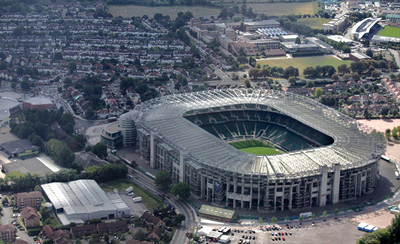 Image: Live4Soccer
London is so large it can absorb and diminish anything, including a rugby international, so once you leave the south-west suburbs, so does the vibe.
Twickenham itself is an impressive stadium with above-average sight lines, but if England are not crushing Celts or Fenchies then the dominant atmosphere can be a kind of sulky disgruntlement.
Don't worry that everyone seems to be dressed to go clay pigeon shooting. That's just what England fans do.
All tickets are sold through English clubs, agencies, or corporate hospitality peddlers, but some do find their way down the food chain.
Richmond is the place to go post-match. There are plenty of Thameside boozers and restaurants, not all of which will break the bank.
Stay at: Hotels in Richmond or Kingston.
Go to the game: By train or tube to Richmond, then walk. Twickenham station gets very crowded.
Drink in: Richmond, Chiswick or Barnes.
Do you have any pro tips for enjoying the Six Nations cities? Let us know on Twitter or Facebook.