A few years ago you would have been forgiven for thinking that vinyl was consigned to music history, replaced by CDs, digital downloads and streaming services like Spotify.
But recent years have proven that the appeal of vinyl and physical records is an enduring one.
Vinyl LP sales reached a 20-year high in 2014 at 1.3 million and to acknowledge the medium's growth, the UK's first official vinyl chart has launched with acts like Noel Gallagher, Royal Blood and Arctic Monkeys leading sales.
Data from the Official Charts Company for the first quarter of 2015 shows that the trend is continuing, with sales up by 69% versus the same period in 2014.
Diverse Music in Newport has been selling records in the town since 1995, and manager Matt Jarrett  says that the explosion in record sales has provided them with more competition rather than a growth in sales.
"Record Store Day has pushed vinyl massively, but we're cynical about the idea of exclusive releases for ridiculous money," says Jarrett.
"There's a lot to be said for pop and rock releases that come with a download code.
"Young people might buy a record because it's only a bit more expensive than a download, start a record collection and go from there."
Growth in the sales of USB turntables has followed the boom in records, allowing collectors to store their records digitally and never risk losing their long-treasured albums.
So, where do you start if you want to sell your vinyl?
The vinyl revival means it could be the perfect time to sell any records gathering dust in your attic. Unless you've got a son, daughter or grandchild who wants to claim your collection for themselves, you could make a pretty penny and create some space selling your records on to new homes.
If you think some of your records may be collectable, do a bit of research and you could make a mint rather than passing on the profit.  Identify label names, catalogue numbers, etchings found in the runout groove or dead wax area to correctly identify the version of a release you own.
Jarrett says it pays to look at the Record Collector Rare Record Price Guide, which comes out every two years, to see if your vinyl is worth anything before trying to sell it to shops.
First or rare pressings, reissues and limited edition releases all fetch hefty sums. Records classed as "mint condition" are in brand-new condition and have never been played or opened, so keep this in mind when evaluating the quality of yours.
"People come in and assume their Beatles records are worth something because they're old but it all depends on pressing, label, catalogue number and year. Most are worth pennies," says Jarrett.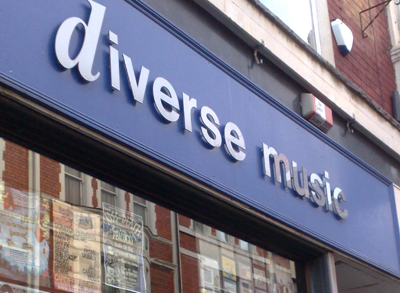 Diverse Music in Newport has been selling records since 1995
If you have a large record collection and want to sell it in bulk, your best bet is a car boot sale or second-hand record shop, where you should get a fair price if all your records are in a good condition.
Kellys Records in Cardiff is Wales' largest second-hand record shop, with over 100,000 records including a wealth of rare stock. Open since 1969, Kellys has been selling records from the balcony of Cardiff Market ever since. Kellys refuses to sell any record in less than good condition, which they class as records that have been "played so much that the sound quality has noticeably deteriorated, perhaps with some distortion and scratches".
Tim Walden has worked at Kellys for 10 years but is still surprised at how much certain records fetch. 
"It's normally the stuff you've never heard of that's worth obscene amounts of money," says Walden.
Prog rock that failed to become popular in the 1970s is now rare and collectable, but records by popular bands like the Beatles, Pink Floyd and Led Zeppelin can still be worth hundreds of pounds, says Tim.
Hanging on the wall of Kellys at the moment is a first pressing of Sgt Pepper's Lonely Hearts Club Band, priced at £250. Popular records that are still in good condition are hard to find, says Tim, so they  become worth that much more.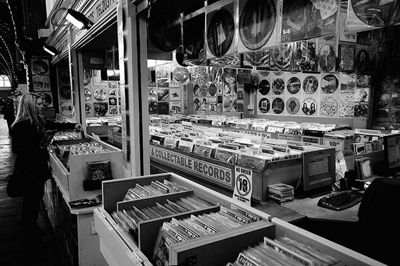 After over 40 years of trade, Kellys is a Cardiff institution
Tim points out that if your collection largely consists of Paul Young or Wham!, you're unlikely to make much.
"We've got countless Wham! albums," Tim laughs. "Records from the 1980s, when everyone was buying them, don't tend to be worth much. It's a combination of that and being very of their time - not as classic.
"But people are always going to want Wham! albums."
Once you've established whether any of your records are valuable you might decide to hold on to them - it's possible that they will appreciate in value over the years. If some of your records are valued in the hundreds, you should think about adding them to your contents insurance.
Ben Wilson, home insurance expert at Gocompare.com, said: "Most home insurers will cover a collection of vinyl but it's important to inform your insurer of the total value. If it is of a high value, this may need to be specified on your insurance. Whilst speaking to your insurer ask them if the cover extends outside the house.
"If you're storing your records in your attic, check your cover extends to water or accidental damage. Your premium may rise slightly but it could be worth it in case something happens to your treasured collection."
Do you have any rare records stashed away in your attic? Tell us onTwitter or Facebook.