The convention industry is getting larger and larger, with fans coming in their droves from around the world to indulge in their unusual interests and hobbies.
Whether you're partial to dressing like an animal in your spare time or want to live out your favourite television programme, there's probably a convention based around it.
So what actually happens at these gatherings? Let's take a look... 
The Redhead Convention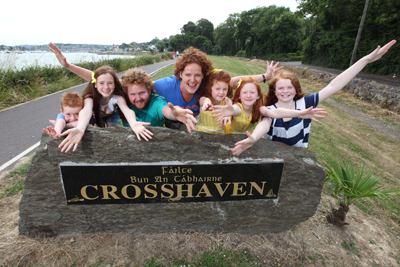 Image: Redhead Convention
Hosted in the emerald isle - the Redhead Convention is described as 'a wacky festival of ginger-loving madness!'
It started as a joke in a family pub, but has become a ginger juggernaut within the convention world.
If you're a redhead and still aren't quite sure if this is the gathering for you, you might be persuaded by the carrot-tossing competition or the redhead-themed film screenings. Then there's the crowning of the 'King and Queen of the Gingers'.
Joleen Cronin, founder of the Redhead Convention, said: "Redheads all over the world have shared common experiences because of their hair colour. It is a wonderful and unusual experience to be surrounded by so many redheads."

Vampire Ball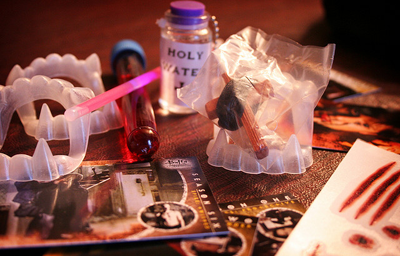 Image: ginnerobot
For those who enjoy their conventions with a little more bite, there's the Vampire Ball, currently in its fifth year.
Taking place in Birmingham, the ball is a three-day event which attracts night-dwellers from all over the world.
With guest appearances from big names within the vampire community, fans enjoy getting up close and personal with some of the stars from Buffy, Angel and True Blood. Afterwards there are parties and discos to take revellers into the early hours of the morning. Of course, they'll have to be back safely inside before the sun rises.
Vampire Ball and convention regular Hannah said: "Favourite thing was definitely meeting the guests, even though I've met some before. My favourite was Juliet Landau. So down to Earth! I've been to various other Starfury events. I love any conventon, really."
Whitby Goth Weekend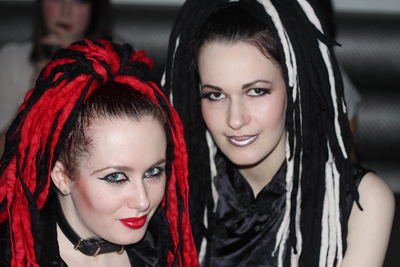 Image: asw909
Not just for your straightforward Goth - oh no, the Whitby Goth Weekend attracts anyone with an alternative lifestyle for three days of music, dancing, drinking and shopping.
Heralded as a place where freedom of expression and diversity reigns supreme, the convention is wildly popular with people from around the world, not just in the UK. It's now held twice a year!
The goth pilgrimage to the seaside town of Whitby - one of Britain's spookiest locations - is quite a spectacle for locals and tourists alike. Live music lasts until the early hours of the morning and there's even a gothic bring-and-buy sale.
@Whitbygothphoto tweeted: "It's all about the people who make the effort twice a year to dress up, I love taking their photos."
Twins Day Festival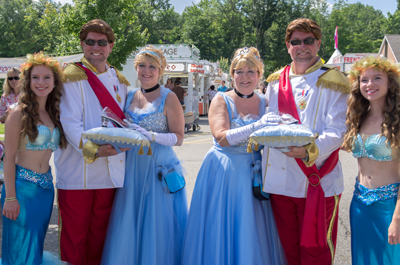 Image: Charles & John Johnson
Taking place in the aptly named Twinsburg, Ohio, this is the largest twins convention in the world. All multiples are welcome, too, so if you're a triplet or an octuplet, you're in!
So just what do you do at a twin festival? Well it kicks off with a massive wiener roast, there are twin talent competitions, rides, karate demonstrations… and of course you get to meet loads of other twins who you can have your picture taken with.
There's also the coveted prize of being members of the Twins Day Festival Court where, after submitting a 300-word essay, you could be chosen to ride on a float at the parade as twin royalty. What more could you ask for?
John and Charles Robinson have attended Twins Day since 1991. Charles said: "Most of all, [it] feels like family. Twins meeting other twins in the 'normal world' immediately feel a bond."
In fact, many regular Twins Day attendees refer to the festival as 'returning home'...
Klingon Feast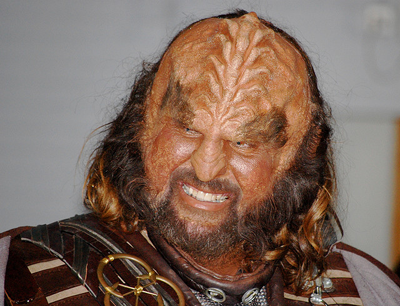 Image: Cristiano Betta
"Hab SoSlI' Quch," which, roughly translated from Klingon, means 'your mother has a smooth forehead' is the one thing you don't want to say at this convention. It's deeply offensive to the Klingon race and their mums.
The annual Klingon Feast is now into its 15th year. The two-day event in Florida is packed to the hilt with activities and events. So if you're into Klingon Pictionary, gauntlet skill contests, warrior competitions and scavenger hunts with all competitors dressed as residents of Kronos, boy are you in luck.
Dedicated trekkie and Klingon Feast regular Rita Van Trump said: "It's a great escape from my mundane life which I can share with a bunch of my best friends who also like to 'role play' Klingon."
Bronycon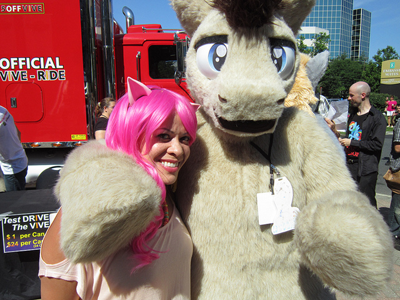 Image: Blueelf217
Did you ever watch My Little Pony as a child? The themes of friendship and love just made you feel all warm inside, right? But did you know that the animated series of 'My Little Pony: Friendship is Magic' has thousands of grown-up fans worldwide? Well, it's true, and they are called bronies.
Last year's Bronycon in Baltimore attracted more than 8,000 people from every continent - including Antarctica.
Attendees wear their pony costumes with pride as they watch their favourite programme (My Little Pony, naturally), listen to live pony musicians, collect more merchandise and hang out with their brony chums.
Deputy head of PR for Bronycon, Tim Star, said: "People return to Bronycon year-in, year-out because there's no other place in the world where you can find this large a gathering of fans, community artists and industry leaders for a single show."
So what do you think? Yay or neigh?
Eurofurence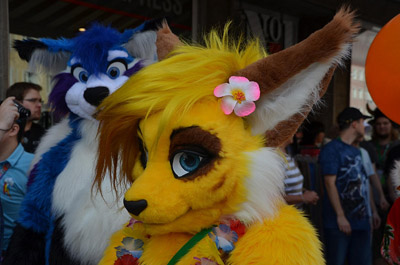 Image: tm-md
Have you heard of a furry? If not, let me explain. They're fans of anthropomorphic animal characters. Still don't understand? Ok, they're admirers of cartoon animals and enjoy imagining what it would be like if they could walk and talk like humans. Got it now?
Anyway, Furries get together annually to attend workshops, art exhibitions, parties, events and just generally lark around with like-minded furry folk.
There are many different furry conventions that take place around the world annually. The European chapter, Eurofurence, is celebrating its 20th anniversary this year in Berlin with a crime scene-themed convention. 
Eurofurence fan Funky Stripes said: "It's that one time of year where I am able to meet my friends from all over the world and have fun with them. Every year is a highlight on its own, but wearing a Fursuit for the first time was a huge highlight."
Smash!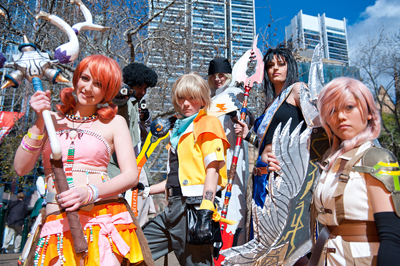 Image: Kris Ezergailis
No, this isn't a gathering dedicated to all things instant mashed potato, it's actually Sydney's manga and anime convention.
The two-day event hosts a range of activities for all your manga needs including cosplay, games and a chance to interact with other manga enthusiasts and the artists themselves.
You can even learn how to draw anime and manga yourself, or take part in a Yu-Gi-Oh or Pokemon tournament to pass the time in between workshops.
Coming into its eighth year, the popularity of this convention is growing annually with over 6,000 people attending in 2012. It's set to be even bigger in 2014.
PR for Smash! Susan Ma said: "Most young Australians grew up watching anime on TV back in the late '90s. Because of this, anime conventions like Smash! have become a hit with fans as it encourages them to embrace the culture."
Tedfest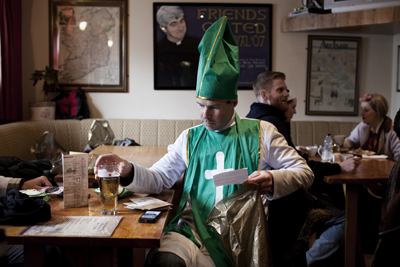 Image: Adam Patterson
Currently in its eighth year, Tedfest takes place every February on Inis Mor, a tiny patch of land just off Galway otherwise known as Craggy Island - the setting for TV comedy Father Ted.
Lovers of the cult classic travel by plane and boat to the small island (it's only got one cashpoint!), where they can take part in the best-dressed lady contest, the lovely horse competition and 'Ted's Got Talent'.
Organiser of Tedfest Peter Phillips said: "Taking several hundred fans of Father Ted to a remote island in the middle of winter creates a collective adventure and opens a portal to a lateral universe."
So if you're a fan, what are you waiting for? Go on, Go on, Go on.
If you've got a fur suit, a collection of My Little Pony stuff or a stockpile of Klingon battle swords which are worth a bob or two, then it makes sense to add them to yourhome contents cover. Likewise, if you're planning on taking any of your gear on the road, ensure that yourtravel insurancepolicy will cover it.