What's this?
The Fiesta ST is a pretty remarkable proposition by all accounts. When this little red – sorry, 'molten orange' – firecracker turned up at my door, it was impossible to suppress my little happy dance when I saw the 'Mountune' badge glued to the pert rump.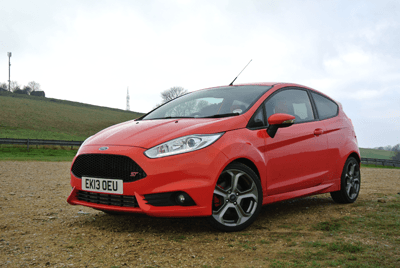 That little yellow badge equates to an extra 33bhp. How so? Well, Ford have roped in the engineering expertise of renowned motorsport twiddlers Mountune to amp up their ST models by offering simple upgrades, fitted by proper Ford technicians, which don't invalidate the warranty. And if you're already a proud ST owner, you don't have to miss out on the fun - you can arrange to have them retrofitted, at a cost.
In the case of this car we're looking at revised induction and a remap for £599. Funnily enough, this increase from the standard 179bhp up to 212bhp is enough to trump its main competitions, the 208 GTI and the Clio RS too...
First impressions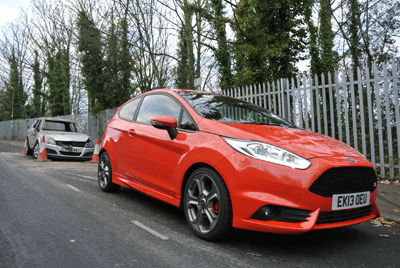 As soon as you swing open the luxuriously lengthy driver door, you know you're entering a special place. The illuminated sill-plate guides you into the generously bolstered Recaro bucket, and you find yourself presented with a pleasingly chunky steering wheel.
There's no pretence to the functionality of the thing. It's old-school Ford hot-hatchery in its essence: slick, assured gearshift, bold dials, widescreen view of the horizon… It's like the racy Fiestas of old, but modernised. And there's a start button. I love start buttons.
But before we dive into the ST's raison d'etre – that spicy performance – it's time for the family test.
So, is it awkward and ungainly to get a toddler into the back? After all, it is a three-door, that's the compromise you make, right?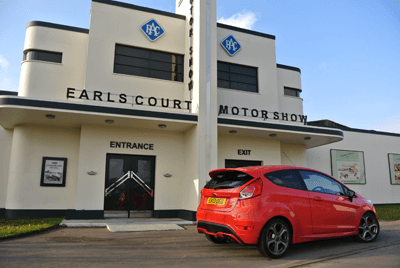 Well, no, actually. The Fiesta has long doors, and the passenger seat slides all the way forward to the dash, so you can get a nipper in the back solo: foot in, duck your head, hug child to chest, lunge inside and strap them into seat.
There are Isofix points back there too, so all boxes ticked. Ok, I had to adjust the handles of the pushchair to fit it in the boot, but that's why the handles are adjustable.
This is looking like a rosy proposition for a family car.
Practical enough then. Now the important stuff  - how's the drive?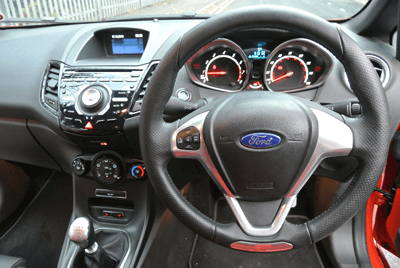 The brilliant thing about the way the Fiesta performs is that it's ace at everything.
The power's available from very low down in the rev range, there's only the merest smidge of turbo lag. But the surreal thing is that it just keeps pulling and pulling around the RPM dial like a naturally-aspirated motor; indeed, it makes an otherworldy and entirely unseemly noise that is wholly addictive at higher revs.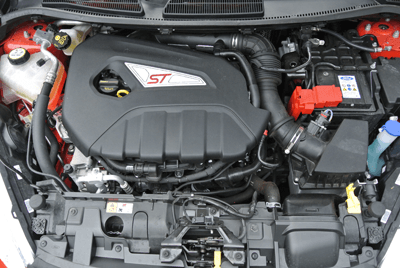 I'd been averaging about 35mpg when I was pootling around town, but that frugality went out the window from the point I heard that noise, that guttural bass tone allied to a banshee wail. Once you hear it, you'll want to drive everywhere like that.
The ST is a beautifully nimble and agile thing as well. You point it at an apex, it sniffs it out like a bloodhound and eagerly requests its next task. It's playful, eager to please and more than able to deliver.
Should I buy one?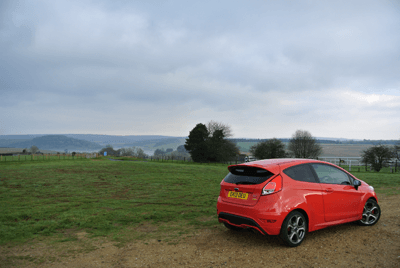 I've driven a fair few hot hatches, so it's a big deal for me when I say that the Mountune Fiesta ST is probably the best I've ever experienced. This may seem overblown and hysterical, but trust me – try one. You'll see. It's the furious B-road blaster which can just about handle a family, too.