What is it?
This is the Panamera, a four-seater luxury limo that looks like a stretched 911 and, in some specifications, goes every bit as quick.
However, Porsche has done the unthinkable and dropped a diesel engine under the bonnet of this one, creating something very sensible, on paper at least.
First impressions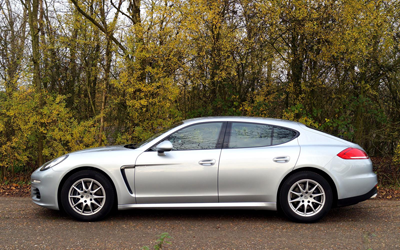 From the outside it's very much a Porsche, just bigger. The front and rear end mimic as best they can the ubiquitous 911, but with four doors slotted in the middle it's a bit of a mixed bag. Distinctive? Certainly. Beautiful? Probably not.
There's a lot of it, too. It's even longer than a Range Rover, with bulging wheel arches and a long, steeply raked front end adding plenty of street presence.
Shrinking violets need not apply.
What's it like inside?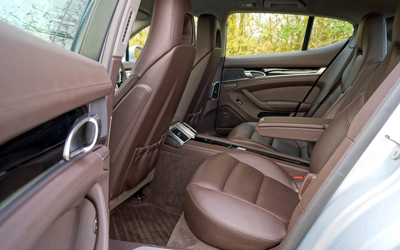 Some may be disappointed to find that the Panamera is a strict four-seater - the rear seats are sports seats, separated by a solid centre console housing cup holders and iPod storage holes.
Up front, the centre console is wider still, with two leather-clad beams either side keeping the driver and passenger apart. You sit low, with a five-pod instrument binnacle ahead of you that's a masterclass in clarity. It looks very traditional, but one of the pods doubles up as a sat-nav screen and info panel.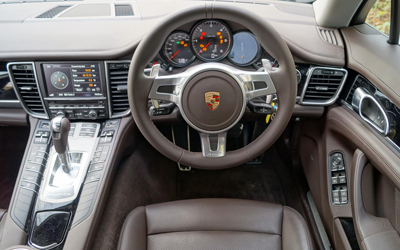 What does strike you is the sheer quality of workmanship on display. There's a feeling of solidity that makes every other car suddenly feel a little less special, with each piece of the interior feeling lovingly crafted rather than simply assembled.
Even cars costing three times the price of this Panamera can't match it for build quality. What would creak and flex elsewhere simply remains resolutely unbudging, no matter how much of my own considerable bulk I put into trying to break it…
How fast is it?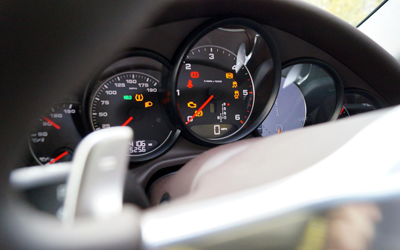 Under the bonnet there's a 3.0 litre V6 turbocharged diesel engine sourced from Audi that delivers a healthy (if unremarkable) 250bhp. However, there's 550Nm (406 lb/ft) of torque on tap, which means there's a near-constant surge of acceleration as you progress through all eight of the automatic gears.
All that gets you from zero to 60 in a very un-supercar like 6.8 seconds, while the top speed doesn't even need limiting. At 'only' 151 mph, you could be left behind on the autobahn.
Start flicking the steering wheel mounted paddles and it feels a bit quicker, but you'll soon tire of that and let the electronics do the job for you.
Bet it's good round the bends though...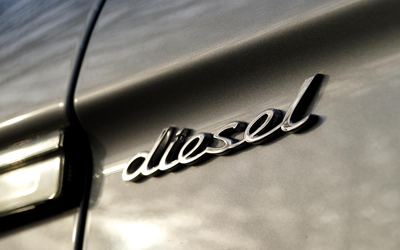 All that craftsmanship and sheer quantity of sheet metal means that the car does weigh in at nearly 1.9 tonnes, and that is something that becomes quite apparent when driving the car with  a degree of 'enthusiasm'.
This is very much a car in the 'grand tourer' style, able to transport you with an alarming degree of pace from one end of a continent to the other without leaving you ruffled in any way. Show it a sweeping ribbon of cross country tarmac and it will engage and entertain as well as anything else on the road.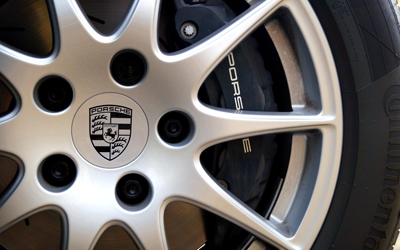 However, test it on some tortuously twisty sections, or even take it on track for an afternoon, and eventually it's found wanting. The front will simply understeer wide, with the electronics unable to defy the laws of physics. It can be forced into a dramatic tail-out powerslide, but it's all rather inelegant.
Keep the speeds to a sensible level and you're rewarded with a supremely capable and surprisingly frugal car, with my test model returning 50.3mpg on a late night motorway run from York back home to Cambridge.
So, it really is sensible?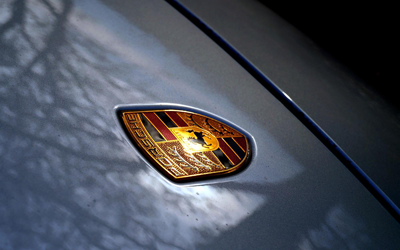 Yes. Talking numbers for a moment, company car drivers will face a BIK rate of 28% this year, rising to 29% next year, meaning it won't cost a great deal more to have on the driveway than a Mercedes CLS. Fuel economy and running costs will be broadly similar too, so your fleet manager will be happy enough.
What about the competition?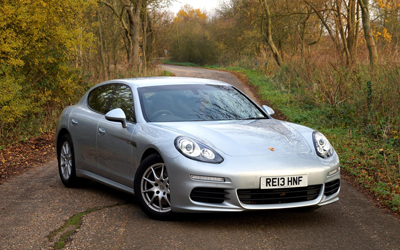 There's the above mentioned CLS, which has exactly the same faults as the Panamera. The new Maserati Quattroporte is classically Italian, but perhaps not quite as good as it should be, while the slightly left-field choice of a Jaguar XJ will get you a more involving car to drive, but one that lacks the Porsche's presence.
Verdict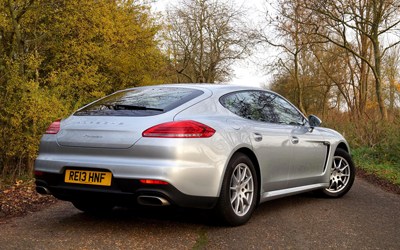 The Panamera Diesel won't set your pulse racing, but drive one for a few days and you'll realise just how good the car really is. If you want the quality and presence of a Porsche but don't want to bankrupt yourself in the process, or if you have huge mileages to cover, there are few better options. It's not perfect by any means, but as a niche product it's exceptional.