There are over 400 food banks currently in operation across the UK.
Between 2012 and 2013 they helped to feed over 340,000 genuinely hungry people, according to national food bank charity the Trussell Trust. With as many as three new branches opening every week, that number could double this year.
There's been a rise of over 170% in food bank use since 2011, and they're currently under the spotlight more than ever before. Thanks, partly, to Edwina Currie. Last month she questioned their long-term benefit and hinted at certain lifestyle choices of the people who use them, suggesting many eschew buying food in favour of manicures, dog food and flat-screen tellies.
"We don't create the need, we respond because there is a need," counters Ian Purcell, manager of Cardiff Foodbank, a part of the Trussell Trust network. "It's very easy to make assumptions but there are severely malnourished people out there. People who've suffered extraordinary circumstances and have nothing. People who, until recently, wouldn't have dreamed they'd be using such a service."
Ian has seen it all in his time at the food bank. He's the only full-time employee in the branch's volunteer-led operation. Ian's wife Karen established Cardiff Foodbank in 2009, using their own sitting room as the main storage facility.
From parents who've suddenly been left by partners without a penny to their name to those who've suffered redundancy and slipped on their mortgage payments, Ian knows exactly where the 30 tonnes of donated food he now stores in a city centre warehouse will be going.
With almost two tonnes of food going out to four outlets across Cardiff every week, I asked Ian if I could lend a hand for a day…
9.30am: Lifting, shifting and constant counting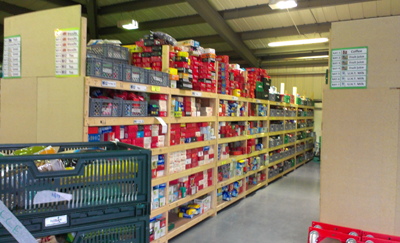 There's a diligent hush in the warehouse this morning. Eight rows of 7ft shelves are stacked to the brim with tins, packets, jars and bottles. The aisles are populated by five volunteers, each one brandishing a large list and trolley.
I'm quickly presented with my own list and tasked with amassing supplies for the afternoon's session at a food bank outlet in Ely, one of Cardiff's most disadvantaged neighbourhoods. Over 100 tins of soup, 80 tins of tomatoes, 70 tins of spuds, 60 tins of fish, 60 packets of rice, 60 packets of pasta. The list goes on. It adds up to almost half a tonne.
Each food group is organised meticulously, so the closest sell-by dates go out first. Three head-high trolleys of food packed and arranged in the van, it was time to hit the road.
11am: Meals on wheels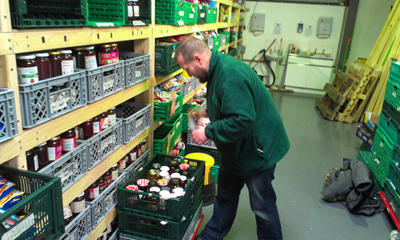 Out of the focused concentration of the warehouse, I get to properly meet two of the charity's driving force: volunteers. Including their supermarket collection campaigns, Cardiff food bank's volunteer base is over 350. The youngest volunteer they've ever had was a leaflet-brandishing two-year-old, while the oldest was almost 90 before she decided to stop lifting and shifting.
Kevin and Michael, however, were more indicative of the typical volunteer; mid-30s with a keen interest in investing their spare time in helping others.
They'd found their way into volunteering through completely different paths, but both shared the same sentiment - that it's shocking that such a service has to exist in modern Britain.
As we drive across the city they explain how the food bank system works: vouchers can only be granted to those in need by 90 authorised bodies. From GP to debt counsellor, housing association officer to probation officer, these professionals make a decision as to whether the food bank service would benefit an individual or not. If granted, the voucher is valid for only one week and only three vouchers are ever granted per crisis. It's a means to provide instant support to help people get back on their feet and the outlets seldom see repeat visitors.
We arrive at a community centre in the heart of Ely and play a tricky game of tin Tetris as we squeeze the food into the small storage cabinets.
1pm: Meeting the customers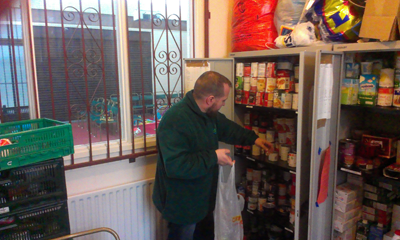 The afternoon was a chance to meet the people the food bank is there to help. Open for two hours twice a week, the locally based volunteers who host it work hard to create a relaxed atmosphere, providing tea, coffee, conversation and support. Some food bank users are happy to explain their circumstances. Others are understandably more reluctant.
In two hours there are 12 vouchers submitted. From single individuals to young families, a total of 36 people benefit from the afternoon's work.
It's not as busy as I'd imagined, but the stories that led to the issue of each voucher were all genuine and humbling. One lady was paying £20 a day to visit her husband in a Bristol hospital. The impact of such travel expenses had left her cupboards bare.
I also met a couple with three young children. They'd been hit by a large gas bill and couldn't afford their weekly shop. Another customer who arrived shortly afterwards was in tears and was instantly led to another room by Phil, the outlet manager, who consoled her.
Most of the customers I met were awaiting their benefits having experienced a recent job loss. In fact, this group account for almost 30% of all Trussell Trust food vouchers nationwide - a stark reminder that hardship is only one business decision away. Less than a month ago many of the individuals I met were working full time to feed their family. Just as Ian had explained, they had no idea that they'd ever have to call upon a food bank.
It can be very easy for people to make assumptions. But the reality behind each of the 400-plus national food banks and the people who use them is a much graver story. It could happen to anyone.