What is it?
It's the Fiat 500L, a small MPV that you might think is based on the ever-popular 500. However, underneath the cute bodywork is an adapted Punto platform. But 'PuntoL' isn't such a marketable name.
Instead, Fiat are following Mini's lead and extending the 500 brand as far as possible.
First impressions?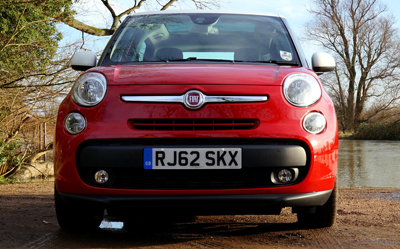 With its big headlights and curvy bodywork, it's certainly distinctive. It's also much bigger than you expect, standing surprisingly tall and longer than you might think.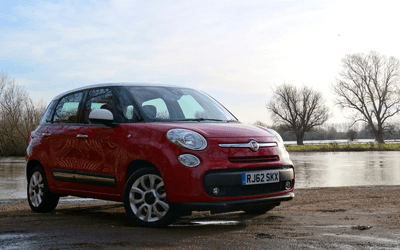 In the 'Lounge' specification of my test model with bright red paintwork and an optional contrasting white roof it stands out from the crowd, while the retro-inspired chrome brightwork sits well. The end result is a bold look, but it's very colour specific; take a look at a 500L in Beatbox Green (really) or Minimal Grey and it just ends up looking like it's trying too hard.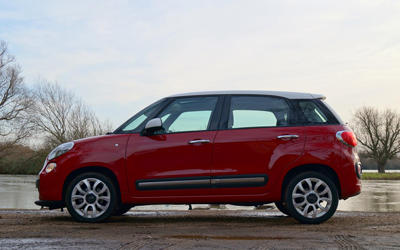 Stick with bright colours and the factory-fitted funk works well, making what could be an ordinary looking box rather appealing.
What's inside?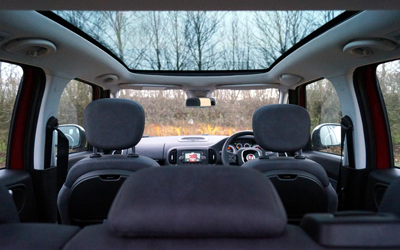 Lots of space and flexibility, and more added retro-cool just in case you'd forgotten you were in a Fiat 500.
You sit bolt upright and high up on a seat with no lumbar adjustment and a very small squab, making it difficult to find a comfortable driving position. You do get a commanding view of the road through the highly curved windscreen though, with huge quarterlights wrapping around either side that actually do offer a useful extra amount of glass to see through at junctions and the like.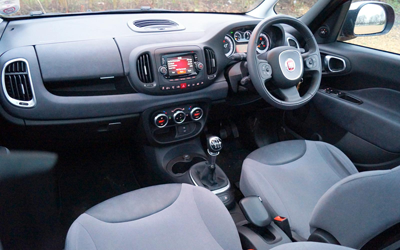 Ahead sits a swathe of black plastic that houses the stereo climate controls. It's all very functional but rather unexciting. Only a chunky steering wheel that looks like it should be square but is actually perfectly round livens things up.
Back in the cabin is much better. The rear seats will take grown adults with ease thanks to exceptional levels of leg and head room.
The rear seats slide, split and fold leaving a hugely practical area. I also counted 18 cubby holes and pockets in the car. Put your phone down and you may never find it again.
Practical and quirky then. How does it drive?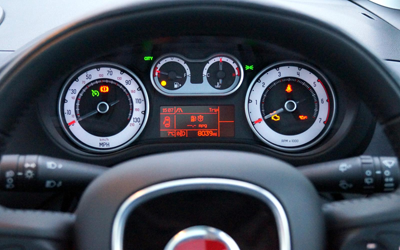 No MPV could ever be described as exciting when it comes to handling, and the same holds true here. Lightweight steering makes urban driving a breeze, while a 'City' button removes any resistance to allow single-finger parking, but there's no feel once speeds increase.
The ride is firm, but never overly harsh. It grips well, even when under a bit of pressure on the wet roundabouts of Milton Keynes.
The 1.6 litre diesel engine offers good on-paper economy of 62.8mpg, and returned 47.8mpg while in my care. Performance is steady, with the 0-60mph sprint taking 11.3 seconds.
Any competitors?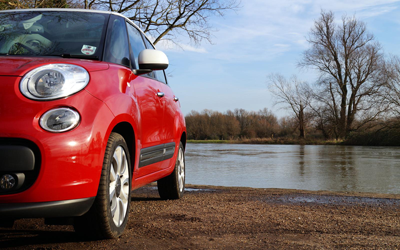 There are plenty in this segment, which is bad news for Fiat. The excellent Ford B-Max costs around the same and offers a more engaging drive, but doesn't have the style that the 500L manages.
Citroen's new C4 Picasso is barely any more expensive and provides more space and flexibility wrapped up in a very sharp suit.
Skoda's Yeti offers the quality feel lacking from the Fiat. All are tough competition.
Should I buy one?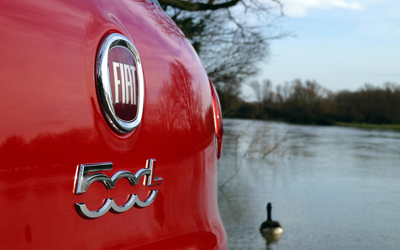 The bottom line really comes down to style. It's a given that the 500L is practical and frugal enough for most people, and few will be that interested in how it drives as long as it doesn't do anything fundamentally wrong. Once those boxes are ticked, and virtually every car in the segment will tick them all, it really comes down to what you like and what you don't.
There's an inconclusive conclusion for you.