The outdoor industry struck the perfect pitch (sorry) for the coming season at this year's Caravan and Camping Show, unveiling the latest tents, caravans and camping-related gadgetry.
Needing a fully packed rucksack of emergency supplies just to make it round the show's five huge halls - equalling the size of 1,750 average campsite pitches - Covered was there to canvas opinion on what's hot for 2014.
Run by the National Caravan Council, this year's show at the NEC in Birmingham was the biggest yet…
Choosing our top 10 proved nearly as tricky as bagging a poolside lounger at a Cornish resort on a sunny bank holiday, but here are some of the best bits...
Mrs President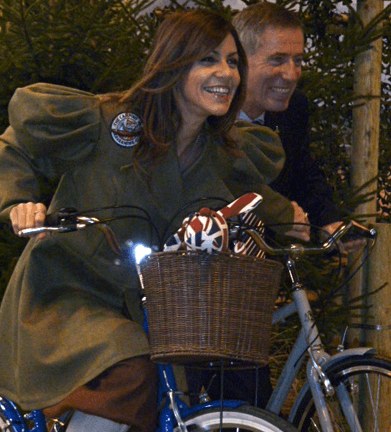 Not only is Countryfile and Coast to Coast star Julia Bradbury one of Britain's favourite TV presenters, but she's also just become the Camping and Caravanning Club's first female president in its 112-year history.
Having recently taken over from the legendary David Bellamy, Julia officially opened this year's show. Cue the chance to see her sporting Edwardian cycle-wear to mark the origins of the 'Friendly Club' as a camping and cycling organisation.
With Julia inviting visitors to "have a 'nosy around" and enjoy the chance to "sleep in lots of beds", this was a welcome as warm as the camping fare she later rustled up in a series of cookery demos.
Tails of the unexpected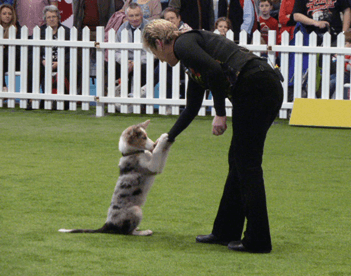 From Britain's Got Talent's Ashleigh and Pudsey to four-times Crufts obedience championships winner Mary Ray, this year's show was all about man's best friend.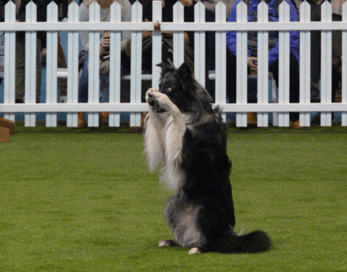 In the dog agility arena, a string of displays and some pretty neat tricks drew gasps and applause from the audience.
Peace in a pod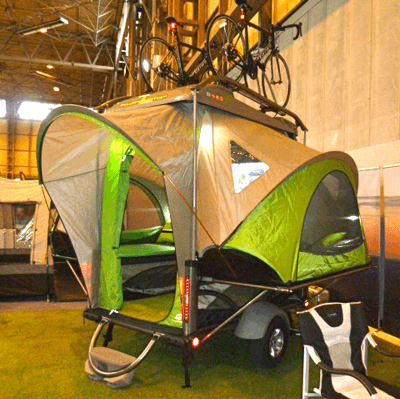 National Geographic Adventure called this multi-purpose piece of kit the "coolest camper ever", and they might just have a point.
Sylvansport's Go Camping Trailer is a lightweight trailer for towing camping gear, mountain bikes and even quad bikes and canoes. But there's more! Un-hatch the hydraulically assisted camping pod and you have a snazzy four-berth tent with a self-inflating 'king-and-a-half' sized bed.
The trailer has been selling like hot doughnuts in America for four years and the show marked its UK launch, courtesy of Valke Outdoors. A shade under £9,000, it looks set to become a common sight on our roads.
Show Boat
 
Many visitors harboured dreams of owning one of the boats displayed by Gibbs of Dorset, including this Regal 28 Express Cruiser. With four berths in two bedrooms and its very own swim platform, it certainly stood out amid a sea of tents and 'vans.
The price tag will have your eyes swimming, mind you, with basic models beginning at £77,997 and this one setting you back £96,872. Makes a rain-sodden campsite in Llandrindod Wells seem quite attractive, really.
Rocket man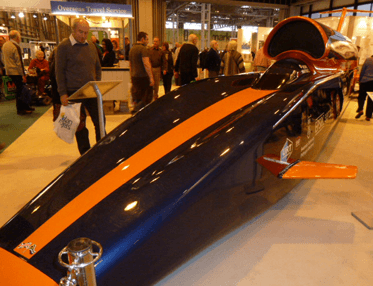 Not only does wing commander Andy Green have, in his own words, the "world's best day job" as a jet fighter pilot in the RAF, he also holds the record – unbroken for 17 years – for supersonic land speed.
In the first and only land journey faster than sound, WC Green, who opened the show with Julia Bradbury and is a member of the Caravan Club, reached a wheel-gripping 763mph back in 1997.
But now he wants to smash his own record and will next year attempt to reach 1,000mph on the Hakseen Pan dried lakebed in South Africa - faster than any jet has travelled at ground level.
Green plans to cover the 12-mile stretch (in two minutes, by the way) in the Bloodhound SSC, which has wheels made of solid aluminium and a Rolls Royce jet engine. With this full-size replica on display at the Caravan Club's stand, the wing commander is one caravanner you wouldn't mind getting stuck behind on the open road.
Holding up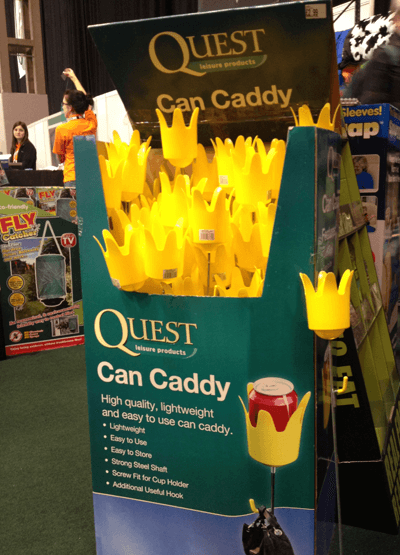 Simple but ingenious, as all the best ideas are, the Can Caddy is a gadget that, once seen, can't be camped without.
Essentially it's a sturdy steel stick with a can holder on the top, saving those awkward reaching-down-to-the-ground moments when you want a sup of your favourite beverage.
There's even a handy hook on the side should you wish to hang a small object near your can and, at just £2.99, you'll have enough change from a fiver to buy some cans to go in it!
Hut stuff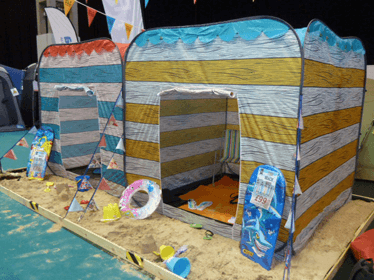 Brightly coloured beach huts are the seaside accommodation everyone covets. For those of us who can't afford the real deal, however, these gorgeous tents from OLPro are, at £109, surely the next best thing.
Made from showerproof and UV protected fabric and with pockets for sand to add stability, the beach hut tent makes the perfect playhouse for kids and, erm, big kids. Pass the bucket and spade...
Reed all about it
If there's anything out there quite as thatch-tastic as Hampshire Garden Furniture's multi-purpose hideaway then we've yet to see it.
The slide makes it an ideal playhouse but, as the kids grow up, it also works as a teenage den. And once they head off to university, mum and dad can claim it back and relax on the decking with a nice cold mojito.
At just under £9,000, it's not cheap, but it's built to last – it comes with a 25-year guarantee.
A rock with a hard face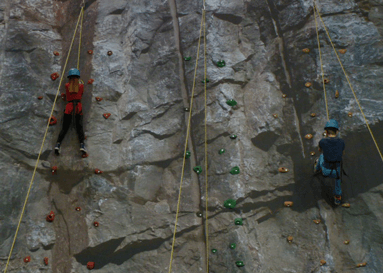 Keen to promote itself as a fun half-term destination for families, the Caravan and Camping Show had all manner of child-friendly attractions.
There were tent challenges, face painting and a fabulous indoor assault course set in a 'forest' of real fir trees. But best of all was the rock-climbing wall and the 'cliff-drop challenge', which simply involved plummeting through the air. Such fun!
Full beam ahead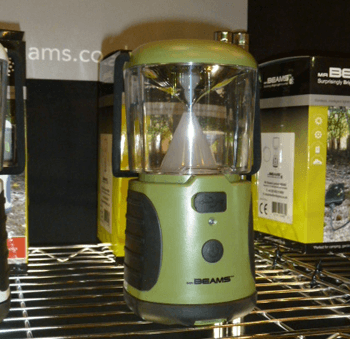 With two brightness settings, 60 hours of battery power and a USB port to charge mobiles and other devices, Mr Beams Lantern was another cool kitbag find.
Fully waterproof, this LED lamp has enough power to charge a phone or tablet two or three times over a long weekend and cleverly turns itself off after 60 minutes (just in case you doze off).
It's a long way from shaking a dodgy torch to get the last rays of light out of dying batteries.
So all that's left to do now is await delivery of our brand new, easy-assemble family dome tent, flick through the stash of holiday park brochures amassed throughout the show and look forward to some sunshine. Happy camping!
Remember, if your garden, garage or shed is full of expensive camping gadgets, it makes sense to check that your home insurance policy offers sufficient cover.
For more information on garden insurance and shed insurance, step this way.