This winter, the big six energy companies played the role of pantomime villains to perfection.
Once again, they announced big profits, big price rises and big bonuses. The rest of us shivered and took an anxious glance at our bank balances while pensioners up and down the land flipped a coin between heat and food. So how can we take revenge?
Some of the more extreme voices on social media believe they should be the first up against the wall come the revolution, but a more practical approach, on the other hand, could be to beat them at their own game. In the village of Halton in Lancashire, they're doing just that.
Here, a group of locals have got together to create a scheme that will generate renewable power and help to raise revenue for local good causes.
"The local community association was looking for a new source of income that could help to pay for local community projects," says Kevin Frear who is a director of the project. "Eventually, they remembered that there had once been a turbine on the weir which generated electricity which could be used to power the mill."
They decided to do something similar and generate electricity by using the power of the water at the weir. They hope to generate more than 1,000 MWh of electricity which could be used to power more than 300 homes.
This is just one of a number of similar projects taking place up and down the country. The government estimates there are around 5,000 community groups generating power somewhere in the UK and it's a figure they're keen to extend. Back in 1997, they promised that 30% of the UK's energy would come from renewable energies and they're currently lagging far behind.
To address this – or at least to be seen to be addressing it – they've announced the Community Energy Strategy, which promises lots of interesting recommendations such as the creation of a £10m urban community energy fund. It will also come up with £500,000 of funds for various small scale community energy projects taking place all over the country.
One of the most high-profile schemes comes in the shape of feed-in tariffs, which are payments made to a households or businesses which are generating their own renewable energy. These payments are guaranteed for 20 years so they could work as a handy money-making scheme, if nothing else.
Feed-in tariffs have been useful in increasing the amount of revenue the Halton Lune project will generate, and enabled it to raise more money through an ambitious Community Share issue which aims to raise almost £1m for the project. For £250 you could buy a share in the company which is expected to yield a return of 5% every year. An investment of £500 would qualify for tax relief under the government's Enterprise Investment Scheme.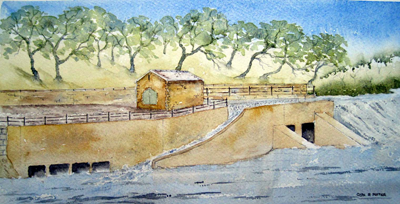 "Take up has been good," Kevin says excitedly. "We've already raised around £400,000 and given the conversations I've had, there's a lot more to come."
So, a community energy project could save the environment and reduce electricity bills, while also creating a nice little long term investment opportunity. So if you wanted to follow the example of the people of Halton, what should you do?
First, according to Kevin, you'll have to check who owns the land. "The power lines go across land which is owned by several different people and they'll all want their own cut," he explains.
Second, you'll need to be good at raising money. There are numerous official grants available, so it's helpful if you have someone in your team who knows how to get hold of them. In addition innovative community investment schemes such as Halton's plus crowd funding initiatives can leverage the enthusiasm of the people to be involved. Others have turned to private investment such as through the Cooperative Group's Enterprise Hub which supports socially beneficial projects such as this.
Most of all, though, you'll need patience to deal with the red tape, and also those who will oppose the plan. The Halton project ran into opposition from some local fishermen, even though as Kevin points out, it makes plenty of provisions with a fish pass and a platform, which he believes improves it for fish.
"There are those who have a knee-jerk reaction to any hydro project in the same way as they'll always oppose solar," he adds.
For help with any project there is an increasing amount of information coming from official channels, but perhaps the best comes from internal support networks within those who are already working on community energy projects. There are already Community Energy Scotland and Community Energy Wales and Kevin is setting up Community Energy England which contains discussion forums on which people can share advice on the practicalities of setting up these schemes.
So if you and the people in your community want to start mixing it with the big six – there are more options than ever before.