There's a whole world out there, with 40 million miles of roads snaking around it. There are also a billion cars too, so finding somewhere quiet to enjoy them is getting tough.
We've scoured the globe looking for the very best roads for you to enjoy - from scenic routes to cruise along without a care in the world to punishing strips of asphalt.
So, start making your travel arrangements now - before they get too busy...
10. Spiralen, Drammen, Norway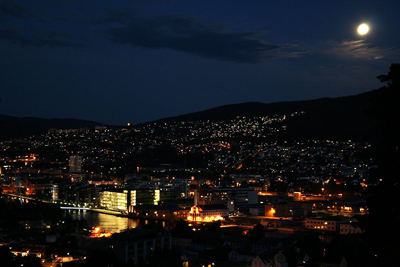 Image: Wikipedia Commons
Just 30 miles from Oslo lies Drammen. The drive there is pleasant enough, if unspectacular.
However, once you arrive in Drammen, get to the Spiralen tunnel. This unique road starts at the riverside city streets, then spirals like a coil up 2,000ft up to a plateau overlooking the city.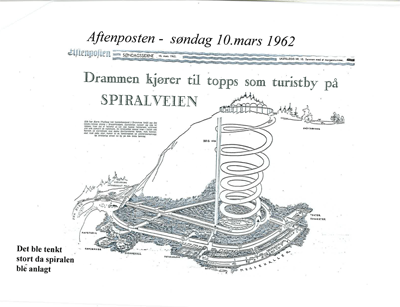 Image: Drammen village archive
It's a continuous 2,160 degree left turn, with nothing else like it in the world. For a bit of variety, you get to turn right on the way back down…
9. Touge Roads, Mount Fuji, Japan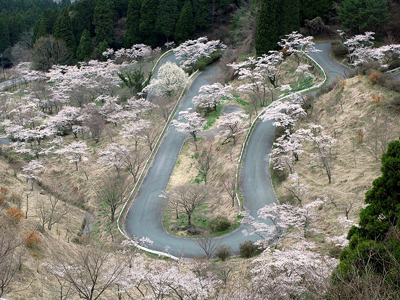 Image: Tanaka Juuyoh
Enveloped in cherry blossom, snaking up Mount Fuji, these roads provide much needed respite from the urban sprawl of Tokyo, with stunning views and gentle hairpin bends.
Just be careful at night. These are the roads that gave birth to drifting, the 'sport' that originally saw youths take their modified cars up the mountain in as sideways a manner as possible.
As tempting as it might be to join in, Fuji Speedway is just an hour away. Enjoy the road and then watch somebody else do it better.
8. State Route 1, Big Sur, California, USA
Image: Phil Huff
Adrenaline junkies need not apply; it's all about the views with SR 1. Assuming you're not stuck behind yet another tour bus or massive Winnebago, that is.
Cruising from Monterey to San Luis Obispo, there's three hours of winding coastal road that passes through true wilderness areas.
Keep an eye out and you'll see humpback whales in the Pacific Ocean, elephant seals on the beaches and soaring California condors.
Oh, and you'll be doing all this while enjoying the famous Californian sunshine. Perfect.
7. Denali Highway, Alaska, USA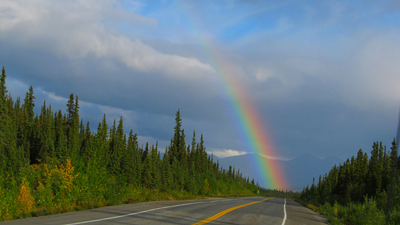 Image: Bemep
This road probably isn't for the faint-hearted, as 110 miles of it isn't currently paved. Instead you get a narrow gravel road that suffers from a rough 'washboard' effect.
It's a challenge to the most intrepid of explorers, with wintery conditions appearing unannounced and temperatures dropping to -13c, even in August. Make it through and you're rewarded with genuine wilderness, with civilisation hundreds of miles away.
Stop for the panoramic views of the Alaska Range peaks and Maclaren glacier, but watch out for brown, black and even polar bears!
6. Route 163, Utah, USA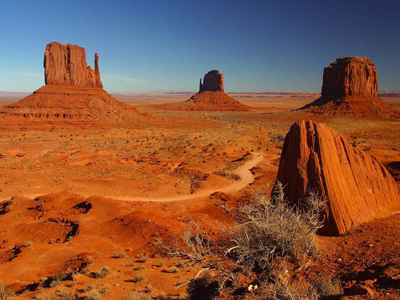 Image: Phil Huff
Long, straight and spectacular. There's nothing demanding about Route 191 as it meanders from Mexican Hat to Kayenta, both places you'd never visit if it wasn't for the fact you'll be passing through Monument Valley.
Point yourself towards the horizon, and you'll be recreating scenes from countless movies. Just keep an eye out for the speed traps...
5. Pico del Veleta, Granada, Spain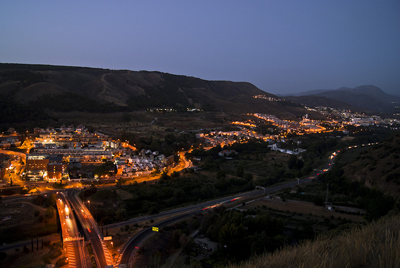 Image: Jose Saez
The highest paved road in Europe, this is also one of the most hairy roads on the list. There's tarmac all the way up to 11,135 feet, but a barrier prevents most from getting anywhere beyond 8,500 feet.
Make it through all that and you'll be rewarded with unrivalled views that spread across the Sierra Nevada mountain range.
4. Transfagarasan, Transylvania, Romania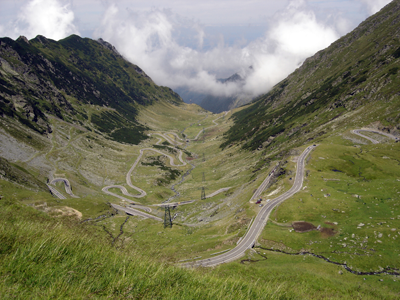 Image: Phil Huff
A road made famous by Top Gear, the distant location means there's less in the way of tourists taking their motors over for a quick run along Nicolae Ceausescu's personal motorway.
Built as a strategic military route, the 55 miles of undulating tarmac provides long straights, endless S-bends and steep hairpin turns.
Five tunnels on the route take you past Balea lake, impressive waterfalls and even Dracula's castle.
3. Nurburgring, Nurburg, Germany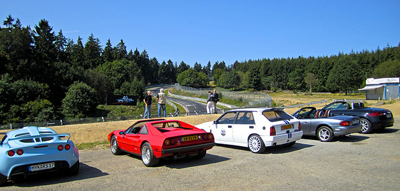 Image: Paul Dambra
As evocative as it gets, the Nurburgring has played host to the finest racing from Grand Prix greats, and acts as a proving ground for the sports car manufacturers of the world.
Contrary to popular belief, it's not a race track, per se. It's actually a very odd piece of unrestricted toll road that starts and finishes in almost the same place.
There are 73 corners, many of which are blind, over 14 miles of narrow, bumpy and twisty tarmac. You might be tempted to push yourself, but you'll still probably be overtaken by somebody with real driving skills, probably in a Renault Clio.
Whatever you do, don't push too hard. The Nurburgring gives you a huge sense of satisfaction when you get it right, but a massive bill from the circuit owners when you get it wrong.
Enjoy a lap or two, but then take a passenger ride in the Ring Taxi to see how it's really done.
2. Susten Pass, Andermatt, Switzerland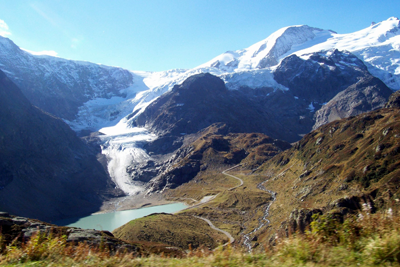 Image: Phil Huff
Susten Pass is a far better option than its busier, more illustrious neighbour, Stelvio. There's still the hairpin bends to get stuck into, but these give way to flowing, sweeping bends with glorious views of mountains, glaciers, lakes and even a summit tunnel.
There's also plenty of space for overtaking and ample opportunity to pull up and saviour the Swiss air while allowing your brakes to cool.
The only down side is that it's usually the last pass to be cleared of snow. Head there in July and you'll still find plenty of the white stuff, but the road will be open and begging to be tackled.
When you're done, return to Andermatt. It's a lovely town surrounded by awesome roads.
1. Evo Triangle, Cerrigydrudion, Wales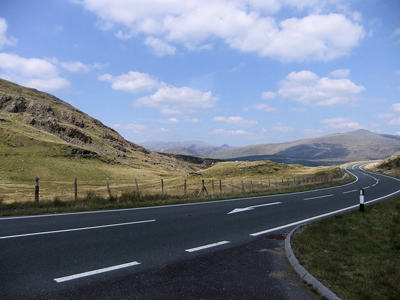 Image: Craggy Island 21
You don't have to even leave the country to find what's for my money, the best road in the world. The circuit, made up of parts of the A5, B105 and A543, got its nickname from its extensive use by road testers at esteemed performance car mag Evo. It's not hard to see why they're so fond of it.
Overhanging trees give way to unforgiving granite walls, and gentle curves give way to sweeping turns that beg you to try harder, push further.
Visibility is good, so there's little chance of coming across a hairpin bend without expecting it. The same can't be said for the sheep, the biggest danger you might face in this tarmac playground.
Just 20 miles after setting off you'll be back where you started from, and you'll want to do it all again. If there's one road to take in in in your lifetime, make it this small section of tarmac in the Welsh countryside.
The do's and don'ts of riding and driving abroad...
Before you head off round the world to drive or ride these roads, stay out of trouble by reading through this checklist...
Check your car insurance or bike insurance, as well as your travel insurance is up to the task, especially at the Nurburgring. Medical treatment can bankrupt you in the US, while many car insurers won't actually cover you on Germany's finest road.
Ensure your car or bike is in top condition, even if it's a rental. Some of these roads punish brakes and tyres very hard, and you don't want to find them failing as you head towards a cliff edge hairpin.
Make sure that your breakdown cover extends to Europe.
Drive or ride within your abilities at all times. Pushing too hard leads to accidents, and also upsets the locals. Acting like a hooligan will soon see you attracting the attention of the local constabulary.
Demanding routes tire you out very quickly. Plan for plenty of breaks and don't be afraid to investigate some of the overnight accommodation on a route.
Make sure you let people know where you are, especially on remote routes, and always carry a fully charged mobile phone, high-visibility clothing and an emergency blanket – if things go wrong, you could be there for a very long time so keep warm.
If there's somebody wanting to get past you, it's usually best to let them by. Likewise, if there's lots of traffic then sit back and relax. Don't try to prove a point as you will lose, eventually.