Easter brings out the weird in people.
Whether it's lashings in eastern Europe, bottle throwing in England or the excesses of the Russian royal family, over centuries countries have developed their own ways to mark Easter - always big, weird and extravagant. Here are just a few...
1. It's a big 'un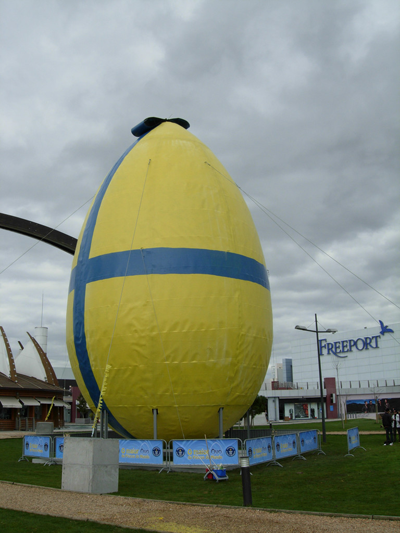 Image: Guinness World Records
Portugal is the home of the largest decorated Easter egg, which reached almost 15m in height and 8m in diameter when it was made in 2008.
2. Spooning
For 130 years the White House has hosted the Easter Egg Roll on its south lawn. Children aged between three and six are invited to roll a coloured hard-boiled egg with a large serving spoon across the grass.
Today over 30,000 people come to the White House to join in the egg-shaped festivities. This year's theme is 'Ready, Set, Go!' and will promote health and wellness, featuring activities that encourage children to lead healthy and active lives.
3. A lot of carrots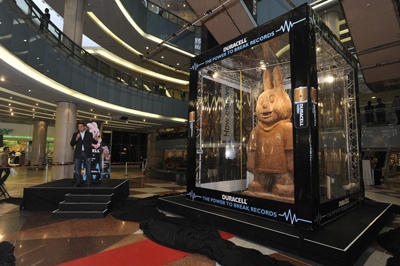 Image: Guinness World Records
The largest rabbit made of chocolate weighed 3,010kg and was made by Duracell South Africa in 2010. The chocolate Easter bunny measured a whopping 3.8m and was sculpted in under three days.
4. Cock-a-doodle-do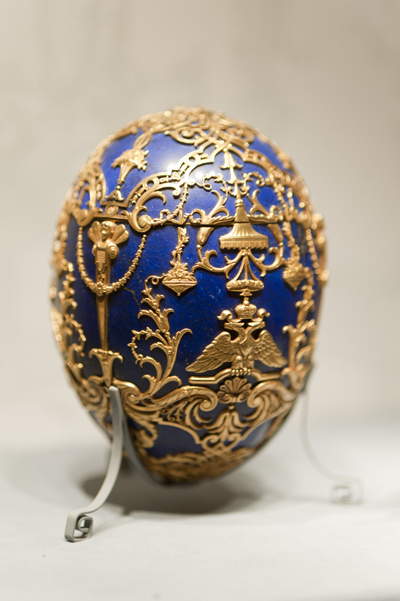 You think that a Tesco Finest Easter egg is pricey? Russian tsars knew the meaning of posh Easter eggs - the most expensive Easter egg ever sold was, unsurprisingly, a Faberge egg.
The glorified Easter eggs of the Russian royal family are some of the most valuable objects on the planet - the last time one came on the market, in 2007, it fetched £9m. The gold-and-pink enamel egg was made as an engagement gift for Baron Edouard de Rothschild and incorporates a clock with a diamond-set cockerel that pops up on the hour.
5. High and low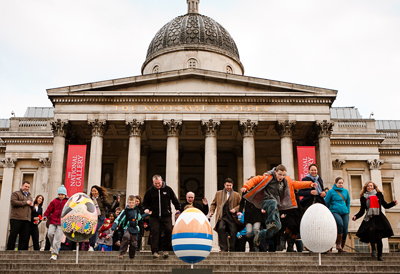 Image: Guinness World Records
Over half a million eggs were searched for in the biggest Easter egg hunt, which was held in Florida in 2007. The most entrants in an Easter egg hunt is 12,773 and was achieved at the Faberge Big Egg Hunt in London in 2012.
6. Lightly whipped
In the Czech Republic and Slovakia women are traditionally whipped or soaked with water on Easter Monday, or Dyngus Day as it's known in the area. The whipping is carried out with a special hand-made whip decorated with ribbons, and is believed to make women more healthy and beautiful.
7. Hot dollar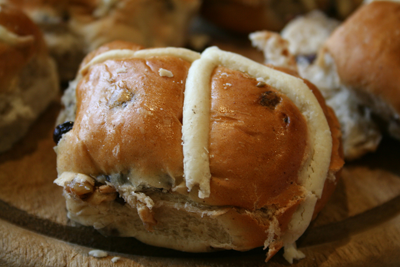 Image: Rachel Andrew
The most expensive hot cross bun was one baked in 1829 in Stepney, London. It was bought for £155 at the Antiques for Everyone show at the NEC in Birmingham in 2000.
8. On the bottle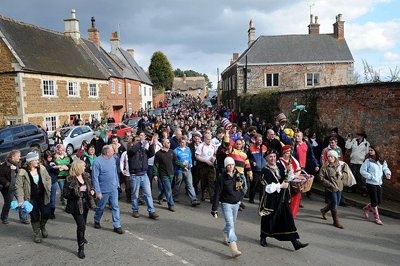 Image: Bottle Kicking Facebook Page
The Easter bottle-kicking game, held every year in Medbourne and Hallaton, Leicestershire, dates back to the early eighteenth century. First a procession walks through the village carrying baskets of bread and a hare pie.
Locals carry three 'bottles', which are actually small barrels. Two are filled with beer and the third is made of solid wood. The villagers then take turns to get the three barrels across two streams a mile apart.
The contest is a rough one with no rules, but participants are banned from eye-gouging, strangling or the use of weapons. Sounds like a right laugh…
Do you or your family have any weird Easter traditions? Tell us onFacebookorTwitter.