For the discerning modern motoring enthusiast, the Goodwood estate has much to offer.
If you want to see the latest supercars rubbing shoulders with iconic old race cars, you go to the Festival of Speed. Fancy airing that retro tweed suit you bought on eBay? Pull it on, get down to the Revival, and your reward will be snarling AC Cobras and rasping Jaguar E-Types duking it out on the historic racing circuit. And if you're the sort of person who likes setting the alarm super-early, driving briskly across the South Downs and meeting a bunch of like-minded enthusiasts for coffee and chatter, the Breakfast Club exists to fulfil your desires.
This year, Lord March has added a new event to the calendar. Held on the last weekend of March, the 72nd Members' Meeting (72MM) acted as a sort of 'Revival-Plus' – whereas the Revival focuses solely on the period 1948-66, 72MM broadened this out to encapsulate such treats as Group B rally cars and 1980s F1 racers.
The name revives that of an event at the circuit of yore, the first 71 meetings having taken place in the 1950s and '60s, and while the moniker implies that it's a members-only event, tickets were actually available to the general public.
So, with a cocked eyebrow and a wry smile, we bring you the ten standout features that twinkled most brightly in the springtime sunshine for us…
Posing by cars
Achieving the right look is so important at an event like this.
You see, there's a lot to consider in attending Goodwood as a driver – unlike many other racing scenarios, you'll find that the open paddocks mean that your priceless old motor is constantly swarmed by adoring and inquisitive fans. So you can't just turn up in a tatty old C&A pullover, can you? You need classic overalls, flat cap, shades… that's Steve McQueen cool, that is.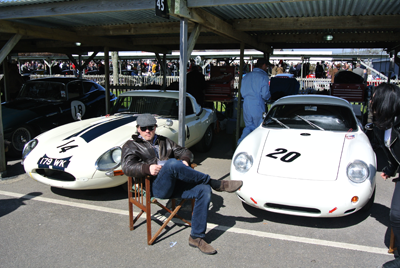 Or, you can just crack out a chair and sit there looking nonchalant.
Group B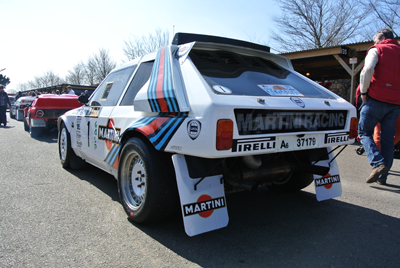 This is a genre that's been a stalwart of the Festival of Speed rally stage for years, but has never been invited to the circuit for the Revival as it doesn't fit the timescale. Well, 72MM changed all that.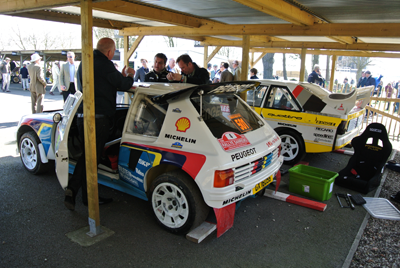 Group B was a bonkers chapter in rally history, often referred to as the 'too-fast-to-race' era. The cars pretended to be based on mainstream road cars – Peugeot 205s, Renault 5s and so on – but were actually bespoke flame-spitting monsters with unimaginable horsepower, turbos as big as your head and a flagrant disregard for the laws of physics.
F1 engines
If you feel that 2014's turbocharged 1.6-litre units are a bit anaesthetised (you'd be wrong), then this'll be a sight for sore eyes.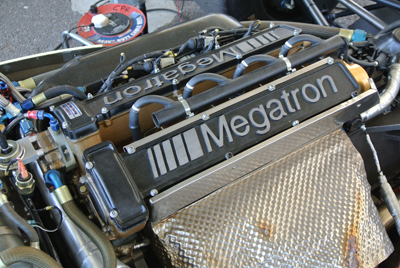 Brawny powerplants from classic Formula One cars – a Renault Gordini unit with a comically big turbo, and something named 'Megatron', which is the best name for anything, ever.
Getting the kids involved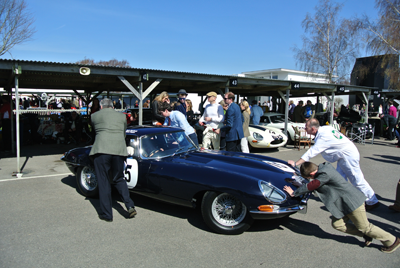 Goodwood is a family place, and it's not uncommon to see enthusiastic nippers cavorting in the paddocks. See that picture of the chaps pushing the E-Type? Look at the relative arm and leg angles. That boy's doing all the work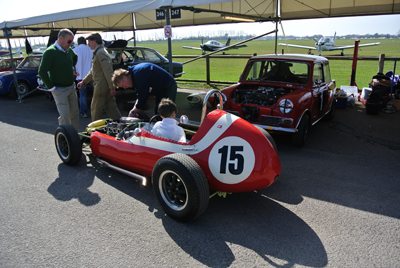 And here we have a midget racer, complete with appropriately pint-sized driver. All about power-to-weight ratios, innit?
The emotional range of the single-seater driver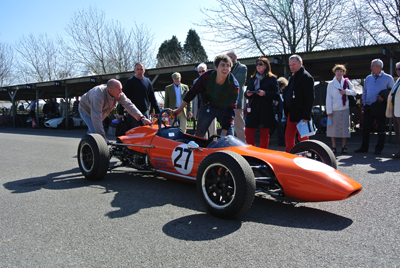 Going back to our point about posing by your car, what do you think is the acceptable face to wear while manoeuvring a single-seater around the pits. Wild-eyed excitement, like our friend above?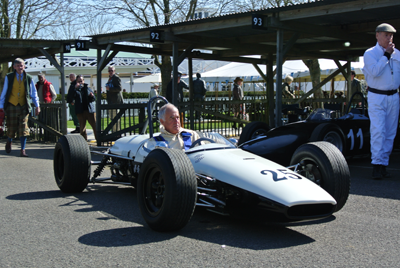 Or a smidge of Meldrew-esque suspicion, like this fellow here?
This RX-7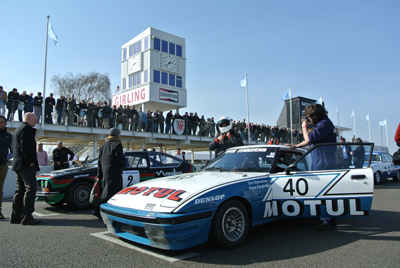 With so many cars at the event, it's hard to pick a favourite. But this Mazda RX-7 is a bit of a mind-bender – an all-original TWR racer, bought by a chap who loves TWR Jaguars but couldn't afford one, so snapped this up at auction instead. Ever seen a period racer looking so pristine and un-bent, given that it wears the original panels?
Very cool. And it sounded like the apocalypse.
Hardcore interiors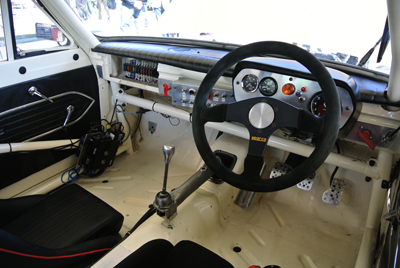 Race cars have necessarily functional, no-frills interiors. These always look ace. But at many motorsport events you don't, as a spectator, get to see them up close. At 72MM, you can poke your head – or your lens – right through the window and see what's what.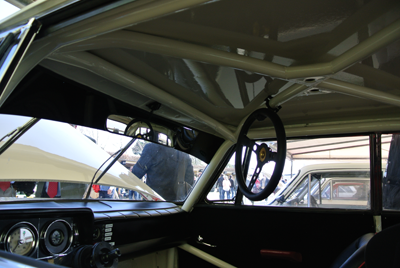 Check out the little hook on the Daytona's rollcage, where the quick-release steering wheel hangs! Nice touch.
Fiddling with engines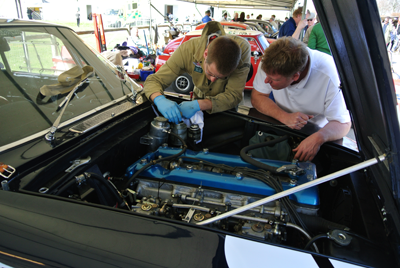 The nature of a working paddock on a race day is that you'll always find people fiddling with engines.
They busily get on with it, oblivious to the fact that you're peering over their shoulder, taking photos of their handiwork. This speaks volumes about their focus and drive. Stuff needs to get done.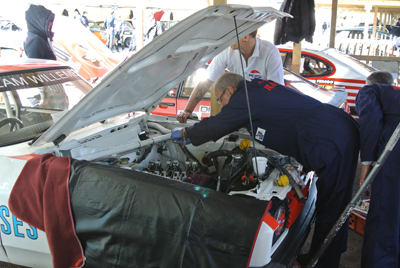 Here we see a couple of chaps casually checking over an Alfa twin-cam, while some rather more frantic activity goes on under the bonnet of a Capri – look, they've got the heads off! You can see right into the guts of the engine. That's commitment.
The grid walk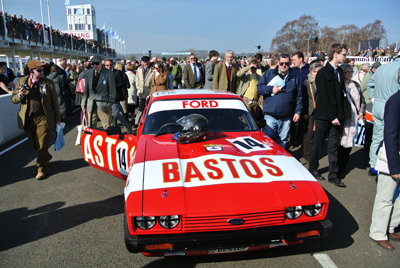 If you're an F1 or BTCC fan, you'll be familiar with the notion of 'the grid walk' – an opportunity to nose around the cars on the grid and pose questions to the drivers before they tear off at race pace.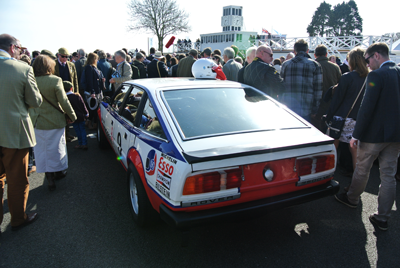 At 72MM, this inevitably led to an overwhelming invasion of spectators clambering about the place, in the sweetly all-encompassing nature of the event.
All the Capris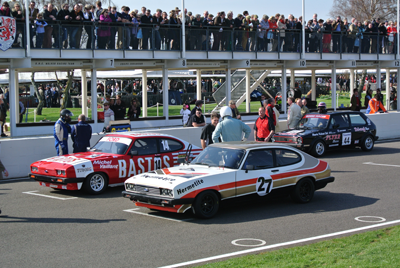 You'll find lots of mkI Cortinas at the Revival. At 72MM, it was all about the Capris. Racing in the Gerry Marshall Trophy -  a celebration of production saloons raced in the period 1970-82 – they filled the air with V6 rumblings.
A veritable banquet of MkIII 3.0S models dominated the grid and, while the first race was actually won by a Rover SDI, it was Emanuele Pirro driving John Young's Motorcraft-liveried Capri that stole the show: qualifying on pole, stalling on the grid and starting from the pits in last place, he muscled his way through to finish second. Magic!
We're crossing our fingers that the Members' Meeting becomes a regular fixture on the Goodwood calendar. And you should too – remember, it's not just for members…