Smart technology has infiltrated almost every aspect of our lives - smartphones are almost standard issue, tablet use is on the rise and now we're seeing the introduction of smart energy meters and even fridges.
It seems only natural that the next place for smart technology to spread to is the car.
In-car technology has been changing the way we interact with our vehicles for a few years now - but how important is new technology for today's drivers? Using a mobile phone while driving has been illegal since 2003 in the UK, but today car manufacturers are putting bets on in-car technology transforming our driving experience.
In January, Google announced that it would be teaming up with Audi, Honda and Hyundai to bring its Android operating system (OS) into their vehicles - or, more specifically, onto their dashboards.
Not to be outdone, Google's rival Apple debuted its technology - dubbed CarPlay - in a Ferrari. It's expected that the IOS system will eventually find its way into Mercedes, Volvo and Peugeot vehicles as well.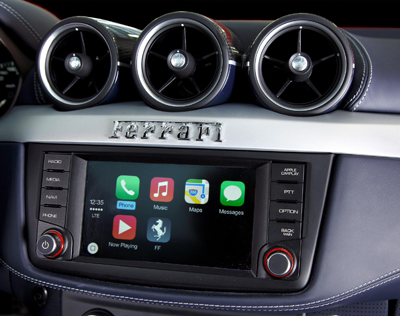 The Ferrari FF now comes with Apple's CarPlay
Apple's offer takes the iPhone experience and tweaks it to suit the car's in-built display. Apps have been redesigned to allow use without drivers needing to take their eyes off the road, all while using Siri, Apple's voice control function. In-car infotainment is the "next logical step" for IOS and Apple, says Alex Michaelides of the Society of Motor Manufacturers and Traders (SMMT).
In-car technology relies on more voice commands in general, and on the car itself being connected to the internet. But none of this comes cheaply - for manufacturer or motorist. Car manufacturers assume consumers will want in-car technology - the issue is who is going to pay for it.
Technological advances must balance the need to be commercially viable and safe for motorists to use, reckons Michaelides, but the motoring industry is ultimately driven by demands. "The motoring industry is quick to react to consumer demands - if that's what customers want, that's what they'll get," he says, pointing to the examples of digital radio and bluetooth connectivity.
App-centric
This all means that connectivity is central to today's automotive experience - from a manufacturer's point of view, anyway. Ford and GM have introduced developer websites to encourage the creation of car-centric apps, and apps focused on driving and mobility.
There are already a few - Whatgas is an app that can tell you where the nearest petrol station is, and its prices; while Parkopedia can help you find a parking space nearby.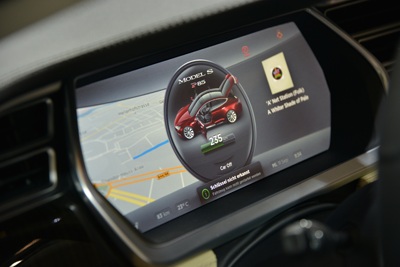 The Tesla Model S dash
In the US, Tesla Motors (one of Paypal founder Elon Musk's many projects) has developed an app allowing you to remotely start your car or unlock its doors. Owners of Tesla's Model S can use their smartphone to pinpoint the location of their car, beep the horn or cool the car's interior before driving.
But here's where the pitfalls of car connectivity begin - if cars can be controlled, they could potentially be hacked by tech-savvy thieves.
This will be difficult, believes Michaelides, as apps are physically separated from vehicle-critical devices - making it impossible to hack between the two.
Safety last?
In the US, where laws regarding phone usage while driving still vary from state to state, around a quarter of crashes are caused by mobile phone use in one way or another, according to the National Safety Council.
Neil Greig, director of policy and research at the Institute of Advanced Motorists, reckons that technology has been running ahead of safety testing for some time.
"What we're missing is some kind of standardised testing of how distracting these developments are," says Greig.
The general consensus of the motoring industry is that voice recognition will be used to perform more complex tasks in a vehicle as it can help bypass menu stages that would otherwise take drivers' eyes off the road. Gesture control is also in the offing, but will not be available for some time yet.
Until more progress is made on self-driving cars, driving takes up every bit of a driver's attention - and rightly so, says Gocompare.com's chief innovation officer Lee Griffin.
"While advances in in-car technology are a boon for tech-savvy motorists, they may present a safety risk for drivers by introducing yet another distraction into the car," he says.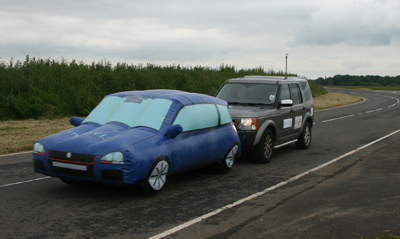 Testers use a simulated collision to demonstrate safety sensor Ecall
"Motorists are barraged with enough distractions on today's roads, without adding something else to fight for their attention. The use of voice recognition can give motorists and other road users alike peace of mind - technology in the car will only grow in coming years, so it's important to put safety measures in place from their initial introduction."
But new technology might also make our cars safer places to be. From 2015, all new cars in the EU will be fitted with a mandatory sensor called Ecall, which will automatically call emergency services in the event of an accident.
Will your next car be a smart one? Tell us over onFacebookandTwitter.