Most of us will never have to consider resorting to a payday lender.
But when Jeni Beale was just 17, she found herself in that position. Homeless and desperate, a short-term loan was her only option. 
Jeni, now aged 20, took out a payday loan with Wonga. "I didn't understand anything about APR, the interest rates or anything like that - I just thought it's quick, it's instant money, I need it," said Jeni, who's now living with her father and studying in a college in Cardiff.
"In the end I had to pay a lot more back than they had said, and I wasn't actually entitled to the loan itself - I wasn't old enough and I had no income whatsoever, so I had no way to pay it back."
Jeni found herself taking out more payday loans to pay back her initial borrowing, and soon found herself in a familiar cycle of debt. She eventually approached Citizens Advice, who sent her to debt management charity Step Change. She took the lenders to court where a judge said that they were 'preying on her vulnerability'.
Jeni is still dealing with the repercussions of taking out a payday loan - she had to visit three banks before one would give her a current account after hers was closed. Her current credit rating means she'll struggle to borrow money in the foreseeable future, and she can't take out a phone contract.
Criticisms of such practices have been lodged against payday lenders again and again - and today's generation of school leavers are particularly attracted to the wares of companies like Wonga and QuickQuid.
Money management and financial literacy remains low down the list of priorities for schools and teachers - but there are calls for that to change.
The hard way
According to research by the bank ING, UK demand for financial education in schools is the highest in Europe - 88% of adults want financial education to be taught in schools, while only 12% of those surveyed received financial education themselves.
Financial education was introduced as part of the national curriculum in England in 2013, embedded in both mathematics and in 'citizenship' education.
The new curriculum will be introduced across the country this September, but financial literacy is already taught in Wales, Scotland and Northern Ireland.
In Wales, a new bill is being introduced to bring financial literacy onto the basic curriculum.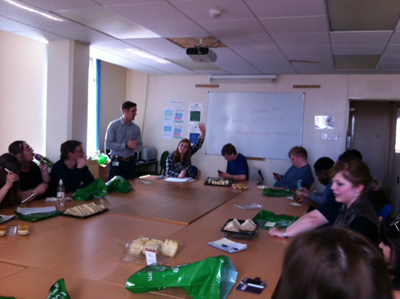 MattSanders chats to students at Cardiff and Vale College
When Gocompare.com visited Jeni's college, the Cardiff campus of the Cardiff and Vale College in south Wales, we found that she wasn't the only pupil to have suffered from a lack of financial awareness.
Gemma Evans, a 25-year-old performing arts student from Cardiff, had already been subject to a County Court Judgement before she returned to college for a second time.
"I wish I had known a lot more when I was at school then I would have been a lot safer, I learned the hard way," said Gemma, who now lives in a professional house-share and budgets the money she earns from her part-time job.
Chloe Chick from Barry returned to college after dropping out of university. She thinks it would be more useful for students to get financially literate at a younger age.
"I think it would be safer for students to learn before they go to college, because I've gone to college and I've got into trouble already," said Chloe. "It would have been good when I left school.
"Even little things like knowing how to use public transport. Not so much big things like bills, but knowing how to deal with small amounts of money to begin with, just to teach children what's to come - because it does all come at once."
Gocompare.com's Matt Sanders, who chatted to the students about issues surrounding current accounts, credit cards and credit ratings, was "surprised by just how interested the students were and by how many questions they had to ask, particularly around credit ratings".
Matt said: "It's vital that young adults are educated and have the ability to make informed decisions based on the pros and cons of the many products that will be available to them.
"The right decisions early on in your financial maturity can lead to huge savings or benefits further down the line, or just make life that little bit easier through any emergencies or unexpected life events."
'Postcode lottery'
In Wales, Plaid Cymru AM Bethan Jenkins is warning that the teaching of financial literacy is patchy across the country, with time devoted to the subject varying from 180 hours over three years to nothing.
Bethan Jenkins AM talks to students about the Financial Education and Inclusion Bill
If the Financial Education and Inclusion Bill is enacted, the implementation of lessons will be the responsibility of government, not schools.
The AM asked Welsh secondary schools how much time they spent on financial education as part of a freedom of information request.
More than 80 schools replied (comprising a third of Welsh schools), revealing that the hours spent on financial education varied hugely - from 270 hours to just six hours.
This variation leads to pupils being subjected to a postcode lottery, says Jenkins. In one case two schools less than 10 miles apart had a variation of as much as 18 hours on one key stage.
There was some evidence from the replies that schools in deprived areas provided less financial education than their more affluent counterparts.