Who among us hasn't gazed out to sea – three-pronged barbeque fork in hand, like a modern-day Neptune – and thought, "If only I could harness the power of the tides."
No? Just me, then. But you may, no doubt, have reflected on the gigantic pulling power of nature, even if it was only because of the long walk out across the beach for a paddle at Weston-super-Mare.
Scientists, engineers and energy experts have considered exactly that and concluded that marine technology – built to capture tidal power – could provide us with green energy and cheaper bills in the future.
Tidal Lagoon Power (TLP) has just begun a series of public meetings and consultations aimed at convincing folk why they should be allowed to build up to five proposed tidal energy plants around the UK.
The first of these is planned for Swansea Bay – an £850m, curving six-mile long sea wall, complete with cycle path and walkway, oyster-shaped visitor centre and an art installation that bobs strikingly into and out of view with the ebbing tide.
There would also be swimming and sailing areas inside the lagoon and, alongside it, a marine farm.
The power is to be generated by the release of trapped water, which drives 16 submerged turbines – creating up to 320 megawatts of electricity, enough to supply 121,000 homes for 14 hours a day.
As for the eventual costs to the consumer, the developers claim that tidal lagoon power would deliver cheaper energy costs than off-shore wind – and broadly similar costs to those delivered by on-shore wind, large-scale solar and nuclear.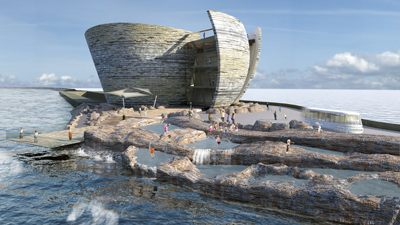 Government backing in the form of the eventual agreed 'strike price' is estimated at around £111 per MWh (megawatt hour). At present, off-shore wind projects are offered £155 per MWh.
Mark Shorrock, chief executive of TLP, said: "Tidal lagoons can rapidly become one of the cheapest sources of electricity in the UK. The more water we impound, the more power we produce, the less support we require. It really is that simple. With an operating life of over 120 years, tidal lagoons offer future generations even lower cost electricity following their 35-year period of strike price support."
Unlike with wind power the turbines are unseen, but that has not stopped Swansea West Labour MP Geraint Davies from labelling the scheme a "catastrophic mistake".
He said: "The idea of blighting our iconic view and future tourist economy with a power station feeding the grid with only part of the energy needs for just 121,000 homes, part of the day, is astounding."
Proponents of the scheme point out that the lagoon wall would be similar in height to the existing breakwater at Swansea Docks, and both Friends of the Earth and the Wildfowl and Wetlands Trust have backed the proposal.
Tidal Lagoon Swansea – who have so far raised £9.4m in development funding - claim that their surveys have shown 85% backing from local people.
Spokesperson Lisa Jenkins said: "We have been thrilled with the level of public support. The planning inspectorate say themselves they think it is unprecedented for an infrastructure project of this scale."
A government decision on Tidal Lagoon Swansea is expected early next year. If given the go-ahead, construction would start in the spring of 2015, with the first electricity due to be generated in 2018.