Travelling with young kids can be a magical, mind-expanding adventure. It can also be a unique and personal hell where the final boarding call coincides with a desperate wail of: "I need a wee-wee right NOW!"
But whether you enjoy an adventure or endure agony all depends on your level of preparedness and - undeniably - a certain amount of luck.
I'm a mum of two pre-schoolers and we just sent off their passport applications. But before I get too ambitious with my travel plans, I decided to ask my friends for their travel tips.
Here's their best advice. First of all, what you should do:
Do count your children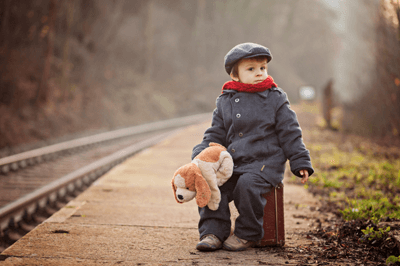 This might sound sarcastic, but it is very serious. When you're travelling and you're tired, it can be all too easy to assume the other parent is looking after one of your kids. Hey, if it can happen to David Cameron and his wife, it could happen to you.
Two parents told us (on conditions of strict anonymity!) about the time they left one of their children in the car overnight. Asleep under a pile of coats, each thought the other had carried her into the house. They found her sitting on the back doorstep in the morning, having wriggled out of the car window. Twenty years on and they still feel the guilt…
Do take a change of clothes. For everyone
Mum-of-one Jenny endured the flight from hell when her young baby responded to the cabin pressure by… Well, we'll let her explain: "I was travelling alone with my daughter when she had diarrhoea 'nappygeddon' on a five-hour flight. It went through her clothes AND MINE but, of course, I only had spares for her."
I'm trying not to imagine the airport walk of shame, Jenny.
Do take a spare adult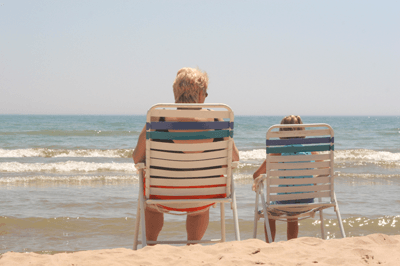 The best holiday I ever had as a parent was with my family. My husband and I had our baby with us and shared a house by the beach with my mother, two sisters and brother-in-law – no other children. I'll be frank, we barely changed a nappy all week; my besotted family did everything.
Parents, this is the best tip in the list. Holiday with your own parents – you might even get to go out at night.
Do give the kids a camera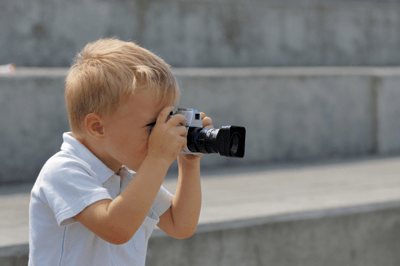 Want to look round a museum? Visit a charming historic town? Do something that's not a soft play centre or theme park? Kids can be demanding on holiday, you won't always want to do the same things.
So, give them a camera. A cheap, point-and-click disposable camera, or a rugged pre-schooler one if you've got the cash (about £40). They'll be so busy snapping pics that you'll be able to do all the sightseeing you want.
Do use technology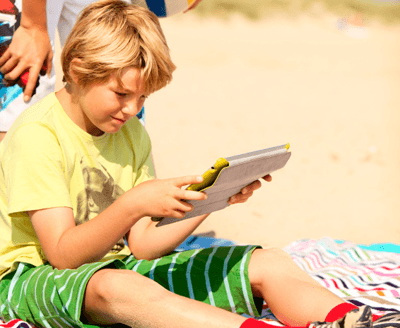 No-one wants to see a toddler staring at an iPad (also known as the iNanny) like a zombie for hours. But then, no-one wants to see a toddler having a meltdown in the aisle of an aeroplane, either.
Several of my friends recommended filling an iPad with age-appropriate games and several hours of Thomas the Tank Engine.
And now the don'ts…
Don't pay over the odds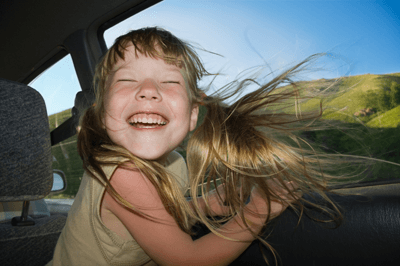 If you're travelling in the school holidays, you'll pay a premium. So if you have pre-schoolers then do as much travel as you can outside of term time, while you can. That way you won't have to put up with other people's kids, who are loud and rude. Your own, of course, are just 'playful' and 'high-spirited'.
Parents of older children can still save money by scouring the web for bargains. Of course, parents are not famous for having lots of spare time, so the good news is that you can compare holiday packages, flights, hotels and travel insurance via Gocompare.com.
Don't leave your packing unsupervised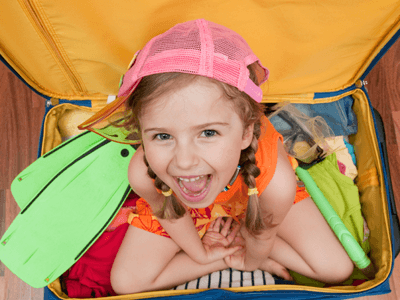 Toddlers love the excitement of packing and they like to get involved. Keep your suitcases safely out of sight to avoid unnecessary additions, and to avoid very necessary items being taken out.
Learn from my mistakes. When I went into labour with my second baby, I discovered that my toddler had removed half the stuff I needed from my hospital bag and replaced it with his entire collection of plastic animals. I only discovered this once I was in hospital, of course.
Don't assume you know what the weather will do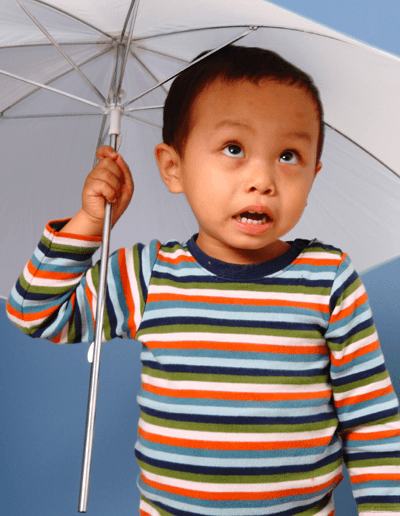 Mum-of-three Anne explained: "I took my boys on a beach holiday in Spain. I packed dozens of pairs of shorts, buckets of sun-cream and wide-brimmed hats. It rained all week and I had to buy a week's worth of rainy-day clothes. I had no money left for duty free."
A sobering thought, Anne.
Don't forget wine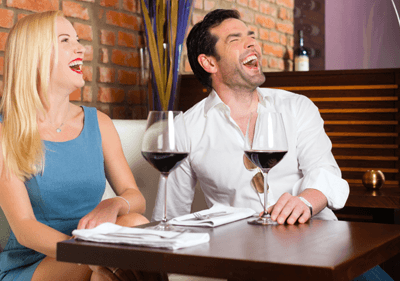 You remember holidays before you had children? When you could check in at your hotel then mooch down to the local bar? That's gone, those times are over. What you'll do now is put your children to bed at seven and then sit quietly in your hotel room trying not to wake them up. So you may as well have a glass of wine while you're at it.
NB – this may well change for older children who can be taken out to restaurants and kept up later than bath time. I hope it does.
Don't forget travel insurance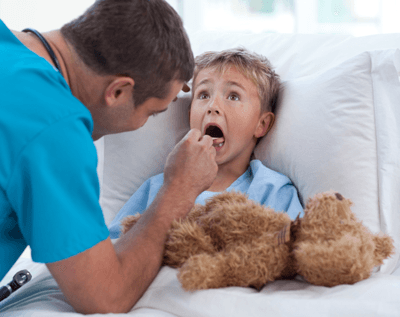 Yes, we talk about travel insurance a lot, but when you're travelling with kids you simply cannot afford to be without it.
It's not just because with children you need security, especially when you're travelling. It's also because the unexpected can cost a fortune with kids in tow.
Take Julie. She was flying to New Zealand with her husband and two children and they stopped over in Hong Kong. In the time it took to get a meal, her youngest daughter came out in a chicken pox rash and they weren't allowed to board their next flight.
"We had to get a hotel in Hong Kong for five days before they'd let us fly," explains Julie, looking harassed at the memory. "Without our travel insurance, we'd have had to pay close to £1,000 for hotels and new flights."
What's your best tip for travelling with kids? Or your worst memory – we like both. Share them with us via Facebook or Twitter.