The cost of following top-flight football has become exorbitantly pricey in the past decade, to the point where a day out to watch a Premier League team is a prohibitively expensive prospect for many families - and that's without factoring in transport, accommodation, refreshments and programmes.
The cost of going to support a Premier League team in person is unrealistic for many, so is watching your local lower-league squad a cost-effective alternative? And is watching your national team cheaper than you think?
Moneyball
Despite Premier League clubs collecting £5.5bn from lucrative TV deals, research by Sporting Intelligence shows that 13 clubs have increased their ticket prices for the 2013-14 season.
The biggest price hikes have been those clubs promoted for the coming season - Burnley raised their cheapest season ticket prices by 47%, while QPR's cheapest season ticket is now 14% more expensive.
At the top end of the scale is Arsenal, whose most expensive season ticket now tops the £2,000 mark.
Manchester City have the cheapest adult season ticket in the Premier League at £299, and only two clubs, Newcastle and Sunderland, announced marginal price cuts for the new season, a 1% and 6% drop respectively.
Ticketing in Europe is a different story; during the 2012-13 season, the average price of a seat at a game in Germany's top league was £22.24, according to a BBC Study.
The Bundesliga has a higher average attendance than any other league in the world, something that will no doubt continue following their recent triumph in Brazil.
Malcolm Clarke, chairman of the Football Supporters' Federation said: "Our surveys and polling shows that 90% of fans say they're paying too much for tickets. We think it's very important that families find football affordable.
"Clubs are swimming in cash and the Premier League's media deal is worth £5bn. The increase from the last TV deal to this one was enough for clubs to let every fan in for free, and see no drop in revenue."
In comparison, the Women's Super League remains a cheap day out - clubs including Arsenal were charging just £5 for adult tickets in 2013, despite having one of the most successful female teams in the country.
Stay local
The cost of supporting a Premier League team may be off-putting if you're a family of four, but what about lower league teams?
Cardiff City may have been relegated at the end of the last season, but as season tickets were already on sale, fans haven't seen a drop in price.
Nic Heslop, head of commercial at the club, says that they are committed to making football affordable to families, and that "buying a season ticket will always be the cheapest way to watch Cardiff City".
The club have also reintroduced a value family ticket, allowing a family of four to watch the Bluebirds for £40.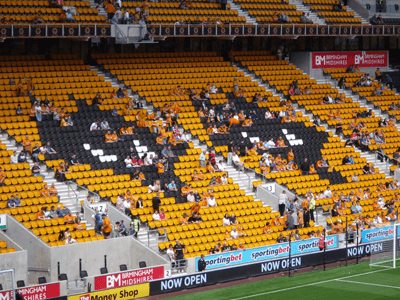 If you support a successful lower league side, ticket prices can vary. League One champions Wolverhampton Wanderers have an exciting season in store after their promotion to the Championship, but their season tickets are pricey, ranging from £370 to £530. Cheap season tickets for Leyton Orient, Rotheram and Preston all vary in price from £220 to £430.
The average individual ticket price for lower league teams is around £20 - tickets for Milton Keynes Dons, Plymouth Argyle and Cheltenham Town all come in around the £20 mark, as do Tranmere Rovers, Carlisle United and Shrewsbury Town.
Many lower league clubs also offer special family tickets, allowing families of four to attend matches for around £40.
Compare this to watching a Premier League side - where the cheapest single tickets can be as much as £60 - and following your local lower league side suddenly seems like a cheap day out.
If you want to watch Premier League sides for less than typical Premier League prices, the early rounds of the domestic cup competitions are your best chance, with ticket prices starting at around £15.
The supporters' views
We asked three different football fans about how they support their teams and what they think about pricing in football today.
The national nut
Electrical engineer Kevin Hall is an obsessive fan, having recently returned from following England in Brazil. While he's looking forward to watching his local team, Mansfield Town, the avid England supporter chooses to watch his national side as often as he can over a Premier League team or local side.
"You get the 'cream of the players' and pay less for tickets, sometimes as little as £60 for a family ticket for the less popular games," says Kevin.
"I appreciate that lower league clubs need to make a profit on ticket prices in order to survive, but you can see why people decide to watch teams in higher divisions.
"Compared to following a Premier League side supporting your national team means less frequent matches, but you do have to factor in the cost of transport and accommodation."
Kevin has made a habit of combining his love for the beautiful game with his love of travel, and usually makes following England part of a larger family holiday - he's followed Stevie G and company across Europe and saw the recent World Cup as an opportunity to travel across Brazil.
"Supporting your local team would probably cost less," says Kevin, "but they're never going to go to Europe."
The demoted side supporter
Neil Williams is a civil engineer and Cardiff City fan. He pays £510 a year for a cheap season ticket, which he believes is still expensive.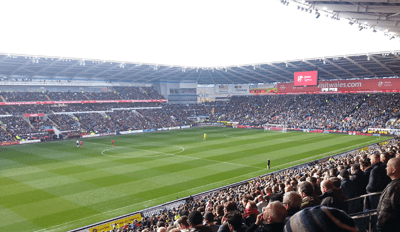 "Having said that, a one-off game is around £28 so you a save a lot by buying a season ticket," says Neil.
"I can't speak for all clubs, but £510 for a Cardiff City season ticket is ridiculous when it cost £104 last season for one for Bayern Munich, and they're arguably the best club in the world at the moment."
At the moment Cardiff City has no plans to lower its ticket price next year, despite the club's relegation, something Neil thinks is "ridiculous".
The top-flight fan
Electrician Tony Kearns has been an Arsenal supporter since he was a boy - he's even planning a Gunners tattoo to mark his 50th birthday - but doesn't watch his team in the flesh all that often. Most seasons he'll only see the Gunners two or three times, as he finds the cost of tickets off-putting.
"Going to matches is a treat because of the expense - I think quite a few people think that, they can't afford to go as a regular thing," says Tony.
"I think the prices we pay for tickets are comparable - our stadium and facilities are the best in the Premier League, and you have to pay for it. I can see the benefits we're getting from high ticket prices, but if I was a season ticket holder I'd want us to be more successful.
"Supporters vote with their feet, and if people thought tickets were too expensive then the stadium wouldn't be packed every week."
Is football still worth it, or are the ticket prices putting you off? Tell us onFacebookandTwitter